How to spend to mend the economy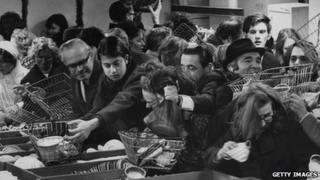 The Bank of England's deputy governor, Charlie Bean, has suggested savers start spending their capital to help re-invigorate the UK economy. So where would those ready to fulfil their patriotic duty be best advised to splash their cash?
For some disgruntled savers stung by low interest rates and low returns, the advice to stop moaning and start spending could have come straight from a certain other Mr Bean.
For years the Bank of England has told us we spend too much - a root cause of the recent recession - yet here's the deputy governor, no less, recommending we do exactly that.
Yet the wider economics do appear fairly sound. Simon Kirby, from the National Institute of Economic and Social Research (NIESR), says spending more raises demand for goods and services and makes firms more likely to invest, expand and employ people.
Clearly some purchases will boost the economy more than others, he says, it all depends on what you buy.
So, for those willing to rally round and open their wallets for the sake of a healthier UK economy, which products should be on their list - and which should they avoid? Here are a few suggestions, some of which carry their own health warnings:
1. Choose a UK-built car
When it comes to spending savings, many people would rather choose a big ticket purchase like a car than frittering them away on everyday items.
While not British-owned, a number of international companies still manufacture in the UK, including Nissan in Sunderland, Honda in Swindon and Toyota in Burnaston, Derbyshire.
Andy Smith from British Made For Quality, a consortium of businesses that campaigns to keep manufacturing in Britain, says he'd rather have foreign-owned firms in the UK than British-owned companies manufacturing abroad.
"I'd prefer the profits to remain in the UK, but it's more important to provide jobs and opportunities in the UK," he says.
"It benefits Britain much more to maintain the skills base and keep manufacturing going in Britain."
2. Holiday at home
Fly off to France or take a jaunt to Japan, and a big chunk of cash heads off with you out of the UK economy - money that could be spent in Britain.
Mr Kirby, from the NIESR, says a foreign holiday is an import, while a so-called staycation can boost the economy in several ways.
It's not just spending on a hotel room, caravan or camping site plot that benefits the economy, he says, but also all the related spending such as eating out and travelling.
The Local Government Association says holidaying in Britain helps local businesses and the UK tourism industry.
3. Fill up with petrol
As the government prepares to raise fuel duty by 1p on 1 October, and the cost of crude oil rises, the prospect of higher pump prices - especially in the current economic climate - is unpalatable for many.
Some families and small businesses will feel the pinch, but if you look beyond individual budgets, there are advantages to strong fuel sales.
Environmentalists may not like it, but products like petrol, which carry additional duties on top of VAT, generate huge revenues for the Treasury. Last year motorists paid some £26bn in fuel duty alone.
British oil giants BP and Shell, and crucially the thousands of workers they employ, would also stimulate wider economic demand.
And regionally, the many owners of petrol station franchises, and their staff who sell the fuel, would also help local economies.
4. Smokers and drinkers take stock
OK, let's be clear, nobody is suggesting we all start smoking and drinking more - or at all - for the good of the country.
But those who do partake should note that because they are typically reluctant to give cigarettes and alcohol up, they do provide a very good source of income for the Treasury.
Alcohol contributes some £14.6bn to UK tax revenues, and smoking around £10bn.
Simon Clark, director of campaign group Forest, which defends the rights of smokers, says with tongue slightly in cheek: "During the recession you can indulge in one or two so-called vices like smoking and drinking in certain knowledge you will be raising money for the public purse and enjoying yourself at the same time."
Some go further, suggesting smokers do the country a favour by dying early and not drawing a pension - helping ease the demographic timebomb of an increasingly ageing population. Others, however, point out that the cost of treating smoking and alcohol-related diseases amounts to billions of pounds.
Mr Clark claims the money the Treasury raises from smokers far outweighs the potential cost to the NHS.
The British Beer and Pub Association says beer and pubs play a vital role in terms of turnover and jobs. Supermarkets and restaurants, which are also responsible for much of the country's alcohol sales, also employ large numbers of people.