The secrets of Britain's abandoned villages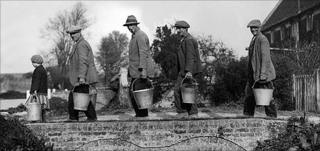 The ghosts of thousands of long-forgotten villages haunt Britain, inhabitations suddenly deserted and left to ruin. As a new campaign begins to shed further light on these forgotten histories, the Magazine asks - what happened and why?
Albert Nash, blacksmith for 44 years in the village of Imber, Wiltshire, was found by his wife Martha slumped over the anvil in his forge.
He was, in her words, crying like a baby.
It was the beginning of November 1943, a day or two after Mr Nash and the rest of the villagers had been told by the War Office they had 47 days to pack their bags and leave, to make way for US forces.
Within weeks Mr Nash had died. Folklore had it that the death certificate said the cause was a broken heart.
Imber, once a Saxon settlement, is one of thousands of British ex-villages - once thriving communities that succumbed to natural or human forces, like disease, coastal erosion, industrial decline, reservoirs or war.
To mark the launch of the new Times Atlas of Britain, its publisher Collins wants people to send in their memories of such places, to create a digital archive dedicated to these lost locations.
"While compiling the first comprehensive atlas of its type to be published in the UK in over 40 years, we were not only interested in how the United Kingdom had changed geographically over time, but the implications of this for residents of our islands," says Jethro Lennox, senior publishing manager at Times Atlas.
"Initially, we found that natural factors such as coastal erosion and flooding had made some places uninhabitable... while economic, military or industrial-related reasons also contributed towards an abandonment of settlements, including Dylife, Imber and Radcliffe."
Ten of them are listed below.
The anguish of Mr Nash shows the pain that such events in history can wreak on families and communities. Mr Nash's grandson, Ken Mitchell, now 84, remembers the eviction well.
"It was a bombshell dropped on the villagers. The elders were called together for a meeting in the schoolroom and when they were told, it was a complete surprise.
"Albert was very upset and it hit him very hard. He moved to Bishops Cannings, near Devizes, but he had lost the will to live and only survived four or five weeks."
Ken was 17 at the time. He had for a time worked with his grandfather in the smithy but was now seeking a career in the RAF.
After leaving Imber and the vicarage where he worked, Ken's father became a labourer on a farm about 15 miles away, and took his wife and three children there, although a year later Ken joined the Army.
All 155 villagers left, most of them scattered around the Salisbury Plain area, working as farmhands. Their demands to return after the war came to nothing.
"There was no anger at the time. Dismay and disappointment, yes, but the anger took a long time. They felt they were helping the country and helping the war effort, and they thought they were coming back. My mother was visibly upset but I don't think it really affected the children."
For a few weekends a year, the Ministry of Defence allows public access to Imber, so Ken and other surviving villagers return, but the thatched cottage he left behind has been demolished and the Victorian vicarage destroyed.
The story of Imber has long fascinated Rex Sawyer, a former headmaster in Wiltshire and author of Little Imber on the Down, and he says it's now part of the county's identity.
"It has such a grip on the hearts and minds of Wiltshire people. When Imber opens, people flood there, but the village is in a very sad state now, just a few buildings."
For many other "ghost" settlements, there are no remains at all, so long ago were they inhabited and then deserted.
Villages, hamlets and farms have been moving around since the Neolithic Age, when people settled down for the first time, says Trevor Rowley, author of Deserted Villages, although some periods in history such as the Black Death in the late Middle Ages, have been more turbulent than others.
"These changes happen in places previously desirable but no longer worth living in because you can't make your living there any more. So it reflects on social history and economic history," says Mr Rowley.
Archaeologists are happy because the remains give them an undisturbed snapshot of society, he says, but there is an underlying sadness to these events. Although some people affected were rehoused, many others took up a life of squatting while the most unfortunate turned to vagrancy.
One of the most infamous examples in British history was the Highlands Clearances in the 18th and 19th Centuries, which displaced thousands and had a deep cultural impact.
Around the same time, Irish poet Oliver Goldsmith evoked feelings of melancholy in The Deserted Village, about returning to his village after a long absence, to find it neglected and empty - "desolation saddens all they green" - apart from one lonely widow.
Stephen Fisk, who visits Britain's abandoned villages and documents them on his website, says his devotion was stimulated by the human stories behind evictions and resettlements.
"I wanted to know what it was like for people forced to leave their homes and land, and how they coped afterwards. When it's a wealthy landlord forcing people out for one reason or another, I think there's more anger. You can't help but feel indignation on their behalf."
But when it's due to natural causes, it is at least a gradual process, at least in the UK, says Mr Fisk. Dunwich in Suffolk was a very important port in the Middle Ages but it was washed away by the sea, in a process that probably happened over hundreds of years.
In the last 100 years, societies have proved to be remarkably versatile, he says, and the general decline in industries has not claimed as many villages as one might think.
"Communities have survived or developed a new purpose, or even just become commuter places for the town or city nearby."
Resettlements have become less likely to happen today, because the power structures don't exist and we're better at resisting them, he says, although the village of Sipson in west London only escaped when plans for the third runway at Heathrow Airport were cancelled recently.
Still today, there are reminders of abandonments of the past - a solitary church or a strange bump on the landscape. And in the Dorset village of Tyneham, a more poignant tribute.
As if frozen in time, the coat pegs in the schoolhouse still bear the names of the children evacuated 70 years ago, when the village become an Army training base for the D-Day landings.