Has celebrity activism gone too far?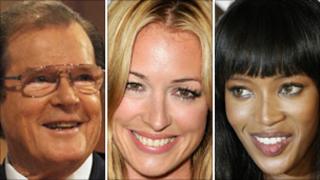 Save the Children is the latest charity to launch a star-studded campaign. But have good causes become too dependent on showbiz, asks Giles Edwards.
Not all of it is organised, but celebrities are now more important than ever to charities of all sizes and causes.
The idea is not a new one. The American comedian Danny Kaye became a Unicef ambassador way back in 1954 and the charity continues to this day working with celebrities as diverse as Sir Roger Moore and Cat Deeley.
But the idea has spread. In fact so important have celebs become to charities that many now have full-time, paid celebrity managers. Among the UK's 30 largest charities - excluding care and housing trusts - three quarters now have someone working full-time on managing their relationships with celebrity supporters.
Their backgrounds vary, as do their job titles and routes to the job. But the core of what they do is similar - get celebrities to support their charity, make sure they continue to support it, and gradually deepen their involvement over time.
And the ways in which they can help are similar too - fundraising, public relations and ultimately lobbying.
These relationships can be complex to build and maintain, and can easily fall apart if not properly managed.
Sue Ryder Care, a care charity, is currently working to improve its celebrity relationships, and Alice Clements, its PR manager, has been leading the work.
"We've never really focused our energies to have a real planned approach to actually engage with celebrities on a bit of a deeper level or a more sustained level," she admits.
Now, Sue Ryder want to grow their services, and "celebrity support is one way, amongst a whole range of other activities, that potentially could help us do that", she says.
At a recent internal meeting, staff discussed ways in which celebrities could help raise money and get them more coverage in the media. But they also raised concerns about what would happen if it went wrong. They were worried about the charity's good name, and about choosing the right people to work with.
Many celebrity managers, and charity chief executives share that concern, but believe if properly managed the relationship can be invaluable. Celebrities, they believe, can reach an audience which would otherwise not listen to what they had to say.
John Hilary, chief executive of War on Want, is amongst them. "Celebrities have a very powerful voice," he says, and believes they can be immensely useful.
But, he adds: "It's imperative that the power of that voice is directed in the right direction, that it's not… taken into a different dimension which isn't actually helping the cause and in fact can sometimes harm the cause that they are representing."
Charities are understandably wary of celebrities who seem more interested in promoting themselves, or who later do something which seems out of keeping with their earlier campaigning.
One example of that was Naomi Campbell, who posed for animal rights group Peta's "I'd rather go naked than wear fur" ads, but later modelled fur coats.
Likewise, wealthy celebrities campaigning on behalf of the world's poorest or asking ordinary members of the public to donate, when they themselves have moved to low tax jurisdictions, can be a very mixed blessing.
A survey this week suggested only one in five young people would support a charity because a celebrity happened to endorse it, but Yvonne Taylor insists.
But some charities believe celebrities can provide a powerful focus for their campaigns.
Despite the difficulties with Campbell, Yvonne Taylor, who manages celebrity relations for Peta, points to the impact of several of their celebrity-led campaigns, including naked "I'm a vegetarian" ads which got exposure for vegetarianism in newspapers and magazines which otherwise would not cover the issue.
Ms Taylor also remembers a campaign against foie gras at the Selfridges department store in London.
"We held a number of protests outside, writing them letters," she says. "Sir Roger Moore posed with this sign which says 'Selfridges stop selling foie gras', and we placed it on a bus stop directly outside their food hall, and after all that campaigning, within 24 hours of Sir Roger's image going up, they were on the phone and they pulled foie gras from their shelves."
All of which sounds great for the charities which have access to celebrities, but some people are concerned that less glamorous causes sometimes get overlooked in the process.
"I have recently lost my father to Parkinson's and my mother is suffering from Alzheimer's disease," says Mike Hollingsworth, who has been an agent, TV star and was most recently celebrity manager for Cancer Research UK.
"And when I looked into both of those, and the charities that support both of those particular diseases and trying to do something about them and research into them, and knowing how much they raise, compared to the £450m a year that Cancer Research UK raise - there's an element of guilt that one has made more sexy, as it were, one particular charity and perhaps done down the fundraising efforts of another charity that perhaps should be more prominent."
Charities, like other businesses which have long used them, have come around to the potential value of celebrity endorsement. In our culture, it seems that celebrity may be the most direct route to your wallet, your newspaper and ultimately your politicians, too.