Life as a ghost tweeter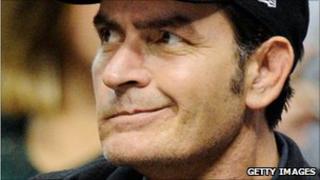 Outburst-prone actor Charlie Sheen is reportedly seeking a social media intern to manage his Twitter account. But what does this new role involve?
Celebrities have embraced social media outlets like Facebook and Twitter, making it easy for fans to establish a connection with their favourite stars.
Regular updates give fans an inside look at a star's day-to-day activities with pictures, locational information and promotional materials.
But the busy and glamorous lives of many celebrities make it impossible for them to spend their time hunched over their computers, and some stars hire social media interns to help.
Some interns help so much that they do the writing for them. Many stars now use ghost writers who pen the 140-character messages in the celebrity's voice.
Alluding to two of Sheen's tweets, the job advert says the actor is looking for applicants that are "all about winning" and have "tiger blood" in their veins, according to the career site where the application form is posted.
Many ghost tweeters have to get into the heads of the celebrities they are channelling, but when Chris "Broadway" Romero, director of rapper 50 Cent's web platforms, was tweeting for the star two years ago it was mostly to generate buzz.
"We used 50's Twitter account as a promotional tool and a drive back to his website," says Romero.
The musician has since begun writing his own tweets.
"Now he does his own tweeting. He really got involved on a personal level and you can tell he's tweeting his own stuff," says Romero, who still acts as his social media adviser.
"The best celebrities are starting to have teams that help with the online stuff," he says.
With the sheer volume of social media action, it's understandable that celebrities would be tempted to hire social media interns, but ghost tweeters might be an exception rather than a rule. A social media intern typically works to monitor and advise, rather than act as the celebrity.
People want to feel a personal connection to their favourite celebrities. Ghost tweeting has the potential to detract from the authenticity.
"Best practice is that it is authentic because people want to understand the celebrity," explains Rob McNair, the chief strategic officer of the social media firm mycleveragency. "They want to see what the celebrity is going to do next."
It's unclear whether or not Sheen's intern will be tweeting for him, but there's a host of other chores for the social media intern. Profile pictures need to be updated and fan feedback tracked. Most of all the in-house social media expert needs to be around to offer the star and his entourage advice.
"In the Charlie Sheen example the intern is probably on the front line directly involved, taking pictures and following him around," says McNair. "In an ideal world the intern would sometimes be with celebrities - definitely at events sharing photos and helping them."
Much like a brand, celebrities have teams of people working behind the scenes to help promote them.
"This intern would have his or her handful but it would be primarily to help him navigate through the complex social web," says McNair. "The key is to make sure that everyone who is reaching out to a celebrity is getting a response."
So while some interns may be running up and down the red carpet, others may spend more time at a desk behind a computer screen. The level of involvement all depends on the celebrity.
"When a celebrity becomes a brand, managing all the facets of an identity can become a big task. We recommend that everyone whether they're brands or celebrities are closely involved at all stages of managing their presence. However, recognising that at times this can be impossible, they should only allow trusted parties who have an intimate understanding of what they are about," says Yunus Akseki, a director of the media agency Imperial Leisure.
Because most celebrities don't disclose whether or not they have hired someone to be a ghost tweeter it can be difficult to tell if the tweets are authentic or not.
So followers might never know if they're fans of their favourite celebrities or of their social media interns.