Should traffic lights only flash amber at quiet times?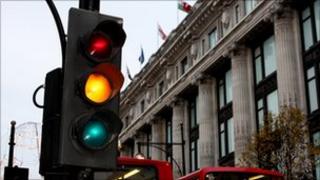 Portsmouth is considering the use of a flashing amber signal on traffic lights during quiet periods, in an effort to aid traffic flow. So how safe is a flashing amber light?
Drivers who sit at a red traffic light on an empty road can sometimes feel a little frustrated.
Such discontent felt by motorists in Portsmouth has prompted the city council to look into the use of continuous flashing amber signals on traffic lights at quiet times.
It could be the first of many places to adopt such a change. For some time, the Department for Transport has been researching the impact this would have.
A driver faced with a flashing amber traffic light would be expected to cross the junction with caution after fully assessing the risks posed by other traffic and pedestrians.
The association of caution with an amber signal is already quite strong. A flashing amber at a pelican crossing advises the driver to give way to pedestrians and then proceed with caution.
And at traffic lights, a solid red and amber together precedes a green light, meaning drivers should prepare to set off, and a single solid amber light also precedes a red signal, to warn drivers not yet at the junction that they will have to stop.
In the UK it is legal to pass through an amber light if you have already crossed the stop line or are so close to it that stopping may cause an accident.
The proposals being looked at are already used in much of Europe, where a continuous flashing amber signal is coupled with a direction arrow to inform drivers who has priority when turning at an intersection.
Simon Moon, head of transport and street management at Portsmouth City Council, says residents had asked that traffic flow be improved and one recommendation had been the use of flashing ambers at traffic lights.
"The Department for Transport would need to authorise any trial, so we will be approaching them with a proposal to carry out a trial or join any that may be planned. An integral part of any trial would be ensuring pedestrians have the same level of safety and protection."
Earlier this year, Transport Minister Norman Baker told the Commons he was looking at various options for traffic signalling during quieter periods of the day and the flashing amber signal was one of the techniques being considered.
He said the key to any changes would be the ability to "ensure that any signalling technique provides a consistent and unambiguous message to all road users".
He said that currently there was scope for confusion because they are strongly associated with pelican crossings and that any trials would require legislation to be amended. His department's research is due to be published later this year.
As well as improving traffic flow and easing frustrations at quiet times, a flashing amber could also mean a drop in harmful emissions due to less waiting time at traffic lights. However, there are concerns about road safety.
Motoring journalist Maria McCarthy says: "The worry with any 'give way' system [at flashing ambers] is it depends on the temperament of the individual driver, as some will rush through the light and others will stop. It is also vital to choose which junctions would be used very carefully, ensuring they have suitable visibility."
Andrew Howard, head of road safety at motoring organisation AA, says the idea had merits but he expressed deep concern that drivers could become confused about priority at junctions.
"The idea that drunks and young, show-off drivers are going to get to the flashing lights after midnight and say 'after you' is nonsense."
There is an important legal issue too, he adds, which is the question of who has liability if an accident happens, when no driver has obvious priority.
The road safety charity Brake has also condemned the plans. Spokeswoman Julie Townsend says proposed changes could "cause a great deal of confusion among drivers and pedestrians".
Interestingly, there is evidence that traffic lights turned off completely result in no compromise of safety, because drivers take great care in negotiating the junction.
Devon County Council and East Riding of Yorkshire Council have declared an interest in turning their traffic lights off overnight, with the former claiming savings of up to £300,000 on maintenance could be made over a two-year period.
But it remains to be seen what impact a continuous flashing of the amber signal would have on drivers' behaviour.