Been and gone: Mr Super Glue and Batman's butler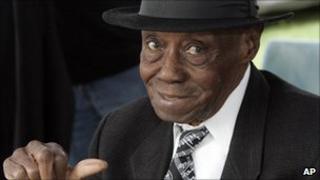 Our regular column covering the passing of significant - but lesser-reported - people of the past month.
By the age of 97 most musicians would have their feet up but Pinetop Perkins still had a string of gigs booked when he succumbed to a heart attack. He was one of the last of the Mississippi Delta blues musicians who laid the foundation for modern rock music. Like so many of his contemporaries, music became a means of escape from a life of drudgery. He taught himself to play guitar and after a day's work on plantations, would play for itinerant workers in local bars. He had already experimented with blues piano and, in the early 1940s took up the instrument full time after the tendons in one arm were severed following an altercation with a chorus girl wielding a knife. In his early days he played alongside musicians such as Albert King and Sonny Boy Williamson but it was not until the 1970s that he achieved fame when he was asked to join the band which backed the legendary Muddy Waters. From 1981 he fronted his own band, releasing a string of albums and in 2005 became the oldest ever recipient of a Grammy award. According to his agent, he was a man of simple tastes. "Two cheeseburgers, apple pie, a cigarette and a pretty girl was all he wanted."
Music also lost bass guitarist Jet Harris, one of the founder members of the Shadows, the group which helped propel Cliff Richard to fame. Nicknamed Jet because of his athletics prowess at school, he played in a number of bands before being invited to join Cliff's backing band, then known as The Drifters. Harris suggested a name change to The Shadows, to avoid confusion with the American vocal group. The band backed Cliff on his first big hit, Livin' Doll and released a chart-topping instrumental entitled Apache. But in 1962 Harris quit the Shadows and launched a solo career before teaming up with former Shadows drummer Tony Meehan to release Diamonds, which knocked the Shadows hit, Dance On, off the top of the chart, much to his delight. Two further hits followed, Scarlett O'Hara and Applejack, both featuring his distinctive bass sound. But, he had begun suffering from depression and his drinking, already heavy, got worse. His career nose-dived and he took a string of menial jobs to make ends meet. He made something of a comeback in his 60s, playing with a tribute band and touring with the singer Marty Wilde.
At about the time the Shadows were getting their first taste of fame, a new product called Super Glue appeared on the market, the brainchild of US scientist Harry Coover. The new adhesive was originally discovered in the 1950s when his company, Eastman Kodak, was looking for a product which could be used to coat the cockpits of jet fighters. One of the compounds being tested was spread between two glass lenses and the researchers found they could not separate them. Coover spent the next few years developing the product. Shortly after its launch he appeared on a US TV show and demonstrated the strength of his glue by being raised off the ground on two pieces of metal held together by his adhesive. Not to be outdone the show's host launched himself into the air as well. The glue held. The product was used in spray form to suture the wounds of US soldiers in Vietnam but Kodak were unable to capitalise on the idea and sold the product to another company. Although proud of his invention, it did not make him rich. By the time Super Glue became a commercial success the patents had run out.
If Batman had carried Super Glue in his armoury it would, no doubt, have arrived on a tray carried by his faithful retainer Alfred, played by Michael Gough. He got the part in Batman because the director, Tim Burton had remembered Gough's appearances in a string of 1950s British horror films. He returned to play Alfred in Burton's follow-up, Batman Returns, and then in the two Joel Schumacher films, Batman Forever and Batman & Robin. Burton also cast him in Sleepy Hollow and Corpse Bride. A conscientious objector during World War II, Gough carved out a successful career on the stage where he gained a reputation as a sound character actor. In addition to his big-screen career he appeared in a number of TV dramas, notably as The Celestial Toymaker in a 1966 Doctor Who series of the same name. Despite his cinema success, Gough's first love remained the theatre and he was well aware of how tenuous his profession could be. "I'm essentially a jobbing actor," he once said. "If I'm out of work, I'll be the back end of a donkey."
Author Diana Wynne-Jones's love of fantasy was engendered while she was at Oxford where among her tutors were JRR Tolkien and CS Lewis. Yet she rejected the traditional elves and dwarves style of the Lord of the Rings and Narnia, in favour of her own take on the genre, which was best seen in her most successful work, the Chrestomanci series of novels and short stories. Her 1996 work, The Tough Guide to Fantasyland, was a gentle and witty exploration of fantasy fiction, asking questions such as why there are Dark Lords but no Dark Ladies. Her first books were published in the 1970s but it took the appearance of the Harry Potter series, 20 years later, to reawaken a wider interest in her work. Many critics pointed out some similarities between themes in JK Rowling's work and her own but, in an interview with the Guardian, she rejected any suggestions that Rowling had lifted her ideas. "I think that she read my books as a young person and remembered lots of stuff; there are so many striking similarities."
If fantasy is an illusion then Dorothy Young, had an insight into the tricks of one of the great performers, Harry Houdini. She was the last survivor from his many stage assistants, who added glamour to the performances of the great man as well as assisting with his act. In an illusion called The Radio Girl of 1950, Houdini would show the audience that a cabinet shaped as a wireless receiver was empty. He would then tap on the case and Dorothy would jump out and do the Charleston with the illusionist. In another, somewhat risque act, she became the slave girl tied to a pole for being naughty. A screen would rise up and fall and she would appear in a butterfly costume and begin dancing ballet. She left Houdini in 1926, two months before he died, and took up acting. She later toured the world with her second husband as a Latin American dancing act. To the end of her life she refused to reveal any of Houdini's secrets.
Among others who died in March were Hollywood actress and serial husband collector Elizabeth Taylor; the first female vice-presidential candidate for a major US party, Geraldine Ferraro; Middlesex and England cricketer Fred Titmus and former US Secretary of State Warren Christopher.