Been and Gone: Shrek the sheep and the brains behind bar codes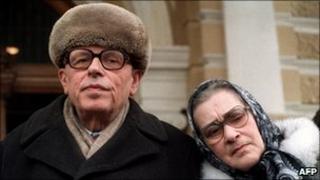 Our regular column covering the passing of significant - but lesser-reported - people of the past month.
As the wife of Nobel Laureate Andrei Sakharov, Yelena Bonner found herself at the forefront of opposition to the human rights abuses perpetrated by the former Soviet Union. Her own background made her a natural dissident, her father was murdered in one of Stalin's purges when she was just 13 and her mother spent 17 years in forced labour camps. She served as an army nurse during the war, where she was badly wounded during an artillery attack and went on to become a paediatrician. She married Sakharov in 1971 and the couple became the centre of opposition to Soviet rule, and were constantly harried by the authorities. Eventually both were sent into internal exile, only being released in 1986 just three years before Sakharov's death and the final collapse of the USSR.
The Watersons, led by singer Mike Waterson, were among the most influential musicians heading up the British folk boom of the 1960s. Unlike many outfits at the time, they largely eschewed instruments in favour of unaccompanied harmony singing of largely traditional songs. Waterson was also a proficient songwriter whose works were recorded by artists such as Billy Bragg and Fairport Convention. The band burned themselves out by 1968 after a relentless period of touring and recording and Waterson went back to his trade as a painter and decorator. The band reformed in 1972 with Waterson's brother-in-law, Martin Carthy as part of the line up. Their 1975 album, For Pence and Spicy Ale, heralded a new era which lasted almost to the end of the next decade. After the group finally split, Waterson continued to perform both as a solo artist and in reunion concerts with old friends.
A mix-up during a job interview launched Martin Rushent as one of the most influential music producers of the 1970s and 80s. Originally applying for a job as a janitor at a recording studio he was mistakenly taken on as a technician. He found himself working with T Rex before moving on to United Artists where he produced albums for The Stranglers and The Buzzcocks. By the beginning of the 1980s he had set up his own recording studio at his home and began experimenting with the use of multiple synthesisers to create a whole new sound. This was heard to great effect when he produced the Human League's album, Dare, which sold millions of copies, not least because of the hit single, Don't You Want Me.
The use of bar codes to identify products, track parcels and even tag babies in hospitals is due in no small measure to Alan Haberman. The idea of a mark that could be read by an optical device goes back to the 1940s. But early scanning equipment was unreliable and, with no international standard, manufacturers feared that retailers would demand their own unique coding on products. In 1973 a committee of supermarket executives, chaired by Haberman, chose the now familiar bar code in preference to competition from many other ideas including random dots, circles and bull's-eyes. Haberman set out on a personal crusade to persuade all manufacturers, retailers and consumers to accept the new design. In early 1974 a packet of chewing gum passed through an optical scanner in a supermarket in Ohio to become the first ever product to be rung up from a bar code.
Gunsmoke became one of the longest running TV series of all time and throughout it all James Arness kept the peace as Marshal Matt Dillon. Developed from an earlier US radio show, Gunsmoke first aired in 1955 and became an immediate hit. By the time it ended in 1975 Arness had appeared in no fewer than 635 episodes, making it the longest running series on US prime-time television. During its 20-year run it regularly made the list of Top 10 rated programmes. Arness returned to the role for a number of TV movies under the Gunsmoke banner which aired in the 1980s and 90s. He also appeared in the series How the West Was Won, which became cult viewing in many European countries. Throughout his life Arness suffered the effects of wounds he suffered while serving with the US army in World War II.
Most of New Zealand's 40 million or so sheep spend their lives in relative obscurity, but one named Shrek became an international celebrity. The merino successfully managed to avoid the annual shearing process for six years, hiding in caves high in the mountains where it was unlikely he suffered from the cold. He was finally cornered and his shearing, which was watched by a live TV audience, yielded more than 27kg of wool. The sheep, now a shadow of his former self, made the trip to the New Zealand parliament to meet the prime minister and endured a helicopter trip to an iceberg for another public shearing on his 10th birthday in order to raise money for charity. He has been immortalised in his own biography, Shrek, The Story of a Kiwi Icon.
Among others who died in June were the actor who played the cigar chewing Columbo, Peter Falk; saxophonist with Bruce Springsteen's E Street Band, Clarence Clemons; veteran peace campaigner, Brian Haw, and the voice of Rainbow and the Daleks, Roy Skelton.