The art of the pithy hashtag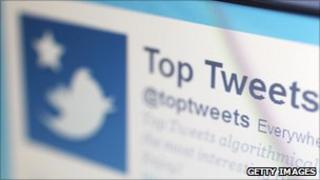 With Twitter becoming more and more popular, there's now a drive to succinctly summarise a hot topic with the perfect hashtag.
Some of the more obvious hashtags to trend on Twitter recently are #hackgate, referencing the News of the World hacking scandal, and #1yeartogo, for Olympics tweets.
Other, slightly less obvious, big hitters have been #thingswelearnedontwitter to mark little snippets of Twitter wisdom like "typing coherently in 140 characters or less is an art form" and "people really like to take pictures of their food". #getsonmynerves has also been popular.
In the UK, #stayonyourfeet proved to be one of the more random Twitter hits of the year.
It emerged after football pundit Ray Wilkins used the phrase repeatedly during a Real Madrid v Tottenham Hotspur Champions League clash. After mentions from key "Twitterati" like Rio Ferdinand, who has over a million followers, the hashtag became a smash. Four months after its creation Ferdinand has this week updated his "collection" of #stayonyourfeet t-shirts. The tweet-monitoring service Topsy.com gives it a score of 42,000 tweets and rising.
More political, and arguably more offensive, was an expletive-containing hashtag effectively coined by US blogger Jeff Jarvis, although at another tweeter's suggestion, to vent his anger as the US Congress grappled with American debt.
"A hashtag is open and profoundly democratic," wrote Jarvis on his blog after the hashtag went viral. "People gather around a hashtag. They salute it and spread it or ignore it and let it wither.
"Hashtags allow us to gather around topics, events, and actions across platforms. Hashtags are in our control… it's quaint that some folks lobbied to get me to change the hashtag, as if I controlled it. Some scolded me for not scolding Congress or the GOP or the Democrats or the White House."
Topsy.com gives it a score of 120,000 tweets.
From her bedroom in Luton student Sanum Ghafoor, 19, created #blamethemuslims after watching media coverage of the recent Norway attacks.
"First it was a terrorist attack by al-Qaeda" says Ghafoor. "Then when they found out it was a Norwegian, commentators decided it was a home grown al-Qaeda inspired plot. When it was discovered the killer was blond and blue-eyed it was a Muslim convert, inspired by al-Qaeda. The default was to blame the Muslims so I started the hashtag."
The idea was to sarcastically #blamethemuslims for absolutely anything so Ghafoor - who is Strange_Sanum on Twitter - tweeted and the idea was picked up worldwide. According to Topsy.com, more than 165,000 tweets have repeated it. Plenty were offended, but plenty also joined in the joke.
Examples included: My phones running out of battery #blamethemuslims
And: Where's your homework? I made it into a paper plane and it got hijacked #blamethemuslims
Twitter is getting more than 200 million tweets a day, up from about 95 million last December. It tracks the volume of terms mentioned on Twitter constantly. Topics break into the trends list when the volume of Tweets about that topic at a given moment dramatically increases.
Twitter emphasises novelty over popularity. Twitter trends come from an algorithm that identifies topics that are being talked about more now than previously. So trends happen not because of cumulative interest but something much more ephemeral.
Twitter doesn't have favourite hashtags. But it does reveal the records for most tweets per second.
The last record was set at the end of the FIFA Women's World Cup in July when they hit 7,196 tweets per second; it was just after 6am in Japan and they won.
An event like that naturally commands people's attention. But for the hashtag creator, the task is grabbing people's attention with a lovely turn of phrase.
It's not easy.