Why would thieves steal a bridge?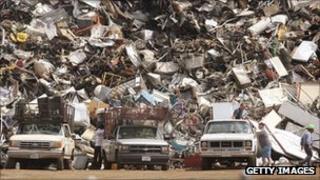 Two men in the US have been charged with cutting up a steel bridge and selling it for scrap. How - and why - did they do it?
When the two men showed up at the scrap yard in Pennsylvania with chopped-up steel beams and grating, nothing seemed initially suspicious.
After all, it is not unusual for men to show up with hundreds of pounds of metal in the back of a pick-up truck, an employee of the yard tells the BBC.
But the following month, police determined the men had stolen the steel from a bridge in an isolated wood in rural Pennsylvania, and people familiar with the scrap metal business and theft cases say it may be the first reported case of a bridge being cut down, stolen and sold for scrap.
With scrap metal prices at or near historic highs - in part due to voracious demand from China for use in domestic industry - police across the country and people in the scrap metal recycling business say the US is suffering what is almost an epidemic of metal theft.
Damage wrought
Costly electric equipment, air-con units, invaluable bronze sculptures, copper piping, power and telephone lines - and now a bridge - are being taken, destroyed and sold for their raw materials.
In most cases, the value of the stolen goods on scrap metal markets is greatly exceeded by the damage wrought and the replacement value of the stolen object. Homes and streets have to be rewired for electricity and plumbing lines reinstalled at great cost.
"They will steal the copper wiring and the copper pipes out of an air conditioner and get $1,500 dollars out of it, but the businesses are left with $15,000 to fix the damage," says Lt Terry Hastings, a spokesman for the Little Rock Police Department in the state of Arkansas.
"It is a big pain in the neck."
The case in New Castle, Pennsylvania, a small town about 50 miles (80.5km) north-east of Pittsburgh, unfolded earlier this month when staff at the New Castle Development Corporation, noticed an entire steel bridge had been removed from a wood, where it spanned a creek on an access road.
Remnants of the 40ft (12.2m) long and 15ft (4.57m) wide bridge indicated it had been sheared from its moorings with a blow torch, say police. According to police and an employee of the scrap yard, the thieves cut the pieces into three-foot sections and hauled them out of the woods in a pick-up truck.
Felony charges
Investigators with the Pennsylvania State Police put the word out, and two days later, employees at a nearby industrial metal recycling yard, Ferrotech Corporation, reported they had bought 31,000lbs (14 tons) of steel matching the missing bridge for $5,179 (£3,287), in several transactions in September.
The bridge had been worth about $100,000 (£63,571), and officials with New Castle Development have told local news media they are unsure whether they will be able to replace it.
An employee at the scrap yard told police that Alexander Jones, 25, said he and his brother Benjamin, 25, had been given permission to cut up the bridge and sell it. On Monday they were arraigned on felony counts of theft, criminal mischief, receiving stolen property and conspiracy.
'National problem'
No national agency keeps definitive statistics on scrap metal theft, but the Institute of Scrap Recycling Industries says reports of thefts to its online tracking service were up 94% in 2010 from the year before.
"This is a national problem," says Trooper Joseph Vascetti, an investigator with the Pennsylvania State Police. "Every police agency in the country is having a problem with it."
The rash of theft is driven in large part by high metal prices. This is due to the high demand for raw materials in developing countries such as China, as well as by the growth in recent quarters in US manufacturing, says Joe Pickard, the chief economist for the Institute of Scrap Recycling Industries.
"They are historically high, no question about it," he says, though he added copper prices softened considerably in September following the S&P downgrade of US government debt and worries about the European debt crisis.