Kim Jong-un and other heirs apparent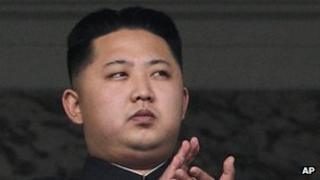 Although there has been no official confirmation, all the indications are that Kim Jong-un, the youngest son, will take over from his father as leader of North Korea. But as these examples show, the transfer of power in family dynasties, or a child following in a parent's footsteps, can have mixed results.
The death of Kim Jong-il has set the stage for his son, Kim Jong-un, to take over the family business - the totalitarian leadership of North Korea. It's a job that Kim Jong-il himself inherited from his own father, the founder of the country in 1948.
But just calling Jong-un "the Great Successor" does not necessarily make it so. While family ties have their advantages, any business consultant will tell you that nepotism isn't always the best way to select the next in line.
After all, in recent memory there have been several examples which suggest that picking the right family member to uphold one's empire can be hard work.
Bashar al-Assad The son of Hafez al-Assad, who ruled Syria for 29 years, Bashar al-Assad had the promise of being a more moderate figure. Bashar wasn't even supposed to lead. But when his older brother, groomed for the position from a young age, died in a car accident, Bashar became the heir apparent. Trained as an ophthalmologist and married to a British citizen, he was perceived as being more mild mannered than his father, who orchestrated the Hama massacre in 1982. But as the events of the Arab Spring has shown, Mr al-Assad can be just as unpredictable.
George W Bush Both George and younger brother Jeb had political ambitions and connections but some argued that it was Jeb who had a better head for government. But in 2000 it was George, groomed by Republican party mastermind Karl Rove, who became the second Bush to sit as president. He finished what his father started in the first Gulf War by removing Saddam Hussein from power, but in doing so launched a war that has only just ended. He did manage to exceed his father's achievement by being elected to a second term.
Raul Castro With Cuban leader Fidel Castro 85 years old and in ill health, it made sense to start transferring power to someone else. Brother Raul, 80, was perhaps not the most obvious choice. But since the transfer of power in 2008, Raul Castro has relaxed many restrictions that made life in Cuba restrictive. Citizens can now purchase land and cars - as well as small luxuries like DVDs. Raul Castro has also taken several steps to bolstering a free market in Cuba.
Prince Charles As the eldest son of Queen Elizabeth, Prince Charles is the legal heir to the throne, though his mother's continued longevity and decision to remain the royal sovereign has left him waiting in the wings throughout his adult life. Now 63, the Prince of Wales has never adhered to the Queen's vow of silence on controversial matters. His views on everything from architecture to the environment are well known to the British public, although there is one widely-debated issue - whether his son, Prince William, could jump the line of succession - on which he has yet to comment.
Sofia Coppola After a rocky beginning in acting - her small but crucial scene in The Godfather III was universally pilloried - Sofia Coppola claimed her rightful place in the entertainment world by embracing her directing destiny. While other members of the Coppola clan (cousins Nicholas Cage and Jason Schwartzman and aunt Talia Shire) found fame as actors, Ms Coppola followed in her father Francis Ford's famous footsteps, winning a screenwriting Oscar for her film Lost in Translation, and has gone on to make several films about rich people leading sad lives.
James Murdoch It was elder brother Lachlan who was once called "first among equals" by father Rupert Murdoch, and for a while it was understood that Lachlan was being groomed to take over global media empire News International when Rupert's reign came to an end. But after Lachlan abruptly resigned from the company, James became the favourite son. Whether James will one day succeed his father may hinge on the outcome of the phone hacking scandal that engulfed the company's British newspaper division on his watch.
Mitt Romney Father George built a huge fortune in the auto business and served as the governor of Michigan. He even launched an unsuccessful run for president during the 1968 campaign. Son Mitt inherited his father's immense wealth, his business acumen and his political ambitions. The former governor of Massachusetts also made a fortune as a consultant, and is currently in his second presidential campaign. While he lost during the primaries last time around, he's potentially poised to take the top spot of Republican nominee - but only after every other candidate seems to have been examined and rejected by voters leery of Romney's conservative credentials and big-money background.
Donald Trump The real-estate tycoon inherited his father's business and turned it to an empire, then filed bankruptcy, then built another empire. Along the way, he's expanded the Trump brand, which under his father's helm focused on middle-class properties, to include casinos, pageants, television and even cologne. And the reign of Trumps shall remain unbroken even after Trump steps down: his children, Donald Jr, Ivanka and Eric all work for the Trump Organization in executive roles.