Does being a pop star help win elections?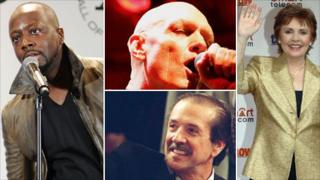 Musical star Youssou N'Dour could be the next president of Senegal. The singer and percussionist will run against incumbent Abdoulaye Wade in February's elections. So is it an advantage or hindrance to be a famous musician when running for office?
There will be no need to introduce himself to voters if Youssou N'Dour goes canvassing door to door on the streets of Dakar.
Born in Senegal's capital city 52 years ago, he has become one of the most famous musicians in Africa's history, collaborating with Bruce Springsteen, Paul Simon and Sting, although his biggest global hit was 7 Seconds with Neneh Cherry in 1994.
He has long been involved in humanitarian causes and was critical of the response from African leaders to the famine in Somalia.
Now his fame presents him with a good chance of unseating the president, says Carlos Oya of the School of Oriental and African Studies at the University of London.
"Youssou N'Dour is more than a famous musician, he's an institution in Senegal, one of the most revered celebrities in the country. Apart from his music, he's been actively promoting art and music for the grassroots, engaging lots of different people especially youth, to take a more active role in society."
Coming from outside the political system and from a humble background, means N'Dour can escape the frustrations that many voters associate with Senegal's political elite.
But being a famous singer is not always a recipe for sustained political success.
For example, after coming third in the presidential race won by Mary McAleese in 1997, Dana Scallon became a Member of the European Parliament, representing Connaught-Ulster from 1999 to 2004, when she failed to win re-election.
Last year, she stood for president for a second time but came sixth.
"It was a huge advantage for her going from music to politics," says Irish political analyst Johnny Fallon.
Voters in Connaught-Ulster would have known her as the 16-year-old Catholic girl who won Eurovision and later sang for the Pope - a person whose strong Christian faith resonated through her music, he says.
"So when she entered politics she held true to that. She ran for office with strong family values, harking back to that era when people thought things should be more simple.
"Had she tried to go into politics standing on a totally modern platform wanting to be a reformer, her background might have been held against her, but instead she appealed to people with conservative values and that was a benefit to her."
In the UK, fame as the drummer in Blur did no electoral favours for Dave Rowntree, who lost two council elections, while in Haiti, hip hop star Wyclef Jean was prevented from running for president because of residency requirements. That election was won by popular singer Michel "Sweet Micky" Martelly.
In the US, there have been several politicians who began life in the music industry, most notably Sonny Bono who remains the only American congressman to have had a number one hit on the Billboard Hot 100, the singles chart.
There is also a strong tradition of actors finding political success, such as Clint Eastwood, who was Mayor of Carmel in California, Arnold Schwarzenegger, who was governor of the same state, and Ronald Reagan, who spent two terms at the White House after 30 years in Hollywood. Minnesota Senator Al Franken first found fame as a comedian on Saturday Night Live.
In politics, name recognition counts for a lot, says polling expert Steve Mitchell of Mitchell Research, based in Michigan.
"Election results show that famous people running for office can do well if they have credibility and a good understanding of the political process."
It's not just actors and singers, he says, there are dynasties where sons followed fathers and wives followed husbands, in the US and in other countries like India and Pakistan.
"There's no doubt that having a familiar name, especially a political name, gives a leg-up in a campaign. I don't think voters are lazy but they are very busy people.
"Politics may be very important to them but it's a responsibility and they don't have the time to read up on candidates, so to see a name that's familiar to them and with whom they're comfortable, they're going to vote for that man or woman based on that name recognition."
Celebrity usually brings money too, which provides a campaigning advantage. But name recognition and deep pockets count for nothing without credibility, says Mr Mitchell.
While Sean Penn would have every chance of winning office, he says, it's unlikely that Kim Kardashian would get sufficient support.