Africa Cup of Nations: Can a computer predict the winner?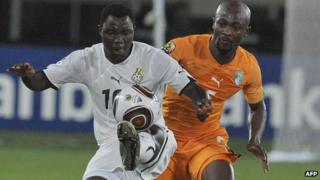 Humans use all kinds of skills to forecast a football score. They can assess the players' skills, and judge the mood in the team - or they may just have that 1-0 feeling. But they can't crunch stats as well as a computer. So how do a computer's predictions differ?
The Ivory Coast will be this year's winners of the Africa Cup of Nations.
That is the prediction of sports statistician Dr Robert Mastrodomenico's black box - a computer model made up of complex algorithms.
He inputs historical data on the performance of competing teams in international games, and the model computes the relative attack and defence strengths of each country.
From that information he can rank the teams.
"The model showed that the strongest team competing is Ivory Coast, followed by Ghana. It then shows the next few teams - Tunisia, Morocco and Senegal - as having similar ratings," he says.
On these top five teams, the computer agrees with bookmakers Ladbrokes and William Hill, who have these teams, plus Mali, down as favourites.
But the computer's sixth pick is a surprise - Burkina Faso.
Mastrodomenico says the data shows that the Burkina Faso team has very similar scores to Tunisia, Morocco and Senegal - but it is more often put a bit lower down the ranking, somewhere around eighth.
So what do the football pundits think of applying this high-end data analysis to their sport?
'Drunk computer'
"I think that computer's drunk," says Farayi Mungazi, who is covering the tournament in Gabon for the BBC.
"I mean, there's more chance of Burkina Faso sending a man to the moon than winning this tournament.
"They are so inconsistent. They've got good players here and there, but if anyone puts money on Burkina Faso, I would say they have got more money than sense."
But Mastrodomenico argues that by letting data and equations make the calls his tips may have a dispassionate insight that the market misses.
Clients pay his company, Global Sports Statistics, to get information from his models which can be used for a variety of uses including betting on matches.
Farayi Mungazi points out that you do not need a complex computer model to pick Ivory Coast and Ghana as strong teams.
"I'm sorry to be a wet blanket on Rob's mathematics, but I would have picked a couple of youngsters off the street here in Gabon and they would have gone for Ivory Coast or Ghana," he says.
And he argues that statistics cannot tell you everything about a team - which is why he is not picking Ivory Coast as the most likely winner.
Senegalese surprise
"I've got my money on Senegal simply because they've got the best all-round team in this competition.
"Their front three is loaded with goals, and they are hungry and they have shown over the past few months that Senegalese football is back.
"Remember they surprised everybody at the World Cup in 2002 but that's seemed to be a curse instead of a blessing, because after the heroics of 2002, Senegalese football went downhill.
"But they have been on the up for the last two years, and I think this is their moment to shine."
He adds: "I don't think Ivory Coast are good enough to win this.
"They've got very good players but they don't have players that gel into a good team and that has been their Achilles heel.
"They were the overwhelming favourites last time out and they didn't do anything.
"Ghana have a very proud Nations Cup history, but they are under so much pressure to win a fifth Nations Cup title and that seems to get to the players a lot."
Mastrodomenico concedes that to some degree relying on only historical results can be problematic in a knockout tournament structure, where most teams are playing in an unfamiliar environment.
"In terms of predicting events, models like this perform well, but they are much more suited to predicting matches as opposed to competitions.
"For a match we can use the strength of the teams involved to make estimates of the win, draw and loss probabilities.
"And in terms of probability no team in the competition will be 100% sure to win, so everyone has a chance... mathematically at least!"
More or Less is broadcast on the BBC World Service and BBC Radio 4. You can listen again online by downloading the More or Less podcast.