The alternative map for 2012 visitors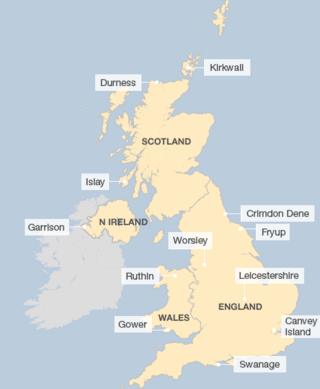 The alternative map for 2012 visitors
With the Olympics and Queen's Diamond Jubilee, tourism in the UK faces a massive year. The Magazine asked people born outside the UK to describe the part of the country that, for them, sums up a more unusual aspect of British life. Here are a selection of those choices.
The alternative map for 2012 visitors
Durness, Scotland (Kelsey Morse, Tain, Scotland)
Hailing from the flat lands of Indiana, United States, I've been known to act embarrassingly awestruck at different locales throughout Scotland. None more so than on a cliff's edge in Durness, Scotland's most northwesterly point. Standing hundreds of feet above the North Atlantic, I watched teal-blue waves crash against boulders and birds soaring one hundred feet below me. The winding - often single-track - road leading there was a sight itself, too, through honest Highlands villages with sheep on the loose. Any visitor to Scotland would be better for visiting the place.
Kirkwall, Orkney, Scotland (Melanie Brehaut, Belfast, Northern Ireland)
As an Australian living in the UK for the past 12 years, I find this place utterly breathtaking in so many ways. Moving here enabled my inner history geek to shine through! In Australia, an "old" building is around 100 or so years in age. For me, the place that 'knocked my socks off' was Kirkwall, in Orkney, Scotland. Reaching out and touching Kirkwall Cathedral (built in the 11th Century I believe) was an astonishing experience. To know that I had my hands on a building that had been built so long ago - that a thousand years before, someone else's hands had been there - wow. I definitely believe that more money and care should be put towards the UK and Ireland's amazing heritage. For such a tiny place (to an Australian anyway), this place is crammed with historical and archaeological wonders!
Islay, Scotland (Christopher Bean, London)
I am Canadian, though I've spent parts of my life living in Amsterdam, Frankfurt, Riyadh and (briefly) in Singapore. Here in the UK I keep returning to Islay, off the west coast of Scotland. I first came to Islay on a diving trip, unusual enough in itself. But I keep returning for the scenery, the whisky and the strangely modern but insular people there.
Swanage, Dorset (Anna Bierla, Polish born)
My picture was taken on Jurassic Coast near Swanage in August 2011. I love walking on cliffs.
Canvey Island, Essex (Anita Anderson, UK)
I'm from New Zealand and live in London. My favourite less-explored place is Canvey Island, Essex. It's an island that isn't really an island with its houses all in varying styles like an architectural sampler, so different from the terraced houses of the rest of England. The beautiful Labworth restaurant on the sea front with great views over the Thames Estuary, amazing picture windows to protect you from the cold winter winds. The rock pools with tiny sealife to be explored at low tide. Canvey Island is dismissed by so many yet visited by so few. Nothing at all like the endless spacious beach where I grew up with only the occasional ice cream van on a really hot summer day. Canvey does have a sort of familiarity though as it is possible to go to the seaside and not quite see the amusement arcades and entertainment (if you stay just the wrong side of them), just the sea and tide to entertain you and hardly anyone around on a dull day.
Worsley (Thierry Leger, Bordeaux, France)
How about the Bridgewater canal starting point in Worsley (Greater Manchester). I remember well this lovely place, especially in April when daffodils are opened. The pub nearby and the stone and iron bridge over the canal.
Leicestershire (Maria Chaideftou, Athens, Greece)
Having visited Leicestershire just before Christmas, the contrast with sunny and busy Athens in Greece was very profound... I have to admit Leicester and Leicestershire hold a special place in my heart and I had previously lived there, so my recent visit was something like a return home and I enjoyed every minute of it.
First things first, the train journey there made me appreciate what I was missing whilst in the leafy northern suburbs of Athens: the sense of space and the lush green colour of the rolling hills around so typical of England and of the approach to Leicester from Market Harborough. Seems I had been taking for granted the landscape I now truly miss.
Walking through the city, I realised I loved the colours and the grandeur of another era in Town Hall Square with its gold lions fountain and walking though the cobbled streets by the cathedral and the contrast with the ultra stylish new city centre and its shiny High Cross. This coupled with the beauty and tranquillity of the Leicestershire countryside, a lovely bright crisp morning, frost covering manicured lawns and flower beds, watching early walkers along the footpaths around the National Forest, then some shopping in a quirky village shop in Ashby-de-la-Zouch and a lovely hot roast in the local pub, all in the company of good welcoming friends and chatty locals made it all very special. Seems the simple things in life in Britain far from the hustle and bustle of a big city, is what makes it a favourite for me.
Crimdon Dene, Durham (Nikki Collins, Hartlepool)
I was born in Santa Monica, California, and lived in Los Angeles all my life. I worked on cruise ships for 13 years, met my husband on board, and we decided to settle in his residence of Hartlepool. Ask me why on earth I chose Hartlepool over LA? Simple: the natural beauty of the coast line, the proximity to Yorkshire County and Durham. What more could I ask for in a peaceful life?
I have the beauty of nature on my doorstep but one particular thing that struck me that I feel many residents overlook is the natural, unspoiled now restored beauty of the Durham Heritage Coast, including Hartlepool, as we are an independent and I must say, proud borough.
I moved here with no intentions of being a beach comber. My mother who was raised in Cheshire from the age of six told me stories of her childhood after World War II, cycling through Wales and beach combing in sand dunes. I had no idea what the latter meant, until one day, my husband brought me to Crimdon Dene. It was magical. Everything my mom told me about, was on this coast, and it was so beautiful. When I learned of the mining history of Durham Coast's past, it was hard to imagine that today the sands where clean, pristine almost, and full of rich sea life, birds, and coastal plants.
One thing too I discovered: sea glass. It was lying there like a glistening blue topaz. I picked it up along our walk, not knowing what I had found. As soon as we arrived home, I typed: "beach glass" into Google and found that I had opened up a whole new world to my life. A year after collecting, I figured out how to turn this washed up history from Sunderland, Seaham and Hartlepool's past of glass works, into a work of wearable art.
Fryup (Laura Macdonald, London - originally from Brisbane, Australia
There's really no place like Fryup. Made famous for it's quirky name (to be seen on mugs and cards around the world), and for being smack bang in the middle of the eerie and sometimes spooky North Yorkshire Moors, I am forever grateful to have the good fortune to be able to stay in such a beautiful corner of the world. You won't find a pub for miles, and accommodation is hotly contested, but if you're fortunate enough to spend a weekend there, you'll find the locals very welcoming and the walks and vistas incredible and quite unforgettable.
Ruthin (Robin Russo, Long Beach, California, US and Enid Bulman, Canberra, Australia)
I've surfed Wales several times as I thrice drove north out of London to Scotland and down through Wales, Land's End and back to London. I stayed in a haunted Welsh castle (Ruthin) once and saw a ghostly lady on the parapets. But the surf has never been "epic" in Wales. Beer is always good, though. (Robin Russo)
I found a pretty little town in Wales that goes by the name of Ruthin. There's a quaint little grassy town square (we don't have those in Australia - we have parks, which are green when there's been rain and yellow or brown when there hasn't been rain - but no town square) with a big slab of rock. Curious about the rock, and what it was doing in the town square, I had to investigate, take a closer look. There was a sign next to the rock, which informed the curious traveller that King Arthur is reputed to have beheaded someone on this rock! Wow! Arthur - really? Wow again. Turn around, look across the square, there's a beautiful timbered pub - very quaint. I had lunch there, the floors were uneven, you could feel the whole building moving as you walked through it - but I didn't feel unsafe because it had obviously been there a very long time and hadn't fallen down, so there was no reason to expect to just then. (Enid Bulman)
Gower, Wales (Jason Nel, Carmarthenshire and Doug, Sydney, Australia)
I'm a South African born surfer who surfs in the Gower, Wales throughout the whole winter and it may be one of the harshest and coldest experiences of my life but it is always worth it for that long ride.
It is certainly a little colder than here in NEW South Wales... I have surfed the Gower in OLD South Wales, which was thoroughly enjoyable.
Garrison, Northern Ireland (Colette Adanan, Celbridge, Ireland)
This is a very picturesque village on the banks of Lough Melvin. It is totally unspoilt and is my favourite part of Northern Ireland.