Been and Gone: Farewell to the genius behind Star Wars' lightsaber action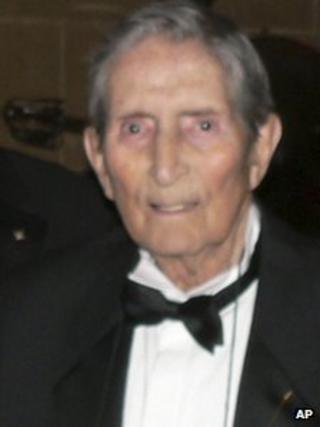 Our regular column covering the passing of significant - but lesser-reported - people of the past month.
From the swash and buckle of Errol Flynn to the flashing lightsabers of Star Wars, some of cinema's greatest sword fights were choreographed by British Olympic fencer Bob Anderson. His career began in the 1950s when he coached a host of Hollywood actors, often acting as their stunt double. Thanks to skilful editing, he was sometimes seen in a fight to the death with himself. In the climax of The Empire Strikes Back, it was Anderson wearing the Darth Vader costume who cuts off Luke Skywalker's hand while the voice of James Earl Jones intones "I am your father". He was responsible for the sword play in The Lord of the Rings trilogy and was working on The Hobbit when he died. A noted perfectionist, he believed the sword was far superior to the gun: "When you get into a sword fight, you're standing toe-to-toe with someone who's trying to kill you and you're looking him in the eye - now that's thrilling."
Elaine Pritchard brought a gentle touch to the sometimes macho world of competitive chess, although her many defeated opponents may not have agreed. A child prodigy, she was playing by the age of five and was reputed to have been able to beat her father, no mean player himself, before she was eight. She won the world girls' under 21 championships at the age of 10 and picked up the first of her four British ladies' championships three years later. While barely in her teens she almost beat the then world champion Alexander Alekhine in a match so gripping that someone in the audience called out to the Russian to give her a draw. He refused. In 1957 she became an International Womens' Master. The title of one of her books, Chess for Pleasure, summed up her attitude to the game.
India's first woman photojournalist Homai Vyarawalla published most of her work under the pseudonym Dalda 13. She once explained this by saying she had been born in 1913, married at 13 and her first car had the registration plate DLD 13. A devoted follower of Gandhi, she photographed the Mahatma and many of his political successors including Nehru and Indira Gandhi. She also extensively photographed scenes from her adopted city Mumbai, where she had moved from her native Gujarat and where she met and married her husband. Many of her photographs captured the scenes in 1947 when India became a nation state including the departure of the last Viceroy, Earl Mountbatten. She gave up photography in 1970, annoyed by what she described as the increasingly bad behaviour of a new generation of press photographers. She emulated her hero, Gandhi, by living a Spartan lifestyle and turning down huge financial offers for her pictures.
The guitarist Bob Weston was one of several casualties in the dramas that surrounded the band Fleetwood Mac. Recruited in 1972 as a replacement for Danny Kirwan, he played on the album, Penguin, sharing vocals with Christine McVie and writing the instrumental Caught in the Rain. He also appeared on the follow up, Mystery to Me, co-writing the track, Forever. Things fell apart in 1973 when it was discovered that he was having an affair with Jenny Boyd, the wife of the band's drummer, Mick Fleetwood, just one example of the marital infidelity which would be a feature of the band. An enraged Fleetwood sent a group of large roadies round to Weston's house early in the morning to tell him he had been sacked. His departure triggered the recruitment of Lindsey Buckingham and Stevie Nicks, the new line-up going on to record Rumours, one of the biggest-selling albums of all time.
Most actors fear becoming typecast and Jenny Tomasin certainly believed it had damaged her career. She became famous for playing the accident-prone maid Ruby in the acclaimed ITV drama, Upstairs Downstairs. Hired for just one episode, her character made such an impression that she remained with the series for three years. Her apparent dim-wittedness made her the target for the ire of the redoubtable cook Mrs Bridges, whose cries of "Oh, Ruby" became a fixture in every episode. Despite her success Tomasin struggled to escape from Ruby's shadow. While the series acted as a springboard to further stardom for Simon Williams and Lesley-Anne Down, Tomasin could only manage to get a role as a waitress in the TV soap Crossroads, and a string of bit parts including an appearance as Tasambeker in the 1985 Doctor Who story Revelation of the Daleks and two stints with the ITV soap, Emmerdale.
Tom Cowie was a member of that select band of entrepreneurs who, from small beginnings, created a huge business empire. After his war service he returned to his native Sunderland where he opened a business selling motorcycles. By the 1960s he had seven showrooms but switched to selling cars following the collapse of the British motorcycle industry. He quickly saw that businesses would benefit from leasing rather than buying vehicles and his contract hire division became one of the biggest in the country. When bus deregulation came in the 1980s he bought the coach company Grey-Green, tendered for London Transport contracts and built up a business that would eventually be rebranded as Arriva. He had a less successful time as chairman of his local football club. During his tenure Sunderland plunged to the Third Division although fans give him some credit for hiring Laurie McMenemy as manager.
Among others who died in January were the photojournalist Eve Arnold, best known for her portraits of Marilyn Monroe; singing legend, Etta James; host of the quiz shows, Blockbusters and Call My Bluff, Bob Holness; crime novelist and creator of Dalziel & Pascoe, Reginald Hill; the first president of the self-declared Turkish Republic of North Cyprus, Rauf Denktash, and the man dubbed "the Godfather of Rhythm & Blues, Johnny Otis.