News tweets: Super Tuesday and the iPad3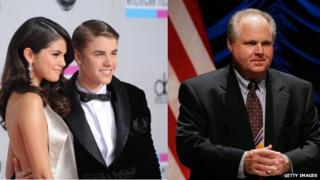 For the week of 4 March, here is the news - condensed into 10 topical tweets, some more serious than others.
1.All of San Francisco just woke up, tweeted, and are now going back to bed for an hour. Thanks early morning #earthquake
California resident@JennaLanger, one of many who tweeted after a 4.0 magnitude earthquake hit the Bay Area of California at 05:30 PST (13:30 GMT) on Monday, 5 March.
2.Thank you for your comments and concerns. We have decided to join other advertisers and suspend our sponsorship of The Rush Limbaugh Show.
Michael Rozbruch, CEO of @TaxResolution. More than 40 companies decided to pull advertising from the Rush Limbaugh radio programme after Limbaugh made disparaging sexual comments about a law student who testified before Congress about women's health.
Much of the campaign against Limbaugh was orchestrated on Twitter and Facebook, and many of the sponsors who pulled ads, including online backup system Carbonite, ProFlowers and AOL, used social media to announce their decision.
3.Just got a page on my beeper telling me I should really upgrade to AOL.
Conservative columnist@JonahGoldbergin response to the news that the once-prominent internet company had pulled its sponsorship from the Limbaugh show.
4.Q: What does it mean we have Israel's back? A: We'd gladly give Israel's ex a mean look at a party for no reason, for example.
The official twitter account of@VanityFairmagazine in response to President Barack Obama's Tuesday press conference. The president reiterated statements he had made to the American Israel Public Affairs Committee (Aipac), in which he assured them that the US "has Israel's back" but stressed the need to seek a diplomatic solutions with Iran.
5.Mitt: "I'm offering a real choice and a new beginning." And no cliches.
Politico analyst@RogerSimonwas underwhelmed by Republican presidential candidate Mitt Romney's Super Tuesday speech. The former Massachusetts governor won the most delegates and is considered the front-runner.
6.Mitt Romney's favorability rating is even lower than Bob Dole's at this stage. I didn't know that was even possible.
The BBC's@KattyKayafter Super Tuesday. Despite being a heavy favourite for the Republican nomination, Mr Romney struggles with a likeability factor.
7.Quickest way to get this new iPad will be for the Catholic Church to oppose it, so the White House will force it upon us.
Vice-president for communications at the Texas Public Policy Foundation@JoshuaTrevinoafter Apple announced a new HD iPad boasting 4G data capability.
Debate continued this week over whether health insurance purchased by Catholic Church-affiliated institutions should be legally obligated to cover contraceptives.
8.Say what you will about the KONY campaign, but to see Justin Bieber and Selena Gomez fans join hands in one cause is kind of amazing.
Egyptian activist@MosaabElshamy. The romance between pop star Bieber and actress Gomez has sparked bitter animosity between their fans, but both celebs posted support for the controversial campaign to raise awareness about African warlord Joseph Kony.
9.Happy International Women's Day to all the Princess Leias! You're sassy, beautiful and a great shot! (Please stop blowing us up)
A generous, if slightly desperate, message from the @DeathStarPRTwitter account, especially considering that International Women's Day is by design an earth-centric event, without current provisions for women in the rest of the galaxy.
10.I see your Obama hug video and raise youthis photo of Nancy Reagan sitting on Mr. T's lap. Dual loyalty to A Team?
The Atlantic Magazine columnist@ConorFriedersdorfin response to the Big Government.com "expose" of a 20-year old video that showed Harvard law student Barack Obama at a rally introducing, then hugging, a civil rights activist and professor.