News tweets: Cameron comes to town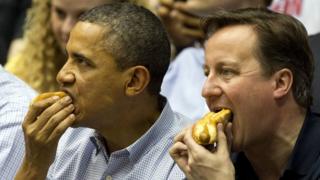 For the week of 12 March, here is the news - condensed into 10 topical tweets, some more serious than others.
1.While Cameron meets Obama at the White House, Nick Clegg will hold talks with Michael Bolton and the guy who played George Bush in TV Movie.
Prior to America's head of state hosting the UK's head of government, British journalist Danny Baker (@prodnose) had predictions for the week ahead for both Prime Minster David Cameron and Liberal Democrat leader Nick Clegg.
2.Imagining a sixth season of The Wire where Lester tracks drug dealers through Bubbles' wireless hotspot.
Tech guru Jason Kottke (@jkottke), responding to the news that a marketing company used the homeless as online access points during the South by Southwest festival.
3.Why bother having a GOP primary when Barack Obama taking comically posh David Cameron to a basketball match has clearly turned Ohio blue
Salon writer Alex Pareene (@pareene) doubts whether President Obama gained any political capital by taking Prime Minister Cameron to see a NCAA play-in game in a political battleground state.
4.Now reading that all red meat is bad for you. Lions are going to be pissed.
Comedian Albert Brooks (@AlbertBrooks) thinking of the real consequences of a Harvard School of Public Health study showing that red meat consumption has an increased association with death. On the other hand, lions also have an increased association with death, so...
5.Petty Baloney: worst Bond girl name ever.
Talking Points Memo reporter Benjy Sarlin (@BenjySarlin) after Newt Gingrich decried the "petty baloney" involved in the the campaign process. Newt was speaking after polls closed in the Alabama and Mississippi primaries, where he placed second in each. Gingrich has declined to drop out of the campaign despite mounting pressure from pundits and pols who say the race should be between Rick Santorum and Mitt Romney
6.#Newt does his familiar routine: attack the elite media and then quote it extensively
The BBC's Paul Adams (@BBCPaulAdams) notes one of the many complexities of Mr Gingrich.
7.British "really lit up the place" 200 years ago at the White House. Too soon, Mr. President, too soon?
Politico White House reporter Jennifer Epstein (@jeneps) on Barack Obama's speech welcoming the Camerons to the White House. The president included a crack about the most notorious British visit to DC - during the War of 1812, when troops set the White House on fire.
8.Europe has had high gas prices forever, which is why the entire Continent is efficient enough to be run on just one overused 9-volt battery.
As fuel prices soar, PJ Media's Denver editor Stephen Green (@VodkaPundit) is suspicious of the transformative power of high energy costs.
9.Saddest part of that Op-Ed is when the Goldman Sachs guy says he's quitting to become an Encyclopedia Britannica salesman.
New York Times arts writer Dave Itzkoff (@ditzkoff) responding to Greg Smith, a Goldman Sachs executive who resigned via a scathing editorial in the New York Times. The night before, Encyclopaedia Britannica announced they would no longer be publishing printed editions.
10.Wait wait guys: Goldman Sachs was into making money THE WHOLE TIME?
Vice President for Communications at the Texas Public Policy Foundation Joshua Trevino (@jstrevino) is shocked - shocked! - that Goldman execs put profits over the welfare of their clients.