'Hanging out' with One Direction in the US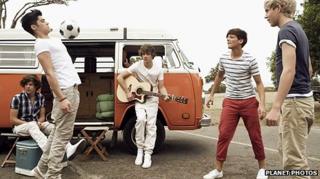 When One Direction finished third in the 2010 series of the X Factor TV show, they could not have predicted that they would become the first British group to go straight to number one in the US charts with their first album.
I had never heard of One Direction - five guys aged 17 to 20, from the UK and Ireland, who had known each other for less than two years after being put together on The X Factor. But now I have spent three long days with them in fancy New York hotels, as well as in black vans with tinted windows, radio-studio green rooms and a few dingy basements inside suburban shopping malls.
When we arrive outside a downtown studio, there is a long line of teenage girls whipping themselves into a frenzy, despite the cold.
Many have bunked off school for the day to spend 20 minutes in the proximity of Liam, Zayn, Niall, Louis and Harry.
The gatekeepers in charge here are tour manager Paul and record label executive Lisa - surrogate mum and dad to five young men who will not be going home for months.
And with multi-media appearances, album signings and performances, every second counts. But it is mundane and unforeseen problem-solving that keeps the show on the road.
As the boys are herded into a small room above a record store for a pep-talk, Louis spills oily pizza on his shirt.
Then hair and make-up specialist Crystabelle dashes outside for a hair dryer. The store security guards think she is probably just a wily fan trying to get near the band, so it takes her several minutes of arguing to convince them to let her back in.
In the odd minutes when I can snatch an interview, it is clear the group is running on adrenalin.
Louis pulls down his lip to reveal a nasty mouth sore. He is waiting for some antiseptic gel to arrive with a stylist who is coming to visit.
As they prepare to go on stage at the Radio City Music Hall, I am treated to a sight that would cause the thousands of fans outside to swoon - several of the boys bare their designer briefs, ahead of a visit from the tour doctor who is going to inject them with vitamin B as a pick me up.
With such a demanding schedule, there is little time or energy left for the wanton bad-boy behaviour that has marred some previous attempts by British bands to "break" America.
Louis tells me he spent his late-night hours not rampaging around Times Square but sitting on his bed, watching One Direction's album reaching number one live on iTunes.
Any spare time is spent stretched out on floors or chairs, Tweeting, texting and messaging their millions of fans and Facebook friends.
One night they do manage to cause a bit of old-fashioned damage by breaking lane equipment at a Manhattan bowling alley.
"A guy fixed it in 20 minutes with a screwdriver," says one of the boys with a smile. "We were just having a laugh, throwing three balls down at once!"
During my time with them, tour dad Paul only has to issue one serious reprimand when a minor food-fight degenerates into paper plate throwing at a New Jersey shopping centre.
Chastened, the boys are soon back in line, welcoming small groups of star-struck fans for photos.
And they do have a powerful work ethic. Zayn Malik - the serious one, you could call him - tells me it is all about the graft. "This is my job now," he says emphatically.
As the band prepare for their first live appearance on a network TV show that involves arriving in a red double-decker, they sit down together in the hotel and watch footage of the Beatles' first visit to America.
The success of their first album here is remarkable and yet it is clear the spontaneous, almost innocent age of Beatlemania will never return.
In its place are five gifted young media entrepreneurs, professional singers who are fully aware of how they are being packaged, and who know that their digitally powered global fame could evaporate as fast as it arrived.
"We don't have big fights, more like brotherly squabbles," says Harry, as the hair dryer whirrs in the background, and he bites into a big spoonful of cornflakes, wearing only a bath-towel.
The boys are complaining they have run out of socks. "There are no more to be had," the wardrobe mistress tells them sternly.
Liam - the thoughtful one, let's say - has managed to punch himself in the face during the night. There is a small bruise that needs dealing with, as he sits down for make-up.
He and the others are all totally exhausted and yawn constantly throughout interviews.
Liam tells me that, if he had not got his break with One Direction, he would be a firefighter now.
A bark from tour manager Paul - "It's time to go, boys."
"At the end of the day," Liam tells me with a sudden burst of energy, "it's about getting to travel the world with your best mates."
They may be homesick and missing girlfriends, but which boy-band from any era could really ask for much more than that?
 How to listen to From Our Own Correspondent:
BBC Radio 4:A 30-minute programme on Saturdays, 11:30 GMT.
Second 30-minute programme on Thursdays, 11:00 GMT (some weeks only).
Listen onlineordownload the podcast
BBC World Service:
Hear daily 10-minute editions Monday to Friday, repeated through the day, also available tolisten online.
Read more orexplore the archiveat theprogramme website.