News tweets: George Clooney, tanorexia, and The Scream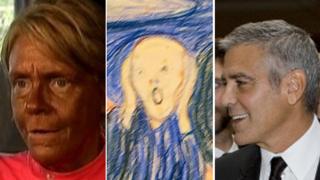 For the week of 28 April, here is the news - condensed into 10 topical tweets, some more serious than others.
1. Just met [C]looney. Could be something, if he applied himself
Fox news host Greg Gutfeld (@ greggutfeld ) rubs elbows with lesser celebs at the annual White House Correspondent's Dinner.
2. I just heard five words that are music to every woman's ears: Newt Gingrich is pulling out.
Comedian Joan Rivers (@ Joan_Rivers ) responds to news that Newt Gingrich is ending his presidential campaign.
3. Congrats to Chen Guangcheng for leaving US embassy of his own volition to a Beijing hospital, where we are surgically removing his volition.
Satire site The Relevant Organs (@ relevantorgans ) on the blind Chinese dissident who is seeking to leave China.
4. Munch's The Scream went for $119.9 million. I'm a little irritated: I was neck-and-neck with the winning bidder right up to 117.5
New Yorker editor Ben Greenman (@ bengreenman ) will have to find some other art to hang over his couch.
5. Before Drudge breaks it, I need to make an announcement. My girlfriend "from Canada" the summer between 7th and 8th grades was a composite.
Author and game show champion Ken Jennings (@ kenjennings ) makes a confession, inspired by recent attention drawn to the composite characters used in Barack Obama's memoirs.
6. Bin Laden documents now on line. Turns out he felt Girls was not diverse enough and a little derivative.
Internet humourist PourMeCoffee (@ pourmecoffee ) on the newly-released documents from Osama Bin Laden.
7. The word "tanorexia" is giving me vocabulimia.
Daily Cross Hatch editor Brian Heater (@ bheater ) feels ill after reading too much about the New Jersey mother charged with taking her young daughter to a tanning salon.
8. Koch Brother to give 35 million to Smithsonian for dinosaur exhibit, pitting Occupy Wall Street against dinosaurs -- just like in my dream.
National Review correspondent Jonah Goldberg (@ jonanNRO ) shows that the billionaire Koch brothers don't just donate money to conservative causes.
9. My entire inbox: "These jobs numbers show we must (insert whatever agenda I already had anyway)."
POLITICO writer Ben White (@ morningmoneyben ) deals with post-job-report spam.
10. My name is MCA I got a license to kill, I think you know what time it is it's time to get ill #RIPMCA
BBC journalist Daniel Nasaw (@ danielnasaw ) remembers the lyrics of fellow New York native Adam Yauch, also known as the Beastie Boy's MCA. Yauch died on Friday.