News tweets: Gay marriage, bullies and breastfeeding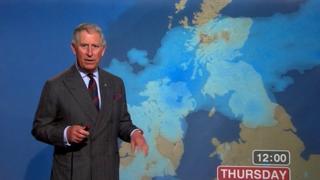 For the week of 6 May, here is the news - condensed into 10 topical tweets, some more serious than others.
1. Finally, Barack Obama has adopted a position long-held by Dick Cheney
GOP consultant Rick Wilson (@ TheRickWilson ) after Barack Obama came out personally in favour of gay marriage while saying states should have the right to decide.
2. With Sarkozy gone that means Carla Bruni is gone as well - so the sexiest first lady in European politics is now Nick Clegg.
Comedian Frankie Boyle (@ frankieboyle ) on the French president's electoral defeat.
3. Prince Charles does the weather forecast, he's expecting reign
Martin Robinson (@ SurrealAnarchy ) after watching the future king deliver the weather report on BBC Scotland.
4. Americans consume 80% of the world's painkillers. Amazing, since they suffer only .0008% of the world's pain.
David Javerbaum, tweeting as God (@ TweetofGod ) after a new repor t on drug use in America.
5. Mitt Romney as Biff from Back to the Future: "Make like a tree and be the right height."
Comedy Central's @indecision on a Washington Post article that accused Mitt Romney of cruel pranks in high school.
6. Thanks to JPMorgan, "I was just hedging" becomes an excellent catch-all excuse. "That lipstick on my collar, darling? I was just hedging".
Financial Times writer Alan Beattie (@ alanbeattie ). JPMorgan announced $2bn (£1.24bn) in losses due to a poorly executed hedging strategy.
7. I've just read that Vidal Sassoon's son will receive nothing from his father's will. I can't believe that he's cut off his own Heir.
Internet joke generator @ sikipediabot puns around after the death of legendary hairdresser Sassoon.
8. I'm just glad the blindfolded woman on the Newsweek cover isn't able to see the woman breastfeeding the 3-year-old on the Time cover.
Actor James Urbaniak (@ JamesUrbaniak ). Last week, Newsweek's cover featured an article on women and S&M. This week Time ran a mother breastfeeding her almost-4-year-old son.
9. NPR now: Egypt had 4.5 hour presidential debate last night. NPR tomorrow: Newt Gingrich moving to Egypt.
National Review writer Jonah Goldberg (@ JonahNRO ) on the future of the former presidential candidate.
10. "You call yourself 'just a poor boy, from a poor family'. Let us turn to the bank statements in bundle B..." #poplevenson
Tech writer Gordon Rae ( @socialtecho ) joins the fun of the #PopLevenson meme, in which pop singers' lyrics are subjected to the same scrutiny as those testifying in the UK Murdoch phone-hacking hearing.