Anne Frank: Buddy Elias on his 'wild' cousin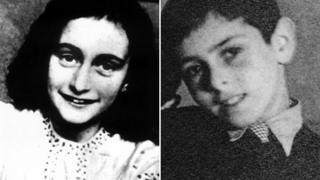 It's 65 years since the publication of Anne Frank's diary, written during the two years the teenager and her family hid from the Nazis in occupied Amsterdam. Anne died in the Belsen death camp in 1945, but her cousin Buddy Elias still has vivid memories of his childhood playmate.
Sixty-five years have passed, but Buddy Elias cannot forget the first time he set eyes on the book that made his teenage cousin, Anne Frank, a global household name.
"Otto - Anne's father - handed it to me and said, look it's Anne's book. He was crying. It was such a memorable day," the 87-year-old recalls. "I saw Anne's picture on the cover and I felt so happy and so proud, but also so sad."
Seated at his home in the Swiss city of Basle, where his father brought the family in the early 1930s fleeing from the Nazi party's rise to power in their native Germany, Buddy spoke about his slightly gawky-looking, but famous cousin, with great emotion and with a sparkle in his eyes.
When he first read her diary after its publication in the Netherlands on June 25 1947, he said, he struggled to recognise the Anne whom he had known as a young playmate.
"She was a different girl, grown up, more intelligent, writing about things a child doesn't usually write about.
"That was not the playful lively Anne that I knew," he adds simply.
Anne was four years Buddy's junior, but, as a young child in Frankfurt, she was always the one with the ideas of what to get up to and what to play, he says.
"She was a little wild one, and I was too. That's why we got along so well together. She loved theatre, movies and dressing up games."
On one occasion, Anne convinced Buddy to raid their grandmother's wardrobe and put on the old lady's clothes. "You can imagine how I looked. Anne just laughed and laughed," he says.
When Otto Frank also abandoned Germany with his family, travelling to Amsterdam, a city he knew and loved, Buddy saw less of both Anne and her older sister Margot. And when the Nazis invaded the Netherlands and Jewish families like theirs could no longer freely cross the borders, the two families began to exchange a steady stream of letters instead.
"Anne was already a writer even then, we got almost one letter a week, telling us what she did with her friends, at school," Buddy says.
But there was always a certain innocence to her letters, which belied the growing dangers then looming around the Frank family, as Jews living under Nazi occupation.
"Many Happy Returns, and many more to come," the 13-year-old Anne began one letter to her cousin, on his 17th birthday. "How is it going with a girl you sent us a photo of? Do write and tell me, I am very interested in things like that," she urged, mischievously. "Best wishes to everyone, write me back, Anne."
Buddy never had the chance to reply, since a few days later, a short postcard arrived from Amsterdam, addressed to the Elias family.
The last postcard (side 1)
1. Anne's message
2. Edith's message
3. Margot's message
5. Date
4. Address
6. Leni Elias
7. Nazi stamp
Anne, her mother and sister, had written a short message on the front.
Her father's message, on the other side, wished his sister a happy birthday - two months early - and said that the flow of letters would stop. A strong hint that the family would be going into hiding.
Within hours, the Franks moved into a secret annex attached to Otto's workplace. All contact with Basle came to an end.
The last postcard (side 2)
It was, says Buddy simply, a "terrible terrible time, we were frightened not knowing, for two years."
Anne's unique testimony was written over that two-year period in which, unbeknown to Buddy and his family, the Franks were in hiding.
Otto, having survived deportation to the Auschwitz death camp, returned to Holland after the war ended, where he was handed the piles of loose pages, with Anne's neat handwriting on them, by a former employee who had managed to save them from the grasp of the Gestapo following the family's arrest.
But at first, Buddy says, Otto was reluctant to put the diary into print. "He said it was an intimate book, and why would anyone be interested in what his daughter wrote."
It was only after consulting friends and family, that he realised that what he had in his hands was "a fantastic document that must be printed." Millions of copies have since been sold around the world, in numerous languages.
Despite his age, Buddy now still spends much of his time speaking publicly about Anne Frank.
"I get letters and emails all the time from people saying how reading the diary has changed their lives," he says.
Undoubtedly it has changed his life too. On at least two separate occasions, Anne spoke directly to him in her diary, mentioning on one date a dream that she had about them shopping together in Basle, and on another that she had heard he had finished drama school.
"I am so sad, yet proud that she remembered me, it made me happy," he said, in a half whisper.