News tweets: Heat, Higgs and goal-line tech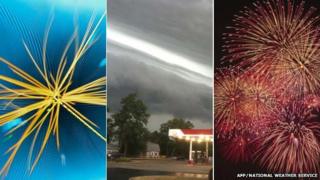 For the week of 2 July, here is the news - condensed into 10 topical tweets, some more serious than others.
1. I respect the courage of Anderson Cooper. It takes courage and a willingness to endure condemnation to admit you're on CNN.
Writer Mark Evanier (@ evanier ) after newscaster Cooper announced he was gay.
2. Learned today- "Derecho" is Spanish for "Should have buried the power cables decades ago"
Photographer Dean Hoffmeyer (@ DeanHoffmeyer ) after a massive wind storm cut power from Chicago to Washington DC.
3. Very annoyed Bob Diamond resignation doesn't include the words 'I'd have got away with it if it wasn't for you pesky kids'
Financial Times product manager Steve Pinches (@ SJPinches ) after Diamond resigned from Barclays. The company has been pilloried for fixing interest rates.
4. Guys, Tom Cruise is FIFTY and he still looks like TOM CRUISE so maybe we should all be a little less sceptical about Scientology.
Game designer Casey Malone (@ casey_malone ) in response to rumours that Katie Holmes left Cruise over disagreements about Scientology.
5. Who would have thought Frank Lampard's legacy to football would have been goal-line technology? I had my money on it being a range of pies.
A footy fan going by the name White Noise (@ WhiteNoise1879 ) responds to Fifa adopting computer technology to confirm goals, a decision inspired by Lampard's "ghost goal" in the 2010 World Cup.
6. Surprisingly, nobody has made the obvious point that "tax" is a 10-point Scrabble word, while the far longer "penalty" nets 12-points.
Boston University health economist Austin Frakt (@ afrakt ) finds the one angle of the healthcare individual mandate argument that no-one has covered.
7. The San Diego fireworks last night sound like my kind of show… a big opening, and everyone's in bed by 8:30.‬
Talk show hostess Ellen Degeneres (@ TheEllenShow ). The show in San Diego was supposed to last for 17 minutes, but a tech malfunction lead to all the fireworks being set off at once in a 30-second span.
8. The discovery of the subatomic Higgs boson is going to radically change the way stoners talk about the universe, man.
The Twitter feed for Conan O'Brien's late night talk show (@ TeamCoco ) after scientists discovered what they believe is the so-called "God particle", a sub-atomic particle crucial to understanding how space, time and matter work.
9. Jon Huntsman is skipping the Republican National Convention. In related news, I refuse to compete in Mr. Olympia this year.‬
Slate writer Dave Weigel (@ daveweigel ) is not surprised that the former presidential candidate declined to participate in his party's nominating convention.
10. Scotland's Andy Murray's just lost a service game. But Great Britain's Andy Murray's still winning the match.
The Motley Fool Uk's Sam Robson (@ RealSamRobson ) tries to have it both ways with Andy Murray, who went on to defeat Jo-Wilfried Tsonga in the Wimbledon semi-finals.‬