Diary clues to grandfather's last days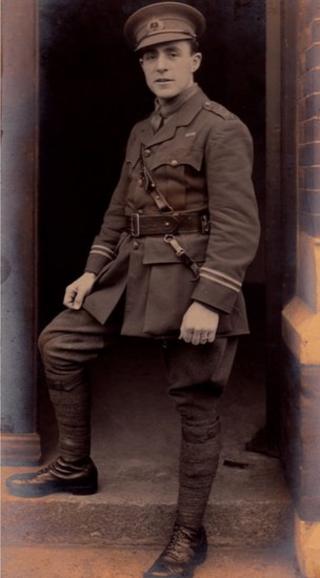 There were 130,000 lives lost on the World War I battlefields of Gallipoli. Among them was Harry Biles, a writer and grandfather, who recorded the events of his final journey.
In early summer, the fields of Gallipoli are full of poppies. They enrich the national park which is dotted with Turkish, Commonwealth and French memorials to those who died fighting nearly a century ago.
I had never taken particular interest in the Gallipoli campaign until I read my grandfather's 1915 diary. It is an A4-size writing book that he purchased from Boots the chemists for sixpence.
Harry Biles was a writer in the Navy. He was an assistant to Commodore Oliver Backhouse of the Royal Naval Division - a unit created by Winston Churchill, and made up largely of reservists.
They left England in February 1915, aboard the liner Grantully Castle, as plans were laid to attack Germany's ally, Turkey, force a way through the narrow straits of the Dardanelles and open a supply route into the Black Sea.
By late April, the men of the Royal Naval Division were berthed off the Greek island of Skyros. But a celebrity in their midst lay critically ill aboard a French hospital ship. The war poet Rupert Brooke had succumbed to an infection and was dying.
Harry's diary on 23 April: "Attended funeral of Lieutenant R.C. Brooke of Hood Battalion who died at 4.20pm. Septic pneumonia. Landed at 8.30pm. Body buried in the olive grove at Skyros at 11pm. A very impressive scene. Returned on board about midnight."
Rupert Brooke had been buried by his friends with haste, because by dawn the next morning, the allies had set sail and were getting ready for the Gallipoli landings.
As a member of Commodore Backhouse's staff, my grandfather was not in the first wave of men who went ashore.
On 26 April, Harry was still at sea, writing a letter home:
"There has been some very severe fighting here," he said. "The Australians lost a large number of men in landing... but their bravery is great, and they are making history."
Optimistically, he went on: "The whole situation is very satisfactory, I believe, and we shall eventually get to Constantinople."
A day later, on 27 April, he wrote in his diary:
"We did not land today owing to the Turks being so strongly entrenched. About 5.30pm, a ship passed with Australian wounded. They seemed very cheerful with their shouts of 'Are we downhearted? No'."
On 29 April, laden with bags, revolvers and ammunition, Harry landed at Cape Helles on the southern tip of the Gallipoli peninsula. He was carrying food for three days - biscuits, a tin of meat, a small packet of tea, some sugar and a piece of cheese.
It's just possible to picture the scene on what's known as W Beach. The remains of the piers that were built still protrude from the water.
The rusting shell of a small boat lies in the sand. And in the distance, ships head for the Dardanelles - oil tankers nowadays, rather than battleships.
Cliffs overlook the beach. From here Turkish forces had inflicted heavy casualties on the Lancashire Fusiliers on the first day of the landings.
The Royal Naval Division's 2nd Brigade based themselves a mile or so inland, at a place they called Backhouse Post. In 1915, this was open ground. Today it is a pine forest, but an intricate dug-out, hewn from the rock, is still there. Through the trees you can see the blue of the Dardanelles glinting in the sunlight.
My two sons were with me. We tried to imagine what it would have been like for Harry. In May and June 1915, he was no longer a scribe and his diary had been left on board ship. He had been made responsible for moving the brigade's supplies of ammunition.
As we walked on into the woods, we stumbled across a network of trenches. Roots and foliage have caused some subsidence, but these old front-line positions are remarkably well preserved.
It was here, close to Backhouse Post, in appalling conditions at the height of summer, that Harry was killed by a Turkish sniper on 13 July. The next day Commodore Backhouse wrote this to Harry's widow in Portsmouth:
"He died almost instantaneously from a bullet in the chest and I am thankful to say he could not have suffered."
The offensive by British forces ended in stalemate.
Harry is buried nearby, at Skew Bridge cemetery, one of the many pristine Commonwealth sites on the peninsula. A large white granite memorial faces the main gate. The trees around have matured gracefully. You will not find a more peaceful place than this.
Overall 130,000 lives were lost at Gallipoli in nine months. Gazing at the neat rows of gravestones, we reflected on the futility of such an ill-conceived campaign.
But we left, feeling privileged to have had an intimate insight into all that happened 97 years ago.
How to listen to From Our Own Correspondent:
BBC Radio 4: A 30-minute programme on Saturdays, 11:30 BST.
Listen online or download the podcast
BBC World Service:
Hear daily 10-minute editions Monday to Friday, repeated through the day, also available to listen online.
Read more or explore the archive at the programme website.