Could badminton become cool?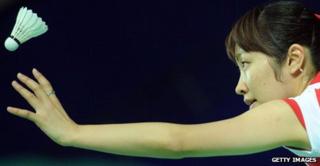 With a new badminton league about to launch in India, the hope is that a sprinkle of razzmatazz can help the sport emerge from the shadows of cricket, and finally become cool.
As a spectator sport, badminton falls behind cricket, football and tennis, but could that soon change?
The Indian Badminton League, the IBL, will begin in June in India, with the aim of increasing interest and recruiting new fans.
Organisers hope it will do to badminton what the Indian Premier League (IPL) has done to cricket, by injecting huge money, Bollywood glamour and razzamatazz.
Just as the game of cricket was given a shake-up to attract a new generation of viewers who didn't have an affinity or the patience for five-day Test matches, the IBL will be based on a short, city-based tournament format.
It will see six teams (each, like the IPL, affiliated to a big Indian city), compete over 18 days. Each team will consist of 11 players, both men and women. For every fixture a combination of singles, doubles and mixed doubles games will be played.
The matches will be hosted in India, but this is designed to have international appeal. Badminton is hugely popular in Asian countries such as China, Malaysia and Indonesia, and the organisers of the Indian league hope some of that success might rub off.
Each team will be allowed to have four foreign players on their books (in the way the IPL saw international cricketers such as Shane Warne and Kevin Pietersen compete), and are hoping to lure some of the world's best players to the league with a $1m prize fund, the largest ever offered in the sport, say organisers.
Cricket was already popular when the IPL waved its wand over the sport, but the challenge in making badminton more appealing is tougher.
The Badminton Association of India says 5% of Indians play badminton, and a survey by YouGov suggests it is the second most played sport, behind cricket.
Yet this doesn't translate to viewers on screen, with the same survey suggesting Indians would rather tune in to watch cricket, football or tennis ahead of badminton.
Sports broadcaster Alison Mitchell says that having major brand names and, potentially, Bollywood names, could give the sport the allure it has lacked. But the success of the league will depend on the quality of the sport and how much people want to watch.
"Cricket and football will always be India's big passions. And hockey is extremely popular too. Don't forget that. Perhaps badminton shouldn't try to compete, but to find its own niche in a market place of more than a billion people."
One problem badminton has is that it's not seen as a glossy, "sexy" sport, says Ashish Chadha, the CEO of sports promotion company Sporty Solutionz, which conceived the Indian Badminton League.
"It's not a great sport to watch on TV because the camera angles don't really show off the true difficulty of the game, and as a result that also means it doesn't bring in a lot of fans to the stadium."
In an age where sponsorship and TV rights are the drivers for revenue, a game needs to attract audiences on screen.
For the IBL, there will be Bollywood performances between games, and cartoon characters will be brought into the stadium to attract children, all to create a "carnival type atmosphere".
Chadha says he has even secured Gangnam style artist Psy to perform during the tournament, which he says will be screened on prime time television.
But the other tactic, which Chadha says makes this the right time to launch the league, is to cash in on the ever rising fortunes of India's badminton players.
For Indians, Saina Nehwal is to badminton what Sachin Tendulkar is to cricket. In London, the 22-year-old became the first Indian to win an Olympic medal in badminton, one of only three medals India picked up at the Games.
Unusually for a badminton player, she is often featured in glossy magazines. In a boost to the IBL Saina Nehwal will play in the tournament and is even helping to promote it.
"Of course everyone says I'm attractive," she jokes, when asked about the glamour she has brought to badminton.
"They like me a lot and that's why I'm able to perform a lot better, because people love me and pray that I do well in each and every tournament.
"But, it's not easy for an Indian player to defeat a Chinese player continuously on so many titles. I've become a known face in India only because of my performances."
Another rising star playing in the new league is 26-year-old Parupalli Kashyap, who reached the quarter finals in London.
The addition of big name players from home and abroad could help to revamp badminton, says Jitendra Joshi, a sports promoter based in Mumbai. He believes the city-based format will also drum up new followers.
"From a sports fan perspective, it gives a great emotional connect to the event, meaning even an average badminton fan gets hooked when his or her city is playing."
Badminton has always been seen as a bit of a "backyard" sport in India, says Joshi, which is why the extra Bollywood frills are necessary.
"The star power will definitely help the league to attract both ground and television audiences. It will definitely not change the fortunes in a big way suddenly, but it's a great step ahead."
In a country where celebrities are idolised, the IBL will also help boost the profiles and pay packets of badminton stars, and inspire new players, says Shachi Sharma, the resident editor at Badminton India magazine.
"We'll have to see whether it'll do well," says Ms Sharma. "It's a good experiment and the first time in our country someone has tried to take this up."