Been and Gone: War veteran actor and other losses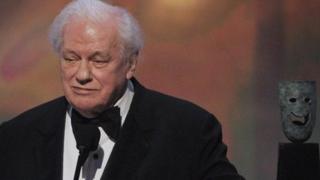 Our regular column covering the passing of significant - but lesser-reported - people of the past month.
Actor Charles Durning made his career breakthrough playing a corrupt police officer in the 1973 film, The Sting. His character, Lieutenant Snyder relentlessly pursues two grifters, played by Paul Newman and Robert Redford, before himself becoming one of the victims of their elaborate con. It was just one of more than 200 film appearances for an actor who had moved into films in 1962 after 10 years on the New York stage. Thereafter he became a regular face in a series of hit movies including Dog Day Afternoon, The Choirboys, Tootsie and To Be or Not to Be, the latter garnering his second Oscar nomination for Best Supporting Actor. Like many actors of his generation he saw service in WWII. He was one of the first US soldiers ashore on D-Day and was subsequently wounded on two occasions. He became a regular attendee at events supporting US war veterans.
Singer Fontella Bass fought for years to get the credit for her contribution to the lyrics of her hit, Rescue Me. Released in 1965 it made the US and UK Top 20 and gave the Chess record label their first million-selling hit in a decade. Bass claimed that she was promised an acknowledgement on the record label and a bigger share of the royalties but the record company refused and eventually her manager advised her to stop worrying about it. It led to her splitting from Chess in 1967 but she never managed to repeat the success of her one big hit. Bass began playing piano as a child and then moved into gospel, abandoning that for more secular music in her teens. In 1990 American Express was forced to pay her $50,000 in damages after using Rescue Me on a TV advertisement without her permission, finally acknowledging her contribution to the song.
Developer Sir Lawrie Barratt had a simple recipe for success. He found out how much his potential customers were prepared to pay for a house and set about building properties to match their pockets. It was a formula which propelled the former 14-year-old school leaver to become Britain's biggest house builder. The first property he constructed in 1953 was for himself when, as a young married man, he found he could not afford to buy a house of his own. He was responsible for huge innovations in marketing houses, coming up with the idea of a beautifully furnished show home on each site so prospective purchasers could see what they were getting. He also offered part exchange deals for people moving up the property ladder.
When the French climber Maurice Herzog conquered the Himalayan mountain, Annapurna, in 1950 he and fellow mountaineer Louis Lachenal became the first men to reach a mountain peak more than 8,000m (26,247 ft) high. The climb was made even more remarkable as neither man carried any oxygen and the ascent had been planned and carried out in just one season. The descent however, became a nightmare. Both had opted for lightweight mountain boots to enable them to climb more quickly and Herzog lost his gloves close to the summit. This resulted in frostbite which meant the amputation of all of his toes and most of his fingers. Their record remained intact for just three years when Hilary and Tenzing conquered Everest. Herzog went into politics, becoming French Minister for Sport under de Gaulle and was a member of the International Olympic Committee for 25 years.
The forerunner of the ubiquitous barcode was originally developed by a young student while sitting on a beach. N Joseph Woodland was studying in Philadelphia when a supermarket executive asked his college to come up with a way that products could be recognised at the till. Woodland spent months thinking about the problem, finally wondering whether Morse code, with its dots and dashes held the key. As he later told it, he was idly drawing in the sand with his fingers when he pulled them down to create a series of lines. He designed a symbol which could be read by a scanner but the technology of the time proved too expensive and the patent lapsed. He went on to work for IBM and the arrival of a laser scanner meant his colleagues could design the modern barcode based on his research. The first item in the world to be scanned was a packet of chewing gum in an Ohio supermarket in 1974.
Eta Cohen pioneered a method of teaching the violin which is still followed by students across the world. She developed the technique in her native Sunderland during the 1930s when she was asked to teach violin in local schools. After deciding that existing tutorials were not satisfactory she went on to develop her own method which involved breaking down complicated tasks into a step-by-step guide, something which became the foundation for future musical teaching. Her ideas were first published in a book, Miss Cohen's Tutorial for Beginners, in 1940. The follow up manual, The Eta Cohen Violin Method, had reached its sixth edition by 2012. An accomplished concert performer herself, she travelled the world on lecture tours and published numerous articles. One of her successful pupils once described her as the Delia Smith of violin methods because of her comprehensive yet clear tuition methods.
Among others who died in December were:
US commander of Iraq invasion Norman Schwarzkopf
Creator of Thunderbirds and Captain Scarlet Gerry Anderson
Former England cricket captain Tony Greig
Composer & musician Sir Richard Rodney Bennett
BBC Newsreader & Treasure Hunt host Kenneth Kendall
Master of the sitar Ravi Shankar
Enthusiastic astronomer and Sky at Night presenter Sir Patrick Moore
Jazz pianist and composer Dave Brubeck
Brazilian architect Oscar Niemeyer