Pope Benedict XVI: A reluctant leader?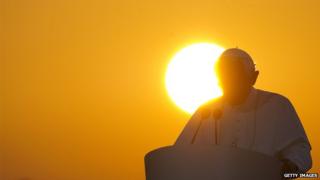 Pope Benedict XVI has cut a very different figure from his charismatic predecessor, John Paul II. Catholic journalist Mark Dowd asks whether he was a natural leader of the Church, and considers his legacy.
In 2005, when Pope Benedict XVI succeeded John Paul II, there were two distinct views surrounding his accession. One was that it was the final step of an ambitious ecclesiastical figure who had coveted the seat of St Peter for many a year of his clerical life. The counter view was that this office was his own personal trial - his Calvary.
For this man was, first and foremost, an academic theologian - a quiet introvert more at home in university seminars than managing the institution that dictates much of the belief and practice of the world's billion-plus Roman Catholics.
I have always subscribed to the latter interpretation and today's news takes me back to 2010 and an unforgettable encounter with the Pope's brother, Monsignor Georg Ratzinger and a close family friend, Margarete Ricardi.
I was preparing a BBC2 documentary for broadcast on the eve of the Pope's UK visit and had travelled to Regensburg. There, Margarete spoke of Benedict's loneliness in Rome, how he felt the need to ring home for frequent chats and have his friends visit him regularly. There was an implicit message that he felt close to and trusted very few people around him - a sort of Catholic King Lear figure.
So what will be his legacy? He will be remembered, I suspect, as a man who did not fulfil all the dread warnings of turning the clock back. He did not turn out to be the out-and-out reactionary that he was predicted to be.
In contrast to John Paul II, he met time and again with victims of sex abuse and took action against some of those who the institutional Church had sheltered for decades.
But he lacked the energy and focus for root-and-branch reform of the various Vatican ministries that would have made the actions of bishops and priests transparent and truly accountable - a huge task for any man, let alone an ageing academic.
Yet, one must not forget that on his watch, there were a number of modernisations, especially in its engagement with the media as the Holy See began to communicate to the world via the Internet and Twitter (the latter sometimes in his beloved Latin - the language he used for his resignation statement).
At his best in his communication of the written word, for years to come Catholics and other believers will be able to read his three encyclicals on faith, hope and love.
The latter, Caritas in Veritate, raised more than a few eyebrows by talking of the immense spiritual nature of human love. Members of other faiths will, perhaps, always think of him in contradictory terms - immensely charming and gentle in his personal dealings with Muslim and Jewish leaders and yet capable of huge PR gaffes, such as the now infamous Regensburg speech of 2006 in which he was accused of describing the prophet Muhammed in less than flattering terms.
Despite his goal of promoting harmony between the faiths, Pope Benedict stuck firmly to what he saw as a gift of truth that he had been born into in his native Bavaria - namely that the Roman Catholic Church was founded by Jesus Christ and despite all its human imperfections, had the authority to define doctrine and make definitive statements about truth and falsehood.
He was wary of a creeping relativism - the idea that all was a matter of opinion and preference and that Truth, with a capital "T" did not exist. To a rapidly changing modern Western world, his pronouncements on gay marriage seemed harsh and out of kilter with the changing times. But this was a man who was suspicious of making accommodations to a fickle and individualistic world hell bent on the pursuit of pleasure.
His critics would point to falling numbers of vocations to the priesthood in Europe and the Americas, but his supporters would counter with the bulging seminaries in Africa and onward march of Catholicism in China and the Far East.
So what now? As Cardinal Ratzinger, Benedict was Pope John Paul II's number two for many years, but his resignation brings this amazing double act to an end.
The Church will enter a new era. Speculation is already under way about successors, but when runner and riders emerge, the consistory of cardinals will be looking for a man who communicates the central tenets of Catholicism via all the technological ways possible, and a Pope who be able to inspire respect in the diverse parts of the world - no mean feat.