Growing up as a Benedict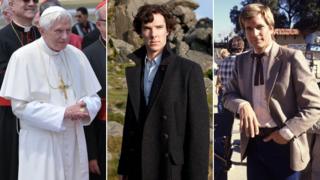 Benedict XVI. Benedict Cumberbatch. Dirk Benedict. And then there's Benedict Arnold. And, er, Eggs Benedict. Not many Benedicts out there, says Benedict Milne.
The occasion was the baptism of my daughter in 2006. After the service, a nun approached me, all smiles.
"So you're Benedict," the nun said to me. "Just like the Holy Father!"
"Yes," I replied. "But I've been Benedict for a lot longer than he has," I added, maybe a little too sharply.
And now it looks like I'll outlast him as a Benedict if - as is possible - he reverts to his pre-papacy name of Joseph Ratzinger.
I wonder whether the cardinal would have taken the name of Benedict had he grown up - like I did - in Hull in the 1970s. In that long-ago era you wouldn't have stood out if you had 12-inch bell-bottoms, wing-tip collars halfway to your navel, or a Kevin Keegan bubble perm. But a name like Benedict could really make you feel self-conscious.
And while I never wanted to join the tide of Darrens, Garys or Lees who made up the majority of my classmates at St Anne's RC Junior High School, there were definitely occasions when I wished for a more anonymous name.
I quietly dreaded the raised eyebrows when my name was called out at assembly or in the doctor's surgery. Sometimes the caller couldn't even hide their incredulity. Even among Catholics, who were used to the name's Latin root, it was somewhat unusual.
It's not quite on the level of Johnny Cash's Boy Named Sue, but when I asked my parents what they were thinking of, they replied that they liked names you could imagine "Sir" in front of. (They could never be accused of thinking small, my mum and dad.)
Funnily enough, even in those far off times I wasn't the only Benedict in town. At the age of 13, I met another - much cooler - Benedict.
He played guitar in a band and was far better-looking than me. A quick stalk through Google reveals that he now fronts a Thin Lizzy tribute band, although he is listed in their website as an uncontroversial Ben. If I have now outed him as a Benedict to his bandmates, I apologise.
But there were no cool sport star Benedicts, no pop stars and certainly no Benedicts on the TV or big screen.
This may be due to the US's longstanding aversion to the name. Benedict Arnold is the country's most infamous traitor - and his name has become almost synonymous with treachery.
A general on the American side during the War of Independence, Arnold switched sides to the British halfway through. "Judas sold one man, Arnold three millions," wrote the US founding father Benjamin (not Benedict) Franklin.
So, Benedict isn't part of the Hollywood repertoire of hero's names.
The closest it ever seemed to approach this was with Dirk Benedict, who played Face in the long-running 1980s series The A-Team. Not exactly a household name, and not even his first name, but it was the best I could do.
When I became a local radio reporter, I delivered my first voice piece to the hard-headed news editor. He looked at the script, saw "Benedict Milne reports" and, without hesitation, crossed out the last two syllables of my first name. "You can't have a name like that in local radio," he said. I can't say I disagreed with him.
From that day on, I've been a professional Ben. Benedict has until now been my little secret - I'm always Ben to my family, friends and anyone who asks, Benedict only to the electoral register and the DVLA. The sounds "-ed" and "-ict" generally lie unused, like the empty wings of a decrepit stately home.
An ostentatious name, Benedict has never really fitted anywhere - too Catholic to be upper class, too long and Latin-sounding to be matey. "Ben" has slipped into the mainstream - there's even an EastEnders character called Ben - but I don't think Albert Square is ready for a Benedict yet.
It has never troubled the top 100 boys' names in England and Wales, even though Benjamin once reached the giddy heights of number six.
But maybe all this will change, even as the Pope prepares to leave the Vatican and downsize.
With Benedict Cumberbatch, we Benedicts finally have our first namesake TV and screen star. I even spotted him on the street not long ago, and only just resisted the urge to attempt a spot of Benedict-on-Benedict bonding.
A few months ago, he was interviewed on TV by another Benedict (Nightingale, the theatre critic), and it was probably the first time two Benedicts had ever been seen on screen together. On the other hand, it was on a digital arts channel, so it may not count.
So maybe Sherlock Holmes will be able to do what 16 popes and several saints couldn't achieve and put Benedict on the map.
Until then, if you need me, just ask for Ben.