Tweets of the week: Asteroids, meteoroids and the Pope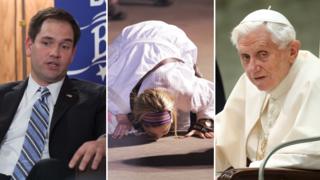 For the week ending 15 February, here is a look at the news in America - all in 140 characters or fewer.
1. Trust me: If you're paying tribute to Bob Marley and - minus Bob's offspring - Sting is the dopest cat up there, you're doing it wrong.
Publisher and writer Harry Allen (@HarryAllen). The Grammys featured a tribute to the late Reggae legend, but some felt it lacked a certain soul.
2. I really hope, after a decent interval, Benedict starts publicly second-guessing the new pope.
The lawyer and writer known as Southpaw (@NYCSouthpaw). Pope Benedict XVI announced plans to become the first pope to step down from the job since 1415.
3. Terrible negotiating on that Lehrer speech. I would have given a speech about how Jonah Lehrer screwed up for only $10,000.
Talking Points Memo reporter Benjy Sarlin (@benjysarlin). Media watchers were outraged this week when disgraced journalist Jonah Lehrer was paid $20,000 (£12,886) by a journalism organisation to discuss making up and poorly sourcing information in his work.
4. Yes, in Miami we make 102-year-olds wait six hours to vote. It's a banana republic, but the weather is excellent.
Time magazine correspondent Mike Grunwald (@MikeGrunwald). In his State of the Union address on Tuesday, President Barack Obama highlighted the plight of Florida resident Desiline Victor, who had to wait for hours to cast a vote in the presidential election.
5. Has anybody considered the possibility that it was a normal size water bottle & Mark Rubio is actually a giant?
The twitter feed for comedy website Funny or Die (@funnyordie). Republican Senator Marco Rubio sparked an internet meme after he lunged for a small bottle of spring water during his rebuttal to President Obama's State of the Union address.
6. NBC owned by a Philly company. Time, Inc., might be owned by a company in Iowa. What's next, selling the Yankees to a guy from Cleveland?
Newsweek editor Dan Gross (@grossdm). Time Inc announced plans to sell most of its magazine titles to Meredith.
7. Watching a cruise ship soaked with sewage tug its vomiting passengers to an Alabama shore, and thinking of you. Happy Valentine's Day.
Television host Dave Holmes (@DaveHolmes). The cruise ship Triumph finally docked on 14 February. A fire left the ship incapacitated and passengers stranded at sea without power for five days.
8. I like the pedestrians who got buzzed by a meteorite and kept right on walking. Stay cool, Siberians.
Writer Jeremy McCarter (@j_mccarter). A meteorite landed in Russia on Friday, injuring 1,000 people.
9. They took wrestling out of the Olympics? Okay so take words out of reading, computers out of email and sound from music.
Austin resident Kaleb Miles Howe (@kubhowe) thinks wrestling is a fundamental element to the modern Olympic Games. Nevertheless, the International Olympic Committee has announced plans to drop the sport.
10. Oh my god enough with the asteroid jokes they are so not groundbreaking HAHAHAHHAHAHAHAHAHHAHAHAHAHAHHAHAHAHAHAHAHAHHAHA HAHAHAHAHHAHAHA
Supermodel Christine Teigen (@chrissyteigen) has fun with puns. An asteroid narrowly missed colliding with earth on Friday, the nearest miss in recorded history.