Tweets of the week: Sequestration, horsemeat and Halle Berry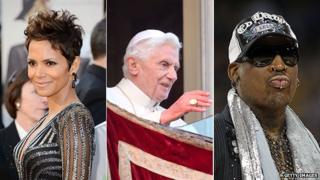 For the week ending 1 March, here is a look at the news in America - all in 140 characters or fewer.
1. "See? This is what you'll look like if I allow you people to think for yourselves." Kim Jong Un pointing at Dennis Rodman.
Nightline anchor Bill Weir (@BillWeirABC) The former professional basketball player, known for his outrageous hair, outfits and behaviour, visited North Korea this week.
2. I'll never forget the time Gene Sperling threatened to give me a ride home. "You'll regret walking in that rain," he said. It was chilling.
Writer Jon Lovett (@jonlovett). Journalist Bob Woodward implied he was threatened by White House aide Gene Sperling. Sperling told Woodward that the veteran reporter should rethink his argument that Obama was "moving the goal posts" in budget negotiations. "I know you may not believe this, but as a friend, I think you will regret staking out that claim," he wrote.
3. It would be more logical for Ikea meatballs to have sawdust, no?
Media analyst Jeff Jarvis (@JeffJarvis). More horsemeat has been found in European food supplies, including meatballs from Ikea and products from Taco Bell.
4. In the next Bond film he has to defeat an evil economist who creates a fake deficit panic that threatens to sequester MI6 into oblivion.
Twitter user Dan Munz (@danmunz) is not impressed with the political reality America has created for itself.
5. Halle Berry is 47. When are we gonna stop saying she looks great and start saying, "what the f*** is going on, this is terrifying."
Comedian Jessi Klein (@jessirklein). Berry was one of dozens of stars who showed up in finery for the Academy Awards.
6. Billionaire wants to send a couple of people to Mars. Can I nominate some? I've got a list.
New York Times reporter John Schwartz (@jswatz). Space tourist Dennis Tito is seeking an "experienced couple" for a 1.5-year-long mission to Mars.
7. C Everett Koop died today at age of 96. Cause of death "was not released." Yeah, I think it was. #96
Marketing professor Amanda Bower (@heyprofbow). The former surgeon general was remembered fondly for championing public health.
8. Can't wait to see former Pope Benedict on Dancing With The Stars!
Comedian Jim Gaffigan (@JimGaffigan). Pope Benedict XVI retired this week, becoming "pope emeritus".
9. "In America, you have the right to be stupid." - John Kerry, shortly before making up a new Slavic country.
Twitter user Josh Bayer (@BayerOnFire). Secretary of State Kerry defended the right to all speech - even stupid speech - in remarks in Germany. He also referred to the non-existent country "Kyrzakhstan", a slip critics say conflated Kyrgyzstan and Kazakhstan and supporters say was just a mispronunciation.
Both critics and supporters, however, would concede the former Soviet Republics are Central Asian, not Slavic.
10. There is no Star Wars America, there is no Star Trek America. There is the United States of America.
Media Matters for America writer Oliver Willis (@owillis). President Obama conflated his sci-fi references when discussing budget politics, referring to a "Jedi mind meld".
Some tweets have been edited for clarity and style.