Been and gone: The man behind Eric and Ernie, and the First Dog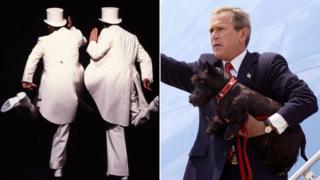 Our regular column covering the deaths of significant - but lesser-reported - people in the past month.
The producer behind Morecambe and Wise
Much of the success of the Morecambe & Wise TV shows was down to the inventiveness of BBC producer John Ammonds.
He started as a sound effects engineer before cutting his production teeth in BBC radio in the 1950s where he first met Eric and Ernie. He moved into TV where he quickly established a reputation for innovative thinking.
It was his idea to get comedian Harry Worth to seem to levitate in the title sequence of his show using a reflection from a shop window.
Reunited with Morecambe and Wise, he came up with the dance the pair always did at the end of their show and was responsible for persuading big name stars to be made fools of each week.
He was a stickler for getting things right. The show's scriptwriter, Eddie Braben, once famously remarked that if he sent Ammonds a Christmas card it would come back with a demand for a rewrite.
From Whitehall farce to Blackadder's mother
The actress Elspet Gray managed to avoid having her career overshadowed by her marriage to the master of farce and disability campaigner Brian Rix.
The couple first met when Rix auditioned her for his theatre company and later confessed to having been besotted as soon as she walked into the room.
She appeared alongside her husband in many of the farces he produced for the stage but also carved out her own solo career.
She became well known to TV audiences with appearances in Fawlty Towers, the children's series Catweazle, as Lady Collingwood and as Queen Gertrude of Flanders in the first series of The Black Adder.
The birth of her daughter Shelley with Down's syndrome was the trigger for what would be a lifetime of campaigning, together with her husband, on behalf of people with learning disabilities.
Bassist and British invader
The Dave Clark Five were one of the bands that formed the British invasion of the US charts in the early 1960s, and Rick Huxley played bass on all the group's hits.
The band - formed by drummer Dave Clark - had an amazing 14 consecutive top ten hits in America and were once touted as being the biggest threat to the supremacy of The Beatles.
Huxley joined the group after answering a newspaper advert, and they had their first big hit, Glad All Over, in January 1964. This was followed by a string of successes including Bits and Pieces and Catch Us If You Can.
By 1970 the band was out of fashion and split up. Huxley took a job with Vox, the company that made amplifiers for many leading groups. He later set up his own business.
Last of the great celluloid men
Film editor Gerry Hambling became best known for his collaboration with the director, Alan Parker, and was one of the last editors to cut big feature films on celluloid.
He learned his craft as a sound editor before moving to film in the 1960s. A victim of the downturn in British cinema he reluctantly turned his hand to TV commercials where he met Parker.
Their productive partnership in feature films began with Bugsy Malone in 1976 and encompassed, among others, Fame, Angela's Ashes and Pink Floyd - The Wall.
He picked up three BAFTA awards for editing, for Midnight Express, The Commitments and Mississippi Burning.
Parker was once asked how he edited his films. He replied that he had a secret device - an old, old man with a grey beard: "At one end I fed in film and single-malt whisky, and at the other end out came an immaculately cut film."
Leader of the pack
Whatever George "Shadow" Morton lacked in musical talent he made up for in self-promotion.
Hanging around the early 1960s New York music scene he was challenged to make good his boast of being a consummate song writer. He came up with Walking in the Sand and persuaded a little known girl group called the Shangri-Las to record it.
The follow up, Leader of the Pack, was a huge hit in the UK despite, or probably because of, an inevitable ban by the BBC.
There is some dispute about how much of the song was Morton's work but he did add the motorcycle effects as the doomed Hell's Angel failed to negotiate a particularly nasty bend.
Morton went on to produce Janis Ian's controversial song about interracial romance, Society's Child, and was credited as producer on three of her albums.
Later successes included his work with the bands Vanilla Fudge and Iron Butterfly.
The First Dog
Few humans could have boasted of being as close to the centre of power as Barney, the Scottie owned by President George W Bush.
He moved to the White House when his master was elected in 2001, spending the next eight years scuttling around the corridors of power.
Like other First Dogs he became something of a celebrity, starring in Christmas videos made by the White House as well as having a number of internet sites dedicated to him. However he blotted his copybook in 2008 when he bit a reporter.
Satirical news website The Onion once published an article claiming Barney had boosted army morale on a fictitious visit to Iraq.
He wasn't popular with everyone. White House aide Karl Rove once described him as a lump, while Russian leader Vladimir Putin - who owned a Labrador - claimed a true world leader should have had a much bigger dog.