World Book Day: Your dress-up dilemmas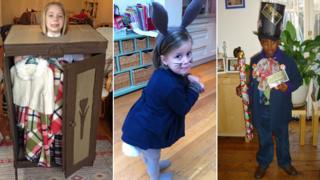 Thursday's article about one parent's struggle to get ready for World Book Day prompted many people to recount their own experiences.
Some of them share Dominic Casciani's worries about the event. Other have a sunnier view of the whole affair. Here's a selection of some of their emails (and photographs).
This is picking at an open wound as far as I'm concerned - just spent £26 on a Fantastic Mr Fox outfit that didn't have a tail, so additional £8 for tail for a one-day school event. No, don't get me started. Never mind the WWII-style evacuee dress we've also just had to buy for the class assembly - I remember going to school wrapped in an old dust sheet to be a shepherd. Graham, Westhoughton
My daughter is in reception, so this is the first year we have experienced this. Rather unhelpfully, the school only told us six days before the event that the children were expected to dress up. Like most girls her age my daughter declared she was going as a Disney princess. I argued they were movie characters, but she does have some of the books of the films. I put my foot down and dressed her as Katie Morag (kilt/wellies/jumper). Every other girl in the class turned up in a sea of pastel-coloured nylon. My daughter was bereft. I have to hope she cheers up come playtime, when all the girls in silly princess dresses can't play outside in the mud. Jen, North Yorkshire
My step-children went to primary school near Liverpool. On WBD a few years ago, 90% of the pupils turned up in their Liverpool kit. Apparently Steven Gerrard had written an autobiography. Amy, Shropshire
We turned this into a great weekend activity. Our four-year-old son wanted to go as a character from 101 Dalmatians, his favourite book at the moment, so we spent a couple of hours on Sunday putting black spots with a marker pen on an old t-shirt, making a set of ears, my wife sewn a dog collar and name tag onto the t-shirt, the application of some face paint and his sister's black-and-white-spotted pyjama bottoms this morning and the look was complete. Pongo on a budget - total cost about 60p! Justin, Northumberland
Pupils at our daughter's school were given the option to either dress up as a book character or to come to school dressed in pyjamas and bring a favourite book. The majority of the children - including our daughter - opted for the pyjamas, which made our morning routine quite enjoyable and the walk to school most interesting. This may also reinforce the idea of reading before bedtime as entertaining and relaxing, in addition to saving the family both resources and frustrations. Martine, Aberdeen
There was a mad panic last night as my daughter couldn't find her fairy costume (fair enough, she reads fairy books). My son soon joined in about a pirate costume. "Who are you going as?" I asked.
"Long John Silver's mate," he replied.
"But you've never read Treasure Island."
"No but my mate Shane has, and he's going as Long John Silver". Jim, Fife
The internet and films have much to answer for - no longer is it possible in our household to imagine what a character looks like, my nine-year-old daughter goes straight online and then refuses any suggestion that doesn't make her look exactly like what she finds. I've tried to stop her but it's not worth the battle. Several vetoed suggestions later (Dorothy - no red shoes, Hermione - wrong hair, Susan from Narnia - no chainmail), she is going as Zorro (she's a fencer so has the sword) with an old black hat, black clothes and boots she already has and a mask and cape made from an old piece of black material. Relieved Mum and happy daughter! Juliet, Edinburgh
As a member of staff at a school currently enjoying WBD I've had no end of trouble trying to think of a costume for myself. I don't have the spare money or childish interest to buy something new so have spent days thinking about books I'd read with nondescript characters. Luckily I remembered I had an old Dr Evil costume that can double as Dr No by wearing gloves. And whilst I've made an effort, most of the children have used it as an excuse to just come in non-uniform as "Joey Essex" or another of their latest heroes. Ash, Swadlincote
My son is 10 years old. he decided to go as Gangsta Granny (from the David Walliams book) complete with wrinkles, glasses, a DRESS and a HANDBAG. I think it's very brave for a child who has become very conscious about his appearance and concerned about what others will say and think. So I applaud WBD and David Walliams for allowing my son to forget all the self-conscious fears of being 10 and to enjoy getting lost in books. Emma, Cheshire
I've got a son aged 10 and and a daughter aged six. One is going dressed as Rapunzel, complete with long blond wig and princess dress. Heaven knows what my daughter is going dressed as... Keith, Liverpool
After last year's Hungry Caterpillar debacle, I wrote a book about my daughter going to school and sent her in her uniform with it. Easy! Jonny, Belfast
Now, this is just being provocative. I'm a community ambassador for Book Aid International which benefits hugely from the money that children pay for the opportunity to dress up on World Book Day. Last year schools raised £76,000, which paid for shipping 38,000 new and appropriate books, donated by UK publishers, to sub-Saharan Africa. What does it matter whether the characters that children choose are from comic books or from reading books? The children love dressing-up, and the money helps to send good books to libraries where books are scarce and therefore very precious indeed. Diana, Southampton
My nine-year-old son left this morning dressed as TE Lawrence. I was very pleased. Huband, Oxfordshire
Our son decided that he wanted to go dressed as Tom from the popular Beast Quest series. So you need a shield, complete with the tokens, a sword, a tunic etc. Cardboard, sticky tape and some crayons. Oh and don't forget the tin foil. Proper Blue Peter special. We all joined in and made everything. Why waste money buying when you can all have fun making it? John, Herts
I remember years ago, my younger son wanted to go as an Uruk-hai from Lord Of The Rings. He had indeed read the book, but the film had just come out and these creatures sparked his imagination. I spent many hours constructing his costume out of pieces of leather, making papier mache armour and so on. Unfortunately, my uncle died that week and on the great day, I was obliged to get up early, dress my son, apply the "white hand" face make-up, then drive 70 miles to make it for a 9am funeral. I was, however, gratified that my son's classmates voted his costume the best. That was well over 12 years ago. I somehow miss that opportunity for creativity. Jenny, Djibouti
Last year my daughter went as Ottoline (fantastic books, but only three published). I bought a blazer and trimmed it with white piping and a school badge. We had the funky tights and odd shoes, a boater hat with corresponding ribbon and we even did plaits with odd funky ribbons. She looked amazing and it was all handmade. All the other kids thought it was cool and the mums all asked if I could help them next year, but did she even get a mention in the school assembly let alone the prize? No chance, it went to a shop-bought last-minute job. I personally teach my kids that it doesn't matter if they win the competition, and to just enjoy the day, but I felt that if I didn't put everything I had into the costumes I would be letting them down. Emma, London
I have four children and on WBD will be the mother of a ninja meerkat, a rescue princess, Alex Rider and Muncle Trogg (don't ask). To create these costumes while managing children through their learning logs, supplying recycled items with which to construct a robot and get everyone to school on wheels without injury for Bike to School Week is not a walk in the park. Teachers: for homework, please read this BBC news article and digest. Sam, Beds
For weeks now I have been arguing with myself that my son's insistence of going dressed as Buzz Lightyear is just "not right". I have been feeling as though the other mums will be looking at me and my little boy dressed as a superhero. But now I know I am not alone. I tried to persuade him to go as a magician from a new book I bought him the other in am attempt to steer him away from Buzz Lightyear - no such luck. Buzz it is. We have managed to find a Toy Story annual to back up his choice - not exactly Roald Dahl though, is it? I am so happy to have found this article - I am not a bad mum. Nicola, Beds
My eight-year-old son and I went through a similar process as the author. Eventually he decided to go as Mr Twit from the Roald Dahl book because I said it meant he could be rude to his teachers. Thom, Beds
We did The Incredible Hulk when my son was six or seven - two or three pots of green and black body paint later, he really looked the part. Straight into the bath when he came home, which is when we hit the problem - the green body paint dyed his skin (nearly a week to fade away) and the black stuff on his hair flecked off and attached itself more or less permanently to the bath. Never again. F Campbell, Doncaster
I run a fancy dress shop and World Book Day just about keeps us afloat between Halloweens. It is the biggest dressing up event after 31 October. We put in hours of overtime to get items out to people on time. I do see parents absolutely frantic for costumes because often it's not clear whether a class will be dressing up until quite close to the date. My biggest piece of advice is get something to make a Dahl character because Roald Dahl Day in September is on the rise and also requires dressing up for. Caroline, Towcester
Back in the day when primary schools were less politically correct, my little brother found a book about the Soviet Union on the bookshelf in our home. With book week fast approaching, it was clear to him what he must dress up as. At the school assembly, all the children who had dressed up got to stand at the front, one class at a time, and tell the school who they had dressed up as. Much to the amusement of the parents and teachers, my brother proudly announced to the school: "I am Josef Stalin, an evil dictator." Emily, Queensland