Cyprus bank crisis: defiance and fear in Nicosia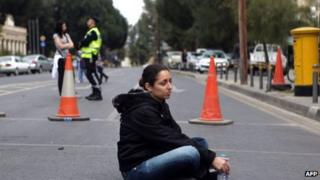 Dotted across the Cypriot capital, Nicosia, they snake around street corners.
They begin early and are slowly growing. Lines of people outside bank machines, stuffing wads of cash into bags and pockets. It is the surest sign yet of what is happening to this nation: fear is gaining ground. And nobody seems able to stop it.
At one queue in the centre of the city, a pensioner, Andreas, had withdrawn his latest 200 euros (£170; $260), unsure of when the cash might dry up.
"Last week Cypriots were rich", he said. "Now we're poor. Why is this happening?"
Saying no
He had summed up the feeling of many here. That in the space of a week, a Mediterranean holiday island has become Europe's problem child.
The Cypriot economy has been in freefall for some time: everyone knew a bailout was coming. But something sensational occurred this week, a defining moment in the eurozone saga, when the bosses in Brussels gave their demand for a tax on all savers. Cyprus said no.
Protesters in Greece and Spain may have thrown petrol bombs but their governments swallowed the bitter bailout pill. This time, Cyprus calmly spat it out: a minute economy thumbing its nose at the powerful.
But that independence has come at a cost. Almost a decade ago, Cyprus cheered as it proudly entered the European Union. But now, within a week, a feeling of betrayal by Brussels has set in. Posters have appeared of the German Chancellor Angela Merkel with a Hitler moustache.
"What is Europe?" asked Marilena Nikolaou, a protester outside parliament. "Is it a union of those who have money and want to control those in need? We don't want to be in that Europe."
Perhaps it is this country's relationship with the "other side" that gives it the confidence to push back at the EU. Russia is an old Orthodox friend, though plenty of its nationals are thought to have rather unorthodox money here.
Moscow has been courted - so far without success - but that could lock Cyprus into a messy game of geopolitics, one arm pulled by Europe and the other by Russia. It would be easy for the country to lose its balance.Cyprus thumbs its nose but feels the fear
Tax haven
Cyprus is not just the playground of wealthy Russians; it is a place where foreigners from all corners abound. I have struggled to practise my pidgin Greek: so many people with whom I stop to chat turn out to be Bulgarian or Polish.
There are thousands of Brits - many here since before independence from the UK in 1960.
At the weekend, foreign workers on their days off flock into Nicosia and the capital becomes a lively mix of Filipinos and Bangladeshis.
That mix of nationalities has created a cosmopolitan feel to this island but it has also complicated the financial rescue, with Cyprus keen to protect various foreign interests. That is what helped create the mess in the first place: that a country of barely a million people has become an international tax haven with an overgrown banking system.
Now the party is over. And the hangover is beginning to hurt.
With the banks still closed, cash is prized. I met Argyris Zambakkides at the petrol station he has managed for 16 years. He was turning away credit cards since his suppliers wanted payment in cash only. "It's the first time this has happened", he said, "I can't believe it. My wife works in a bank that might be closed down and my customers are staying away so I may have to shut too. What now?"
The hordes of journalists who have descended on Cyprus have found a country longing to be out of the media glare.
'They never cared'
People tell you it is the worst thing to have happened since 1974, when Turkey invaded following a Greek-backed coup. Today Greek and Turkish Cypriots live in peace but are divided by bitter memories.
The border between the two communities cuts Nicosia in half. I wandered across, given a visa by a territory recognised only by Turkey. Its picturesque old bazaars nestle beside beautiful mosques.
Beyond the cheap jewellery shops and casinos, Havva Shenol sells scarves. "We feel sorry for what they're going through", she says, gesturing to the south, "because we're all Cypriots. We should be one family. And we're hit too because they don't spend here like they used to."
But when I ask if she thinks the current crisis might spur reconciliation. She shakes her head. "We've always been poor and they never cared. So why would we help them now that they've got problems?"
On Cypriot television, a live show discussed how to solve the worsening crisis. And then the camera panned to a villager who had arrived on set. He was carrying 2,500 euros in cash, which he said he wanted to hand to the state to save Cyprus and sabotage Germany's bailout plan.
He was thanked by the presenter and moved on. Cypriots fought for a country that now seems poised on the edge. This week has dented their pride but not their resolve.
How to listen to From Our Own Correspondent:
BBC Radio 4: Saturdays at 11:30 and some Thursdays at 11:00
Listen online or download the podcast.
BBC World Service: Short editions Monday-Friday - see World Service programme schedule.