Tweets of the week: LeBron, 50 Shades and Twitter's birthday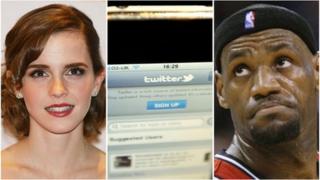 For the week ending 22 March, here is a look at the news in America - all in 140 characters or less.
1. Obama and Bibi had a love fest today. Both living the song, "if u can't be with the one u love honey, love the one you're with."
NBC News correspondent Chuck Todd (@chucktodd). US President Barack Obama made his first visit to Israel and the West Bank since reaching the White House. Despite having been at odds since their first meeting in spring of 2009, Obama and Israeli Prime Minister Benjamin Netanyahu were all smiles, handshakes and hugs.
2. Guy shouts "Merkel took my money" and demands bank clerk to fix ATM, then realises he put his debit card in wrong way #Cyprus
UK Channel 4 economics editor Faisal Islam (@faisalislam). Anxious Cypriots have formed long lines at cash points to withdraw their savings after officials ordered the country's banks to shut down temporarily. The move comes as the Cypriot government debates an unprecedented tax on depositors to avert a potential financial meltdown.
3. Who here actually thinks I would do 50 Shades of Grey as a movie? Like really. For real. In real life.
British actress Emma Watson (@EmWatson). Watson dismissed rumours that she would star in a film adaptation of EL James' racy bestseller, Fifty Shades of Grey. The online group Anonymous posted documents claiming the Harry Potter star would take the lead role in the upcoming film.
4. Great, she's going to break up the Jobs Council isn't she?
Mashable Technology writer Alex Fitzpatrick (@AlexJamesFiz). John Lennon's widow Yoko Ono joined the US gun debate, tweeting a photo of the blood-spattered glasses the ex-Beatle was wearing when he was killed. "The death of a loved one is a hollowing experience. After 33 years our son Sean and I still miss him," she wrote.
5. … it's always difficult to lose a hero.
Twitter user Bourbon Crew (@BourbonCrew). Porn actor Harry Reems, who became famous starring in the film Deep Throat, died after a bout with cancer. The movie brought pornography to mainstream audiences.
6. Fox should call its OJ Simpson event series "If He Did It, Here's How It Happened."
Entertainment writer Daniel Fienberg (@HitFixDaniel). The US television network announced the creation of a TV series on the murder trial of former American football star OJ Simpson. In 1995, Simpson was acquitted for the murders of his ex-wife Nicole and her friend Ronald Goldman and subsequently published a book entitled If I Did It.
7. It is traditional for French police to search the home of every IMF chief
New York Times Washington correspondent Binyamin Appelbaum (@BCAppelbaum). French Police searched the Paris apartment of IMF chief Christine Lagarde on Wednesday as part of an investigation into her role in awarding 400m euros (£340m) in compensation to a supporter of former President Nicolas Sarkozy.
8. Seven years ago today, millions lost their lives. Happy birthday Twitter.
Twitter user Andy Mac (@TheReal_AndyMac). Twitter celebrated its seventh birthday. The social network's influence has grown dramatically over the years, with more than 200 million active users.
9. The Miami Heat have come back faster than LeBron's hairline. I am enthralled by their ability to flip the proverbial switch and dominate!
Parody twitter account Not Bill Walton (@NotBillWalton). The Miami Heat have captured the attention of fans across the US and the world as they add to their 24-game winning streak. Sports analysts say LeBron James, one of the biggest stars in American professional basketball, is at his best.
10. I kind of forgot that Hillary Clinton wasn't already for gay marriage.
Bloomberg News writer Josh Barro (@jbarro). Former US Secretary of State Hillary Clinton announced her support for gay marriage this week, leading some analysts to wonder whether she was positioning herself for a 2016 run for the Democratic presidential nomination. Next week, the US Supreme Court will hear oral arguments in cases challenging laws involving same-sex marriage.
Some tweets have been edited for clarity and style.