Hungary's rawest nerve: Learning to love the Roma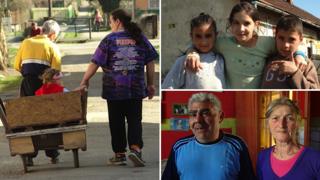 The relationship between the Roma minority and the non-Roma majority is a difficult one in many central European countries. There are frequently problems in Hungary, but could there also be examples of good practice?
"I am not asking you to love the Gypsies, but we all have to live together," the police colonel told the hall packed with police cadets. "And for that, the police must show tolerance and trust, not hatred and exclusion."
The hall falls very quiet. We are touching the rawest, most exposed nerve of Hungarian society. And it twitches. More often than not, it hurts.
A few moments before, I had sounded out the opinions of the young policemen and women.
"In my experience, 70 or 80% of crimes are committed by Roma," said one. "So what do I say if I stop a man, in my routine police work, and he accuses me of picking on him because of his ethnic origin?"
"The problem is not the prejudice of the majority," said another. "It is the way the Roma hate us, the Hungarians."
Another woman cadet took a different view.
"We have to be vigilant, and watch out for all signs of intolerance or ethnic hatred - on the internet, and in everyday life," she said.
It's an unusual morning at the big police academy in Miskolc, a city with 25% unemployment.
An American activist, Patrice O'Neill, is here to share her experiences of fighting hate-crime in the US - white supremacists targeting African Americans, Jews, Mexicans, Native Americans and gay people.
And how communities come together to say - "Not in Our Town".
Most audiences she speaks to, as she tours eastern Hungary, like her message.
Many are also sceptical. Could Hungarians reach out to each other like that, in the face of similar incidents?
Would they have the self-confidence, the civic courage of the Americans?
Many people are not familiar with the concept of hate crime - the idea that the targeting of people because of the colour of their skin, their religious belief, or their sexual orientation is different to ordinary crime.
Three years have passed since four men accused of the serial killing of six Roma people, on ethnic grounds, were arrested.
Their trial is still under way. But many Hungarians compare those murders to those of white Hungarians by Roma in the past years.
The killing of a white school teacher at Olaszliszka by a Roma mob in 2006 was even cited by the prosecution as the incident which provoked the serial killing of the Roma.
The murder of a Romanian handball player in Veszprem in 2009, and the rape and murder of a police psychologist in Szeged in 2012, were also carried out by men of Roma origin.
Only the most violent extremists actually spell it out, but somewhere in the debate in Hungary lurks the ugly sentence, '"They kill us so we kill them."
Tit for tat - the recipe for ethnic war.
But their own experience can help Hungarians understand the difference between ordinary crime and hate crime - like when people in Romania or Slovakia or Serbia, are attacked just because they speak Hungarian in the street.
Around the time the Not in Our Town movement started in the United States, a young Hungarian couple's marriage in Cluj, in Romania, was stopped by the registrar because the young man dared to say "Yes" in Hungarian.
The Romanian authorities in Hargita and Covasna counties, where Hungarians are the majority, are currently prosecuting local mayors who had the temerity to peacefully display a local Hungarian flag, the blue and yellow Szekler emblem, alongside the Romanian one.
In Slovakia, around 40 ethnic Hungarians who applied for dual, Hungarian citizenship have even been stripped of their Slovak citizenship as a result.
Intolerance is alive and well in central Europe, but it seems to me that the Hungarian public is open to the message Patrice brings.
There are positive examples, in Hungary too, of community action which defies the logic of ethnic division.
A Roma policemen who feels valued for his professionalism, musicians holding benefit concerts to heal the wounds opened by a far-right march past a Roma community, the mother of that police psychologist who was raped and murdered appealing for calm.
"No-one is telling you that there are no criminals among the Roma," Gyorgy Makula, a senior Hungarian policeman, and a Roma himself, told the cadets.
"But please do not forget that there are very many who are not, who really suffer from those prejudices which exist in society."
Fifty-six hate crimes were reported in Hungary in 2011, compared to 55,000 in the United Kingdom.
Either Hungary is an island of tolerance... or it might need a new approach.
How to listen to From Our Own Correspondent:
BBC Radio 4: Saturdays at 11:30 and some Thursdays at 11:00
Listen online or download the podcast.
BBC World Service: Short editions Monday-Friday - see World Service programme schedule.