When people disappear, investigators scramble for clues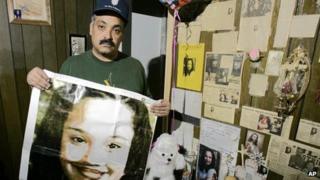 People rarely reappear after vanishing for a decade. In most cases that remain unsolved for years, the outcome is grim.
Lizabeth Wilson, 13, was walking home from a swimming pool in Prairie Village, Kansas, with her brother, John, 11, on a July evening in 1974. She never made it back.
Her disappearance shocked the people who lived in the community in the suburbs of Kansas City, Missouri.
By the time I met John at St Anne's school in Prairie Village, his sister had been missing for more than two years.
John and I used to listen to Styx albums together and drink Bacardi and Coke at parties. He had straw-blond hair and freckles - like his sister.
Like the other students at St Anne's, I thought about her often and wondered what had happened.
In the 1990s I visited the place where her skull was found. It was a grassy area near a farmhouse in Lenexa, Kansas - desolate and quiet.
A police officer told me at the time that authorities thought they knew who the killer was. But they did not have enough evidence.
"We're keeping a close eye on him," the officer said.
In 2003 a former janitor, John Horton, 56, was arrested. He is now serving a life sentence for the killing of Lizabeth Wilson.
It was a cold case - now closed. Luckily, things turned out differently for Amanda Berry, Gina DeJesus and Michelle Knight.
The three women went missing - all from the same street, Lorain Avenue, in Cleveland. Knight, who was 20, vanished in 2002.
Berry was 16 in 2003, the year she disappeared. DeJesus vanished about a year later. She was 14.
They were all found - alive and well - on Monday at a house in downtown Cleveland. A school bus driver, Ariel Castro, and his brothers Pedro and Onil, have been arrested.
"The nightmare is over," said FBI Special Agent Stephen Anthony.
Today, investigators and people around the world are struggling to figure out how such a nightmare could have occurred.
They want to know how three women could have remained missing for so many years.
FBI agents and police detectives are investigating the three cases and trying to determine in what ways they were connected to each other.
"They're looking for more physical evidence and they're photographing the layout of the house," a Cleveland police officer who is familiar with the investigation tells me. He asks to remain anonymous because he is not authorised to speak with a journalist.
Some clues have emerged.
A family member of Knight told the Cleveland Plain Dealer her relatives thought at the time she "probably left on her own".
For that reason, authorities did not pursue the case as aggressively as they might have done if they'd thought she were held against her will.
The Cleveland police officer says that at the time of Knight's disappearance, her family members showed a certain "lack of concern".
Former FBI agent Raymond Batvinis says it is simply too early to say what happened - or to place blame.
Nevertheless, Batvinis says he understands why the authorities and the family members may have been sceptical about Knight's disappearance.
"To be very frank with you, people go missing all the time," Batvinis says. "People often go missing because they want to go missing."
With children, however, the situation is different. Most of these abductions are carried out by a family member - during a custody dispute, for example - and are eventually resolved.
When a child is kidnapped by a stranger, though, investigators know they must work quickly.
"The number-one motivation is sex," says Harry Trombitas, who served as an FBI special agent from 1983-2012.
"The offender grabs a child - engages in sex - then feels he has to get rid of the child. They want to put distance between themselves and the case."
In the vast majority of those cases, Trombitas says, the investigators find the kidnapped children and bring them home.
But as he explains, they pursue leads immediately. Based on interviews they have done with offenders, they know that they have only three hours from the time a child is seized to find him or her alive.
In the cases that do not end well, the killings often occur fast.
Trombitas recalls what it was like to spend time at the home of a 12-year-old boy who was kidnapped in Nebraska in 1982.
"Every time the phone rang, the mom would just shake like a leaf," Trombitas says.
Three days after disappearing, the boy was found dead with stab wounds.
In some cases, the family is still waiting.
In 2007, 14-year-old Ashley Summers, disappeared from the same area where Berry, DeJesus and Knight had once vanished.
Summers has not yet been found.
Investigators say that for unsolved cases they often depend upon the media and people in the community to help them find the kidnapping victims and catch the offenders.
Sarah Jakiel, the deputy director of the Polaris Project, which fights human trafficking, encourages people to watch for signs that someone may be held against his or her will.
If people are coming and going from a house at odd hours, especially a place with boarded-up windows, barbed wire and security cameras, then neighbours should pay attention and consider notifying the authorities.
"Follow your instincts," says Jakiel.
People who live in the area can be vital to the case. A neighbour helped Berry escape from the house in Cleveland, for example.
Still, cases in which someone disappears - and is found safe years later - are rare.
John grew up without knowing what happened to his sister in Prairie Village. Sadly, he found out years later.
One can only hope that the family of Ashley Summers will hear soon - and that it will be good news.