Who, what, why: How do you scrap an aircraft carrier?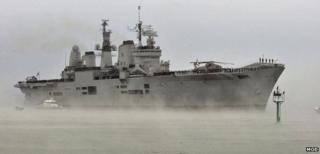 The Royal Navy's former flagship, HMS Ark Royal, is to be towed to a breakers' yard in Turkey. But how exactly do you scrap an aircraft carrier?
There were schemes that offered a future of sorts to the Ark Royal - a proposal to sink it and turn it into a diving site off Torbay, a suggestion that it should become a floating casino off Hong Kong and a plan to turn it into a heliport for London.
But on Monday hundreds of people are expected to gather as the 690ft (210m) ship leaves Portsmouth for the last time.
Decommissioned five years early to save the Ministry of Defence money, it will be towed to the Leyal shipyard near Izmir in Turkey after being sold as part of a £2.9m ($4.4m) deal.
Once there it faces an ignoble end as 20,000 tonnes of scrap metal.
Getting it to that stage is a long process.
Anyone bringing an aircraft carrier to Able UK's yard in Hartlepool could expect the work to take 24 months plus planning time.
"There would be in excess of 300 people employed. It would be a seven day a week operation, working 12 hours a day," says managing director Andrew Jacques.
A challenge comparable to the Ark Royal was presented to its workers when the French aircraft carrier Clemenceau arrived early in 2009.
The first step is to find out what hazardous substances are on board, says Jacques.
In the Clemenceau's case this included everything from 1,000 tonnes of asbestos to oils and polluted water - factors which led to protests at the decision to scrap it in the UK.
It is the owners' responsibility to provide the details, after which the breakers' yard draws up a plan.
The Ministry of Defence says the work to prepare the Ark Royal began soon after it was retired in early 2011.
All equipment has been removed and "all potentially hazardous waste, including asbestos, has been permanently removed or, if integral to the ship, has been catalogued in detail so its proper removal can be monitored".
At Able UK, ships are grounded in a dry dock.
Several vessels would be brought in at the same time as an aircraft carrier to make the most of the workforce and equipment.
Even when a ship is in place, it is some time before it meets its demise.
Up to two months can be spent carrying out a more detailed environmental survey, after which "windows" are cut to provide ventilation.
A team of 150 asbestos workers then starts work. Other hazardous materials are also tackled - tanks, for example, are pumped out through holes cut in the side of the ship.
Asbestos is buried in Able UK's on-site landfill, while other contaminants like oil and polluted water are processed at an on-site treatment facility.
The main part of the cleaning process takes about 12 months but the process continues.
"Because of the dead spaces and areas that you can't see you have to approach it with care... there will inevitably be voids and double bottomed tanks [with] oils that you couldn't see," says Jacques.
A cleaning team continues working even after work to break up the ship starts.
Sections of between 50 to 200 tonnes are removed from either end of a ship, using large hydraulic excavators, workers with cutting torches and cranes. A 3D model is used to work out how to safely proceed.
"If it's opened up it just looks like egg boxes all piled on top of each other - different rooms and compartments," says Jacques.
A pair of 150 tonne excavators are then used to transport the pieces to a nearby area where hydraulic shears and gas torches are used to cut them into "furnace-sized scrap" of around 5ft by 2ft (1.5m by 60 cm).
It was 10 months from the time that pieces started "dropping" from the Clemenceau to the end of the cutting work. That's about one man hour a tonne, says Jacques.
From there, pieces are taken to the steel plant. Along the way re-usable parts of the ship - like pumps and pipes - will have been stripped and sold off.
In the case of the Clemenceau, 98.2% was reused or recycled, says Jacques.
Exactly how a ship is scrapped varies between yards, although many now adhere to the standards set out by the Hong Kong Convention. This was proposed - but is still to be formally adopted - because of environmental and health and safety concerns over practices in some countries, including Bangladesh and Pakistan where ships are scrapped on the beach.
In the case of the Ark Royal it will first be secured on a slipway, says Robin Townsend of Lloyd's Register, who has worked with Leyal in Turkey.
Work to dismantle it will start at the front, with sections of up to about 20 tonnes removed from the superstructure and upper decks first. For those involved it can be hot and physically demanding work.
"There are large areas of the ship which can be extremely loud, with overpowering smell of fuels and oil," says Townsend.
For those who work on areas like the oil tanks there is also an assault on the senses, "with literally gangs of workers wielding hammers so it is like standing inside a huge steel drum".
Another of the Royal Navy's carriers, HMS Invincible, was dismantled by Leyal in 2011, a job which took 10 months.
The firm has also scrapped Type 42 destroyers including HMS Cardiff, HMS Newcastle, HMS Glasgow, HMS Exeter, HMS Southampton and HMS Nottingham.
For HMS Illustrious, the third and final of the Royal Navy's Invincible Class aircraft carriers, there is a possible reprieve.
Due to retire in 2014 it would provide plenty more metal for Turkey's furnaces, but the MoD hopes to preserve it as a "lasting tribute to the work of the Invincible Class".