Been and gone: Cinematographer behind Woody Allen's striking Manhattan scenes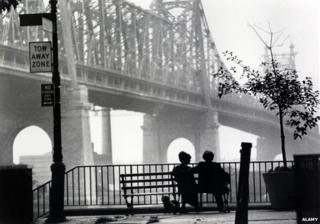 Our regular column covering the deaths of significant - but lesser reported - people in the past month.
Cinematographer Gordon Willis was known in Hollywood as The Prince of Darkness, due to his skill in the use of monochrome and low light. His piece de resistance was probably the opening shots of Woody Allen's Manhattan, in which images of New York played out against the background of Gershwin's, Rhapsody in Blue. In contrast, his sombre settings were a vital part of the dark tapestry of The Godfather, where one of his most challenging tasks was the scene with the horse's head in the bed. It was a hot day and the head was a real one. He also worked on All the President's Men, the film about Watergate, bringing his skills to the scene in a dimly lit car park where journalist Bob Woodward secretly meets his informant, Deep Throat. As well as Manhattan, he made seven other films with Woody Allen including Annie Hall and The Purple Rose of Cairo.
Herb Lotman was a major contributor to the success of the McDonald's restaurant business. He was running a small family beef production company in the 1960s when he developed a method of freezing burgers without them losing their taste and consistency. He pitched the idea to McDonald's, who contracted him to supply their restaurants. On the basis of a handshake - there was never a written agreement - Lotman founded Keystone foods, which became the US fast food giant's biggest supplier. He also set up a distribution system that delivered all the necessary products to McDonald's in one drop. He later worked on the Chicken McNugget, which opened up a whole new market for boneless chicken products. He was a noted philanthropist, setting up foundations to support child cancer sufferers and those with macular degeneration.
Bristol-born Ruth Flowers was almost 60 when she launched a career that made her one of Europe's most unusual DJs. Invited along to her grandson's birthday party in a London nightclub, she became fascinated by the noise, lights and sheer power of the evening. A French music producer persuaded her to become a DJ. "It was the craziest thing I ever heard," she said later. She learned about electro and was soon creating her own sounds with musical influences ranging from Queen to the Black Eyed Peas. Her first gig was in front of a host of stars at the Cannes Film Festival in 2009. The following year she appeared at Queen, the biggest night club in Paris. By this time her fame, as Mamy Rock, had spread across Europe. She was still performing up to her death at the age of 74. "I'd much rather go out with a bang than linger," she once said.
The way that the BBC reports news stories is due in no small measure to the pioneering work of Peter Woon. He joined the BBC from the Daily Express as a reporter in the 1960s and quickly moved into editing TV current affairs programmes. In 1969, he became an editor in radio news where he set about introducing the idea of correspondents voicing their reports from out in the field, often down a crackly phone line. He became a great spotter of future talent and promoted many younger members of staff who would ordinarily have had to wait their turn in the hierarchy. He was editor of TV news during the Falklands conflict when the corporation's resources were stretched to the limit. Later he oversaw the amalgamation of News and Current Affairs and the launch of the Six O'Clock News in 1984.
There are certain advertisements which stick in the memory, and David Abbot was responsible for some of the most memorable copywriting of the past 50 years. Among the many campaigns for which he was responsible were the J R Hartley TV adverts for Yellow Pages, in which an elderly author goes in search of his out-of-print book about fly-fishing, and the It's Good to Talk campaign for BT starring Bob Hoskins. A strongly ethical man, his company Abbott Mead Vickers, which he co-founded in 1978, refused to work for toy companies because he objected to children being encouraged to badger their parents. The death of his father from lung cancer also meant he would not take on accounts for cigarette companies. His work was often witty, as exemplified by a poster campaign for The Economist magazine carrying the slogan: "I never read The Economist: Management trainee age 42."
Miss Beazley's first public appearance was not a promising one. A Scottish terrier, she was a present from President George W Bush to his wife, Laura, in 2005. However her debut on the White House lawn in front of the assembled press saw her mistake the furry covers of television microphones for something edible before dashing off into nearby bushes. She recovered her poise in time to star in the 2005 festive video, A Very Beazley Christmas, in which she appeared with the other First Dog, Barney. Named after a character in a 1950s children's book, she became an integral part of the White House community. When George W Bush ended his second term as president, Miss Beazley and Barney returned to the family home in Texas. Barney died from lymphoma in 2013 and Miss Beazley succumbed to the same disease.
Among others who died in May were:
Poet, writer and civil rights activist Maya Angelou
Surrealist artist and creator of the Alien creature HR Giger
Scientist and inspiration for the Beagle project Colin Pillinger
Poland's last Communist leader General Wojciech Jaruzelski
Triple Formula 1 World Champion Jack Brabham
Author of the Merlin fantasy novels Mary Stewart
Author of The Virgin Soldiers Leslie Thomas
Subscribe to the BBC News Magazine's email newsletter to get articles sent to your inbox.