Can a public appeal help to bring back a loved one?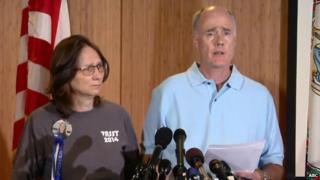 When a loved one may be at risk, it's not uncommon for family members to make a public appeal, whether it's via a press conference as missing university student Hannah Graham's family did, or with a public statement, as done by the wife of British Islamic State hostage Alan Henning. How effective is this tactic?
This week, the father of missing University of Virginia student Hannah Graham showed a roomful of reporters his daughter's beloved stuffed rabbit.
John Graham asked for help reuniting Hannah - not heard from since 13 September - with her family and favourite toy.
Whether Hannah's disappearance was an accident, foul play, or something else is still unknown. But a public plea like this can help to generate new leads, says international kidnapping negotiator Julio Gomez, CEO of Trident Crisis Management Group.
He estimates that in 10% of cases, public pleas yield tips that can be used to aid in locating the missing person.
In cases of kidnapping for financial or political purposes, pleas by family or friends can spur captors to enter negotiations that can accelerate the hostage's release.
It is crucial also to appeal for information from those who know the abductor or may have witnessed an element of the crime.
He says public pleas - particularly in cases of kidnapping for ransom - can resonate with a perpetrator's relatives.
And in all missing persons cases, its essential to get the message out to as many people as possible to uncover any clues. Putting the grieving family on television can help a story stay in the headlines.
"The more publicity, the better," Gomez says.
During his remarks, Graham made a plea for any and all information to help find his daughter.
"Somebody knows what happened to Hannah. And others watching may know something helpful and may not even realize it. We know Hannah was downtown early on Saturday morning. Hannah was distinctively dressed. Did you see Hannah? Do you think you might have seen Hannah? Please, please, please call the tip line with anything that might just help us to bring Hannah home," he said,
He used Hannah's name often throughout his remarks, a tactic to help humanise her to the broader public.
It's also a tactic that could be useful in the case of someone being held against their will, though there is no evidence that Hannah has been kidnapped.
"A parent whose child has been abducted is going to try and let the abductor know that they love them and they're valuable and try to give them reasons that [the victim] should be let go," says Nieburg.
A focus on details of the captive's life - pet names, hobbies or even a cherished stuffed animal - can help break down barriers preventing the kidnapper from viewing the captive as a person.
But public please are not always advisable. Gomez advises his clients to avoid them altogether if there is a possibility someone with power or money is taken at random. If it is publicly revealed that a victim is rich, powerful or famous, it could prolong or complicate negotiations.
Gomez also instructs families to steer clear of politics in their personal pleas.
Particularly in kidnappings in the Middle East - including those committed by extremist group Islamic State (IS) - it is crucial to avoid mention of praying to Jesus, for example.
Randall Rogan teaches hostage negotiation at Wake Forest College, and advises playing up "the importance of the victim being an essential member of the family" over religious, political or military affiliations.
This weekend the wife of Alan Henning released a public appeal to IS to release her husband, a taxi driver kidnapped in Syria. She focused on his humanitarian acts.
"Alan is a peaceful, selfless man who left his family and his job as a taxi driver in the UK to drive in a convoy all the way to Syria with his Muslim colleagues and friends to help those most in need," she said in a statement released by the Foreign Office.
Gomez says family members can do little to nothing to appeal to an extremist group such as IS, which is bent on attracting wide attention to its cause.
But as with all public pleas, it may still serve a beneficial purpose by enabling families to feel they are doing something, anything, to help their missing loved ones.
"At the end of the day, they have to say they tried," Gomez says. "It's therapy for them."
Additional reporting by Micah Luxen