Child immigrants strain New York courts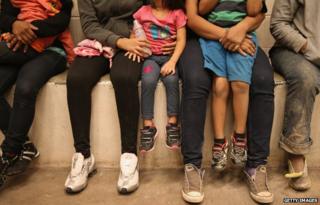 The number of unaccompanied children arriving in the US over the Mexico border reached crisis point in the summer. But the knock-on effects are still being felt.
The New York Immigration Court is an extraordinarily busy place.
In long, dimly lit hallways, clusters of people wait anxiously outside courtrooms for their cases to come before a judge.
A stern sign asks for silence whilst the court is in session. Lawyers confer with their clients quietly, and in Spanish, because most are Central American.
Many of these clients are children and teenagers.
They're part of the wave of unaccompanied migrants who crossed the border into the United States earlier this year.
They came without their parents, fleeing violence in San Salvador, Guatemala and Honduras.
Once they turn themselves in to immigration authorities at the border, they are detained. If they are released to family members, they still must appear into a federal court like this one for deportation hearings. The court determines if they can remain in the US, or whether they will be deported.
Almost 1,300 migrant children arrived in New York City this year - there are an estimated 5,000 such children in the state.
In response to this wave of unaccompanied migrants crossing the border, the federal immigration court has prioritised these cases, called a "surge docket". Lawyers sometimes refer to this as a "rocket docket", because it moves so quickly.
The court is mandated by the government to expedite the hearings - children stand before a judge no more than 21 days after the Department of Homeland Security files a charging document for the child.
In New York City, this translates to 30 kids a day set to appear in court on average.
The courtrooms themselves are small but formal. The room seats about 20 people, who face a judge, framed by an imposing brass seal of the Department of Justice on the wall.
Hearings are short and fast-paced - there's a steady stream of children who appear, looking worried and responding quietly to the judge's questions. The questions are basic - confirmation of name and address, who brought them to court, if they are enrolled in school.
Though children are required to make their first court appearance soon after charges are filed, the decision on whether or not to deport can take much longer, with many court visits required as their attorney builds a case for letting the children stay.
Before the spike in numbers over the summer, the flow of children arriving from Central America had been gradually increasing year by year.
Seventeen-year-old Edwin Lopez came to the US two years ago from Guatemala.
Hungry and exhausted from the month-long crossing, he turned himself into the Texas immigration officials on the border. They sent him to New York to live with his relatives, and before long, he found himself before a judge at a deportation hearing.
"The first time I went to court I was confused, nervous, scared," he says. "I felt worried about what were people going to ask, were they going to judge me?"
At the time, Edwin had no lawyer, and no English. He depended entirely on the court translator.
At the immigration court, children have no automatic right to a lawyer - they must find one themselves. Edwin's case is not part of the surge docket, and is still winding its way through the American court system.
He has a pro bono attorney and is hopeful - but many newly arrived migrants at the court are not willing to talk about their experiences, anxious about how it might impact their future.
"You're dealing with children who can't tell you their story on the first day, it takes a while for them to open up to you," says Jojo Annobil, a lawyer with Legal Aid.
"It's not easy for a kid to say I was raped at the border. They internalise a lot of these things, they're afraid because of the cultural and language barrier."
Lawyers are able to connect families with social workers and counsellors. They also make a big difference to the outcome of a case: Annobil says statistics show nearly 50% of children who have lawyers usually succeed in getting legal status compared to one in 10 without.
There is an acute shortage of lawyers right now. Lenni Benson is a New York law professor who runs the Safe Passage Project, which helps find and train lawyers specifically for immigration.
She says she has 150 cases in need of a lawyer.
"The numbers have risen so exponentially that really what it means is that lawyers, advocates, pro bono attorneys, community members who have long been committed to this are completely stretched to the limit," says Maureen Schad, a pro bono attorney with law firm Chadbourne & Parke.
Other agencies are also responding to the wave of child migrants in this city. Nisha Agarwal is Commissioner for the New York Mayor's Office of Immigrant Affairs, which has pulled together a task force of city agencies to co-ordinate efforts to help these children and their families.
"We see them as New York kids," she says. "Our agencies are meant to be open regardless of language and immigrant status and this is just one way we can communicate that."
Advocates hope New York's message of being an immigrant-friendly city will serve as an example in the face of deportations by the federal government.
"If we can show that we can be responsive and pro-immigrant, and they sky doesn't fall, we hope that this is a message that pushes up to the federal level and shows a different direction for immigration policy to go nationally," Agarwal says.
But there's not much hope that the knots tying up the national debate on immigration will be untied any time soon - although President Obama has said he is considering executive action on immigration reform.
In the coming months, many more children are expected to pass through the immigration courts here in New York.
Which means the relentless pace of hearings at the court looks likely to continue in this city so fiercely proud of its immigrant roots.