The big ideas of 2014: Part III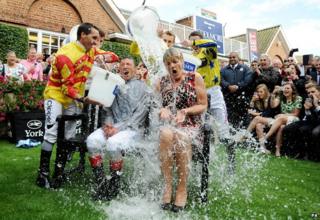 Among the big ideas being debated in 2014 were viral charity challenges, how something could completely vanish and the return of garden cities.
We have looked at 12 ideas in total. Part I - with the first three ideas - can be seen here. And part II - with the second three - is here. Part four is to follow.
7. The celebrity-aided charity social media challenge
Charity challenges have been around for decades - think runners asking for sponsorship, or the likes of Red Nose Day. But 2014 saw a new intensification in the form of the ice bucket challenge to raise money for amyotrophic lateral sclerosis/motor neurone disease.
The challenge - which typically saw people being drenched in icy water and then nominating friends to undergo the same - raised money and awareness about ALS. It flared in August before petering out in September.
It was not the first big social media-driven challenge. Earlier came the No Make-Up Selfie campaign, which raised more money in the UK than the ice bucket challenge.
No-one really knows how it started. But soon #nomakeupselfie was trending as women posted pictures of themselves without make-up on Twitter and Facebook, urging their friends to do the same. Donations were being made to cancer charities. The digital media team at Cancer Research UK reacted quickest, says Breeze. They got one of their scientists to pose without make-up as part of the campaign. Suddenly the challenge had official endorsement and CRUK became the main beneficiary.
Dr Beth Breeze, director of the centre for philanthropy at the University of Kent, says the challenges were not celebrity driven. "The celebrities jumped onboard," she says. They originated with ordinary donors.
Speed is the main difference with these social media challenges, says Breeze. In one week, No Make-Up Selfie had raised £8m.
In between No Make-Up Selfie and the ice bucket challenge there was also the Stephen Sutton campaign for Teenage Cancer Trust. A teenager with terminal cancer, his goodbye message on Facebook in April prompted more than 135,000 people around the world to donate by the middle of May.
While ice bucket challenge was the most popular of the charity challenges, many of those taking part didn't make a donation. And in one poll, half of those surveyed felt it was about attention seeking.
But Breeze says these kind of social media challenges are useful innovations not deserving of cynicism. Many people don't feel comfortable talking about their charity-giving for fear of boasting. But here is a way people to celebrate taking part by having fun and embarrassing themselves, she says. "In the new philanthropy you don't just give cheques you give of yourselves too."
8. It's still possible for a plane to vanish
The loss of AirAsia Indonesia flight QZ8501 and the time it took to locate the wreckage emphasises the limitations of the systems we have for tracking aircraft. The Airbus A320-200, with 162 people onboard, lost contact with air traffic control at 06:24 local time on Sunday 28 December (23:24 GMT Saturday) over the Java Sea. But wreckage was not found until well into the third day of searching.
Despite the agonising wait for families of those onboard, the parallels with Malaysia Airlines MH370 are limited.
MH370 - and its 227 passengers and 12 crew members - is yet to be located nearly 10 months after its disappearance. In an age of multiple layers of civilian and military radar, GPS and spy satellites, many have struggled to comprehend how it could simply vanish. The layman can even watch airliners circle the globe in real time on websites such as Plane Finder and Flight Radar 24. It seems so easy to track a plane. But despite the huge resources ploughed into the search, and the use of satellite data to pinpoint a likely area of ocean, nothing has been found.
---
Conspiracy theories
Six months after the disappearance of MH370, conspiracy theories were still swirling. They included:
The plane was shot down by US/Thai fighters during a military exercise
A Chinese submarine used a missile to shoot the airliner down south of Vietnam
It was flown to Taliban-controlled Pakistan
It was cyber hijacked by someone operating a mobile phone
The persistence of conspiracy theories about MH370
---
The disappearance of the plane has prompted many theories. "Did pilot commit suicide?", asked the Daily Mail. It was "the most baffling disappearance in history", according to Times columnist Matt Ridley. "The tragic disappearance of all 239 people on board flight MH370 in the Indian Ocean has one really peculiar feature to it: none of the possible explanations is remotely plausible, yet one of them must be true."
The Boeing 777 took off from Kuala Lumpur at 00:41 local time (16:41 GMT, 7 March). At 01:19 came the last communication between plane and air traffic control. The pilot or co-pilot said: "Good night Malaysian three seven zero." A few minutes later the plane's transponder, which communicates with ground radar, shut down as the plane crossed from Malaysian air traffic control into Vietnamese airspace.
Thai military radar logs appeared to show that the plane turned west and then north over the Andaman Sea. Then the search was isolated to a northern and southern arc that the plane could have travelled up or down. On 24 March the northern corridor was eliminated. The plane is now thought to be somewhere in the southern Indian Ocean west of Australia. The search area has been modified a number of times. Debris has been spotted in the water but turned out not to be from MH370. The flight recorder has not been found.
The search highlighted some elements of the plane that were less conducive to location than the layman might have expected. For instance, even with the transponder being switched off wouldn't satellites have tracked the plane? There were seven "handshakes" in which satellites picked up the plane's networks trying to connect with ground stations. But they could not pinpoint the exact location - only the plane's longitudinal position. And it came as a surprise to many laymen that the pinger on the plane's flight recorder only had a battery life of 30 days and a range of just a few miles.
In such a sophisticated world, how could such a big thing go missing? Whatever befell MH370 - and all the theories remain speculation - the bigger picture is that humankind knows less than it thinks it did about finding big objects.
9. The return of garden cities
Before the Budget this year, Chancellor George Osborne announced the creation of the first garden city in the UK for nearly 100 years. The new proposal will happen in Ebbsfleet. By April the scope had grown to three garden cities.
The idea, which dates from the late 19th and early 20th Century, is having a major resurgence. This year's Wolfson Economics prize was focused on garden cities. Five submissions were shortlisted in April and the £250,000 prize was awarded in September to a submission from design practice Urbed.
Its proposal suggested that an existing town or city such as Norwich, Northampton, Oxford or Rugby could be expanded without endangering green space. The government paid heed. It said it was looking to identify more candidates. There was no uniform model but the government said features such as "quality design, gardens, accessible green space", nearby jobs and local services should be "hardwired into designs from the beginning".
The first garden city was Letchworth, dating from 1903, which was followed in 1920 by Welwyn Garden City - both in Hertfordshire. The concept was developed by the liberal social reformer Sir Ebenezer Howard. The garden city was an attempt to relieve urban squalor and overcrowding.
---
Garden cities
The concept of a garden city was created by Sir Ebenezer Howard as an alternative to the squalor of Victorian slums, where people could live in harmony with nature
Howard's vision married the benefits of town and country, managed by a not-for-profit company
The first garden city, Letchworth (pictured), was created at the turn of the 20th Century and included many parks and open spaces
The concept was adopted after World War Two to deal with an accommodation shortage caused by bomb damage, stagnation in the construction industry, returning service personnel and a baby boom
---
In his book "To-morrow: A Peaceful Path to Real Reform", published in 1898, he proposed cities of 30,000 people that were self-sufficient and ringed by an agricultural belt. In many ways it was a forerunner of the green belt, although many advocates for garden cities today argue that the belt concept has become inflexible.
Kate Henderson, chief executive of the Town and Country Planning Association - a longtime supporter of garden cities - says its time is nigh. "For the first time in a generation, 2014 has seen us in the position of having cross-party support for a new generation of Garden Cities."
Language may be the real reason the term is back, says Edwin Heathcote, architecture critic at the Financial Times. Politicians know they need to build homes. What these proposals really are is "new towns" - but those words sound "concrete and dense". Whereas "the garden city sounds like a twee rural compromise so no-one's frightened". Gordon Brown tried to develop something similar with eco-towns, a plan that soon faded away. Garden cities stand a better chance of getting built, Heathcote believes. But will they capture Howard's political ideals?
"Human society and the beauty of nature are meant to be enjoyed together," Howard wrote. "Out of this joyous union will spring a new hope, a new life, a new civilisation."
It wasn't all just peace and love. The clever idea in the garden city was that all the inhabitants would share in the prosperity their place had created. By building on low-value agricultural land the community would capture the rise in value created by the growing city and the benefits would be reinvested in services, infrastructure and welfare, says Heathcote. It would become self-financing.
But will this happen in Ebbsfleet and the other new garden cities? It seems more likely the increased value will be captured by private developers, Heathcote thinks. In which case these places might not be so different to other major housing building projects of the last few decades.
Henderson is more hopeful. There is political consensus - what matters now is ensuring that the high standards associated with Howard's garden cities are preserved, she argues. The next election will be critical - all three parties must set out a firm manifesto commitment to create high quality garden cities, Henderson says. Otherwise it will remain just a buzzword.
Subscribe to the BBC News Magazine's email newsletter to get articles sent to your inbox