Been and Gone: The location scout for the Lord of the Rings films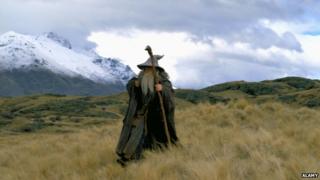 Our regular column covering the deaths of significant - but lesser reported - people in the past month.
Most of the locations used in The Lord of the Rings and Hobbit film trilogies were identified by New Zealand photographer Dave Comer. A talented freelancer, Comer began shooting commercials in the 1980s and was credited with inventing the technique which converted stills into moving film, giving a eerie quality to his 2000 commercial for Jaguar Cars. It eventually found a place in the New York Museum of Modern Art. Some of his work saw him in hazardous situations, not least when he was mistaken for a terrorist by Peruvian soldiers while scouting locations for a car commercial. He also became a wilderness guide in the Fiordland area of New Zealand and he used the opportunity to photograph large areas of the countryside. When the director Peter Jackson was planning The Lord of the Rings, Comer was commissioned to seek out the locations that would eventually appear on screen as Middle Earth.
Horace Batten was the fifth generation of his family firm of bootmakers which had specialised in making riding boots since the early 19th Century. The company's products had also been worn by Britain's cavalry regiments in almost every major conflict in which they had taken part. Horace had been a talented cricketer, joining Northamptonshire as a professional before he was required to turn his attention to the family business. During World War Two he made boots for submariners and for members of the Woman's Land Army. His products were worn by many of Britain's top show jumpers including Harvey Smith and Nick Skelton. But he also fulfilled more unconventional orders. These included a pair of heavy jackboots worn by the actor Dave Prowse in his role as Darth Vader in Star Wars and a pair of size 72 boots for the giant puppet of Lady Godiva which was commissioned as part of the London 2012 cultural events.
Roberta Leigh published more than 160 novels and children's stories under a variety of pseudonyms. She had actually been born Rita Shulman and started writing in her convent school at the age of 14. She specialised in romantic fiction having noticed that women in her local library always seemed to take out more books in this genre than any other. But she spread her net even wider, co-creating a teen magazine called Boyfriend before moving into television. She created a number of characters including Twizzle, Torchy the Battery Boy, Sarah & Hoppity and Space Patrol. In order to get them on screen she bought a film company and produced, scripted and wrote the music and lyrics. Some of her early films were produced in collaboration with Gerry Anderson. She became disillusioned with television and went back to writing romantic fiction, often dictating more than 2,000 words an hour to her two secretaries.
Brian Lister was one of the pioneers in the resurgence of British motorsport following the end of World War Two. An engineer by profession, he designed his first sports car in 1953 which duly won the very first race in which it was entered. Lister's genius was to match his beautifully designed chassis with the best engines available at the time including Bristol and Maserati. His big breakthrough came with the Lister Jaguar in 1957 which won 12 out of the first 14 races in which it competed. The following year he built a similar car for the American market, this time powered by Chevrolet. However, motor racing in the 1950s had few safety provisions and the death of his driver, Archie Scott-Brown at Spa in 1958 persuaded him to withdraw from competition. His final involvement with racing was helping prepare the works Sunbeam cars for the 1964 Le Mans race. Thereafter he turned his skills to making an innovative range of packaging machinery.
The British theatre of the 1950s was noted as a fertile breeding ground for character actors, of which Tom Adams was a fine example. Like most budding actors of the time he cut his teeth in rep before moving into television in the 1960s in a number of roles including appearances in The Avengers and Maigret. He secured the part of Nimmo in The Great Escape, that staple of Bank Holiday TV schedules, which earned him enough money to buy his first car. His height and dark good looks saw him become something of a TV heartthrob as Dr Guy Marshall in the ITV medical drama Emergency Ward 10 and he also secured a long running part as Daniel Fogarty in the BBC series The Onedin Line. His rich voice made him much in demand for commercial voice-over work and for many years he fronted adverts for the DFS furniture chain.
Sheila Stewart was one of the foremost performers of the traditional ballads and songs of the Scots travelling community. Such was her fame that she was invited to represent Scotland at the US Bicentennial celebrations in 1976 where she paraded in full Highland dress. She was born in a stable, the daughter of a travelling woman and a piper who had come to Blairgowrie in Perthshire to work in the annual berry picking. Songs, ballads and stories were part of her everyday life from an early age and, in 1954, the family was persuaded to give its first public concert. Recordings followed, with songs containing a mixture of English, Lowland Scots dialect and Beurla Reagaird, a travellers' language which allows them to have private conversations in front of others. She later became an adviser on travelling people to the Secretary of State for Scotland and was a strong advocate of travelling culture.
Among others who died in December were:
Acclaimed portrait photographer Jane Bown
Gritty-voiced rock and blues singer Joe Cocker
Comedy actor and scriptwriter Jeremy Lloyd
Actress Billie Whitelaw
Model who became embroiled in the Profumo affair Mandy Rice-Davies
Charismatic Liberal party leader whose career ended in scandal Jeremy Thorpe
Keyboard player with the band The Small Faces Ian McLagan
Subscribe to the BBC News Magazine's email newsletter to get articles sent to your inbox