David Carr, breastfeeding and me: The power of a kind act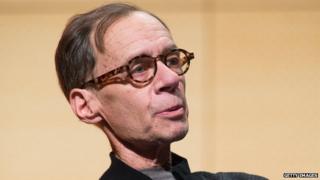 New York Times journalist David Carr died Thursday night at age 58. As word spread, stories poured in about his kindness, bravery and overall humanity. Here is one from the BBC's Los Angeles-based producer, Regan Morris.
I will never forget the first time I met David Carr. I was doing what we call a studio "meet and greet" - I had to let him into the bureau, offer him some coffee and put him in front of the TV camera to do a "live hit" on BBC World News America.
I didn't want to do it for various reasons, but mainly because I had my infant, firstborn son in a sling sleeping across my chest.
Just before David arrived at our bureau, my son woke and started nursing under the sling. For the uninitiated, breastfeeding makes a peculiar, surprisingly loud noise. I was horrified and sweating, desperately trying to get my son back to sleep - bouncing up and down frantically to no avail.
David arrived, and I opened the door sweaty and red faced. I shook his hand - all with the unmistakable sound of a baby suckling from under my giant, blue-and-green-wrap sling. I was fully covered, yet fully mortified. The sound gave it all away.
But David Carr was not only polite and gracious, he was impressed.
"Wow, talk about the modern face of broadcasting," I remember him saying. He followed that with a string of compliments, which included words like "amazing," "strong" and "powerful".
He may have even used the word "badass" instead of amazing, and he said it was the most memorable and beautiful greeting he'd ever had at a BBC bureau.
As a new mom just starting the juggle of career and motherhood, his words and his reaction meant a great deal to me. It actually affected the way I raise my sons and nurture them publicly - sometimes while I'm working - without shame.
I now have two boys and have spent the last six years juggling my profession and parenthood. Some of the most surreal moments of that effort were when I was working away from my children and using that feat of technology both beloved and dreaded by the modern working mother, a hands-free double-sided breast pump.
I often thought of David Carr while I was strapped to my machine like a cow, sitting in satellite trucks or crew cars outside stories we were covering like the Golden Globes, Michael Jackson's house or the largest nuclear waste dump in the United States in Hanford, Washington.
I always covered myself with a blanket - but I'm sure it still made plenty of my colleagues uncomfortable, especially when I pumped from the backseat of cars while travelling to stories. The mechanical sound of a woman pumping milk is even more peculiar than the sound of a baby suckling. But I pumped proudly and without shame. And I honestly think David Carr helped give me the strength and confidence to do that.
After David's appearance on World News America, we talked about parenthood and addiction and the demons of the past. I loved David's work and his story of triumph.
He had a way of pulling you in and making you feel important - that's why he was such a good journalist and interviewer. He'd overcome drug addiction to become one of the most powerful voices in the media at the venerable New York Times. Because he was so candid with his own story of struggle, he made me (and countless others) feel at ease and able to share our own selves a bit more than we might have intended.
I didn't know David Carr well at all and only met him a handful of times after that day - usually in our newsroom, when someone else was sticking him in the studio for a "meet and greet." But I've always wanted to thank him for that confidence boost he gave me when I needed it most. I am so sad I've missed my chance.