Been and Gone: Champion F1 designer and Janis Joplin's guitarist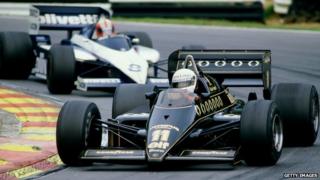 Our regular column covering the deaths of significant - but lesser reported - people of the past month.
Gerard Ducarouge's background as a missile engineer stood him in good stead when he decided he could make racing cars go faster. He joined the French racing team Matra where he rose through the ranks, designing the Formula 1 car which took Jackie Stewart to his 1969 World Championship. He was also responsible for the cars that gave Matra a hat-trick of wins at Le Mans in the early 1970s. When the company pulled out of racing he joined Ligier and then Alfa Romeo before being snapped up by Lotus. Over the following decade he designed cars that were driven by Nigel Mansell and Elio de Angelis (pictured above). In 1985 the young Ayrton Senna gained his first-ever F1 win in Portugal in his Lotus 97T in what became the famous JPS black and gold colours. It was the high point for the designer who later ended up back at Matra where he worked on the Renault Espace F1, a people carrier capable of 194 mph.
Beryl Myatt battled the male establishment throughout most of her life. She read mechanical sciences at Cambridge and secured a job as an aeronautical engineer in 1943, one of the first British women to work in the field. She later recalled that people phoning up with technical queries were shocked when they were put through to a woman. Like many women of her generation her career was cut short by marriage, in 1949, and for the next 30 years she devoted herself to domestic life. When her children got older she threw herself into local government politics, eventually becoming the vice-chair of Essex County Council. She became a life peer, Baroness Platt of Writtle and, in 1983, she became chair of the Equal Opportunities Commission. She fought for changes that would allow married women to return to work, and to take up engineering. She always carried a screwdriver in her handbag.
Meredydd Evans was a leading figure in the promotion of Welsh language, music and culture. His mother sang Welsh folk songs to him as a child and he developed his interest at university in Bangor. A committed Christian and pacifist he faced a military tribunal as a conscientious objector in World War Two but was unconditionally discharged on religious grounds. He became a noted performer of Welsh music and, with his wife, edited a number of collections of folk songs. For 10 years he was head of light entertainment at BBC Wales and produced a host of programmes showcasing Welsh culture. He was a prominent campaigner in the Welsh Language Society, once being convicted of breaking into a TV transmitter in support of the demand for more Welsh language programming.
Sam Andrew's psychedelic guitar sound was the backdrop for the rasping vocals of singer Janis Joplin. He founded the band Big Brother and the Holding Company in 1965 as the psychedelic movement began to gain pace, and they quickly established themselves as leaders in the genre. He felt their progressive instrumental style would be enhanced by a vocalist and, in 1966, Joplin was recruited to the band. Their new style of music brought them a different fan base, and their popularity was enhanced by their performance at the 1967 Monterey Pop Festival. Joplin quit in 1968 to go solo and Andrew joined her in the Kozmic Blues Band, but after they split he returned to Big Brother without Joplin, who had died of a drugs overdose. Over the following decades Andrew got the band together for one-off performances and turned his hand to film music, notably providing material for Terry Gilliam's Fear and Loathing in Las Vegas.
Comic book artist Brett Ewins achieved fame for his work on Judge Dredd and Rogue Trooper in the comic 2000 AD. The publication had appeared shortly after his graduation from Goldsmiths College in London and he became a regular member of the team of artists who worked on it. Eventually he felt disenchanted with his work at 2000 AD and helped set up the comic music magazine, Deadline. It launched the careers of many artists including Jamie Hewlett and Alan Martin, who went on to create Tank Girl. He also worked on designs for Games Workshop. His career was hampered by bouts of paranoid schizophrenia which affected his behaviour. In 2012 he was arrested for a serious assault on a police officer.
Anne Naysmith was a talented classical pianist but she ended her life living rough on the streets of west London. She studied at the Royal College of Music before renting a room and giving piano lessons. She appeared at a number of well-known concert venues, including a 1967 concert at the Wigmore Hall where she won praise from critics for her interpretation of Rachmaninov's Preludes. But an unhappy love affair, and the failure of her concert career to flourish, saw her give up teaching, and she was evicted from her house. She spent the next 26 years sleeping in her car in the Chiswick street where she had lived, before the vehicle was towed away by the local authority. She moved to a makeshift shelter in a car park at a local underground station where she grew plants but she was forced out by Transport for London. She refused all attempts by various organisations to re-home her.
Among others who died in February were:
Lesley Gore - singer whose record It's My Party gave her a hit at 16
Steve Strange - "New Romantic" musician, club promoter and dandy
Michele Ferrero - chocolatier who developed Nutella and Ferrero Rocher
Alan Howard - award-winning English stage actor
Louis Jourdan - suave French film star, famous for Gigi and Octopussy
Martin Gilbert - war historian and biographer of Winston Churchill
Subscribe to the BBC News Magazine's email newsletter to get articles sent to your inbox.