Election 2015: Could this English town hold the key to No 10?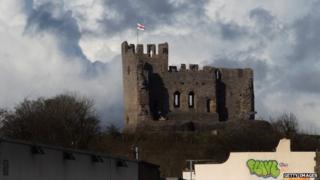 Dudley, a town in the heart of the UK, isn't what it used to be.
Its High Street has a dingy, ragged look - full of discount shops and boarded storefronts that used to be high-end retailers before the economic downturn six years ago and the lure of an out-of-town shopping centre.
The Hippodrome - a 1,700-seat theatre that once hosted the likes of Bob Hope and Laurel and Hardy - is now a glorified bingo hall.
The ruins of a 14th Century castle loom over the city centre, and even the zoo that rings the battlements seems fixated on a more glamorous past, displaying black-and-white photographs of 1950s-era crowds - men in ties and women in fancy dress, packed in the stands to watch prowling lions and a leaping killer whale.
It's a scene likely familiar to residents of many US small towns, which have watched as local retailers disappear due to a struggling economy and the low prices and convenience of big-chain stores like Walmart.
And like post-industrial US towns in places like Ohio, Dudley is in a key electoral region - the West Midlands - that features hotly contested marginal constituencies, as working-class voters are torn between big-government economic policies, free-market advocates and anti-establishment, populist appeal.
The constituency of Dudley North, in particular, has proven to be a particularly dicey region for the major parties, thanks to a recent political scandal.
Last month the Conservative Party candidate, Afzal Amin, had to withdraw from the race after secret recordings published by the Daily Mail revealed he had tried to co-ordinate with the nativist English Defence League, which would call off a protest march against the expansion of an area mosque after Mr Amin's very public intervention. He has been replaced on the Conservative ticket by Les Jones, a former Dudley Metropolitan Borough Council leader.
The Conservatives had hoped Mr Amin - a Muslim Army veteran who served in Afghanistan - would be a fresh face for a party lacking in minority representation. These hopes, however, have been dashed.
"I was pro-Labour until I met Amin," says Asif Iqbal, a Dudley cab driver whose parents immigrated from India. "He convinced me."
He says after Mr Amin's disgrace, he's doubting whether any politician can be trusted. "That's what politics is all about, though, isn't it? That's the way they do things."
The Conservative Party's loss may not end up being Labour's gain, however. Incumbent MP Ian Austin narrowly won his seat from the Conservative candidate in 2010, but the UK Independence Party - and its candidate, Bill Etheridge - is gaining in the polls. Fuelled by the area's economic malaise and resentment over the new wave of immigrants that have arrived in the region thanks to the European Union's open borders policy, the party is now predicted by some to garner enough disillusioned Conservative voters to surge past Labour.
Earlier this week UKIP leader Nigel Farage said immigration has led to a "change in our communities that has left many people in our towns and cities frankly finding it difficult to recognise the place being the same as it was 10 to 15 years ago."
Dudley resident Sebastian Darlak disagrees with this assessment. He says immigrants - particularly those from Eastern Europe - are keeping towns like Dudley afloat.
A year and a half ago, he opened the Crepe Station just off High Street. He converted a shuttered office into a cosy cafe entirely through his own work and that of his friends.
He does say that he understands why some locals may resent the rise in immigration numbers from places like his native Poland, however.
"Frustrated people, not happy about their own town, try to blame someone or something," he says. He adds that the government never made clear exactly how many immigrants were going to enter the country - over 200,000 last year alone. "They feel like this country is being overcrowded and taken over by immigrants." Although he notes that Dudley's immigrant population is smaller than the national average.
He counters that hardworking immigrants like him, from Eastern European countries, are a boon to the local economy in places like Dudley.
"People come in here to work," he says, "not to claim benefits. Immigrants from Europe want to start their own businesses, they want to work, they want to save money and spend the money here in England and send the goods back to Poland."
He adds that sometimes it takes outsiders to appreciate the value of a place. Where locals may lament the loss of downtown stores, he admires High Street's distinct architecture and proximity to tourist attractions like the castle and the zoo.
Darlak acknowledges that he has a long struggle ahead of him. Although Dudley may have potential, it's yet to be realised. Despite being in the midst of renovations, High Street's open-air market had a fair number of visitors on Thursday morning, but I was alone for most of the time I sat in his cafe, drinking coffee and eating a chocolate crepe.
While we talk, the radio programme playing over the speakers gives an update on Thursday night's seven-party leader debate. I ask him if he's going to watch, and he nods.
Constituencies like North Dudley will likely hold the key to who on that stage ends up as the next leader of the UK - and immigration and the economy could be key issues propelling that person to victory.
For the politicians, it's a rhetorical talking point. For people like Darlak, it's everyday life.