Changing the signals on Britain's railways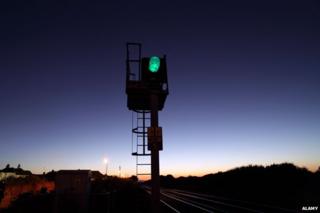 A new digital rail signalling system in the UK could be targeted by hackers, an expert has warned. But just what is behind this radical change to signalling, asks Adrian Quine.
It's the age-old excuse - "your train is being delayed due to signal failure".
But those traditional signals, the railway's equivalent of traffic lights, along with their associated failures, could soon be gone. In their place will come a digital system known as the European Train Control System (ETCS) which is more akin to modern air traffic control than the century-old technology it replaces.
Britain's current railway signalling is made up of a hotchpotch of different systems, many bolted on to much older technology. In some areas, sophisticated computer software controls train paths automatically, in others there are still signallers sitting in traditional wooden signal boxes pulling levers that connect to semaphore arms via a convoluted system of wires. An army of more than 3,000 signallers work around the clock, costing about £100m a year in wages.
Traditional signalling in Britain stems from a principle developed by the Victorians known as "block working". This is based on the principle of one train in each section at any time. But because these block sections are constrained by the fixed geography of the signals it is impossible to increase capacity.
ETCS replaces fixed signals altogether with digital "moving block" technology. In effect each train creates its own safety "buffer zone" by transmitting its actual positions in real time via a series of closely positioned track sensors known as balises. The system is similar to planes which use cockpit transponders to report their actual position to air traffic controllers when under radar coverage.
Under ETCS each train will transmit its exact position via the railway's own communications network to one of 12 new massive rail operating centres which will replace the 800 signal boxes currently in use. Computers will then work out the optimum distance between trains, taking into account their speed, braking distance and stopping patterns at stations.
It's hoped the new system will allow for much shorter headways between trains, resulting in a 40% increase in capacity. Reliability and journey times should also be improved as trains will not need to brake and accelerate as they do at present when bunching occurs as a result of fixed signals.
This technology is already in use on the high-speed TGV lines in France. On these dedicated routes trains travel at the same speed over long distances with few stops, making them the ideal test bed for the new technology. But getting the system to work on Britain's more complex 100-year-old existing network will be a far greater challenge for engineers.
Conventional lines have to accommodate everything from 40mph freight trains to 125mph expresses. Britain's West Coast Main Line from London Euston to the North West and Glasgow is currently Europe's busiest mixed traffic railway and it's nearly full. Other parts of the UK rail network, including many commuter lines at peak period, are also near gridlock.
Network Rail's recently appointed chief executive Mark Carne says there's a need to get more out of existing track because of rising passenger numbers. "That's exactly what the aviation industry has done with air traffic control systems which has massively increased take-offs and landings on existing runways."
Carne believes the UK's entire 10,000-mile network can be controlled from the 12 new rail operating centres within 15 years. But Roger Ford, technical editor of Modern Railways magazine, is less optimistic. "Signalling is in a state of crisis following years of under investment by Network Rail's predecessor Railtrack whose policy was patch-and-mend rather than renew-and-replace.
"Network Rail is currently playing catch-up which is really stretching the industry and will have a major impact on the delivery of the digital railway across the board."
There has been a pilot scheme on the Cambrian line in Wales, installed by French company Systra.
---
More from the Magazine
The HS rail link won't be finished until 2033, so why does it take two decades to finish a project like this?
HS2: 20 reasons why it can take 20 years to build a railway (January 2013)
---
And there are some who think the work can be completed nationwide without causing chaos. Joe Little, of rail project management firm CPC, believes that although ETCS will be the biggest change to the infrastructure since the Victorian pioneers, it can be achieved with minimum disruption. "Traditionally you'd shut the railway down whereas now the new digital system can be overlaid on top of the old mechanical system so you can test it thoroughly before making the final switch."
ETCS comes at a politically sensitive time as arguments still rage over the viability and cost benefits of HS2. Champions of the new line have recently shifted their argument away from pure speed benefits to capacity enhancement. They claim that without HS2 the existing network will grind to a halt, but there will be some who will say that ETCS could create extra capacity and therefore undermines that argument.
Carne believes there could be up to 40% more trains on the busiest lines.
ETCS is the signalling component of an EU directive creating the European Rail Traffic Management System (ERTMS), which aims to standardise railways across the EU. To comply with this rule all new trains must be fitted with ETCS.
Other countries, including Morocco, China and Australia, have endorsed digital signalling.
There are supporters who hope the new digital system will finally allow more competition on the crowded network. Great North Western Railway has frequently had its proposals to run new trains from London to the North West of England turned down. GNWR's managing director Ian Yeowart says: "As a new entrant to the railway, the ability to find space to operate has always been a major barrier for us. The current system relies heavily on sight, reducing speed potential and extending braking distances for drivers."
So far however, apart from Cambrian line in mid-Wales, the only major route to benefit from a similar technology is HS1 which links the Channel Tunnel to St Pancras. High-speed domestic trains from Kent also travel along the line, significantly reducing journey times.
Network Rail is still working on final costs to upgrade the entire system. But it's unlikely to come cheap.
Subscribe to the BBC News Magazine's email newsletter to get articles sent to your inbox.