Caption Challenge: Sheep show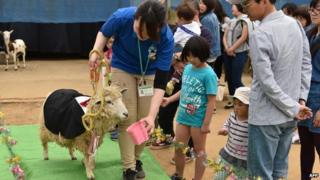 Winning entries in the Caption Challenge.
The competition is now closed.
This week a sheep takes part in a fashion show at a farm in Japan.
Thanks to all who entered. The prize of a small amount of kudos to the following:
6. Catherine O:
Simply ovine, Darling.
5. Rob:
Representatives from PETA respond cautiously to rumours that real sheepskin is being worn at a fashion show.
4. Dr Adrian Wade:
That coat! It's very ewe…
3. Susan:
Daddy, why is our dinner wearing clothes?
2. Mike Walsh:
Unorthodox entry at Crufts didn't pull the wool over anyone's eyes.
1. Mark Luck Man:
Suits ewe sir.
Full rules can be seen here
[16KB]
Subscribe to the BBC News Magazine's email newsletter to get articles sent to your inbox.