Why Stevie Wonder is 'welcome to apply' to the CIA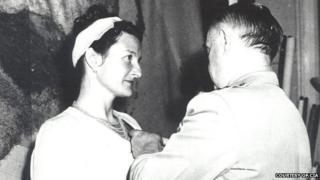 Forget Jason Bourne. The CIA is recruiting people with disabilities in order to build a diverse agency - and the agency's officials are being unusually open about these efforts.
When he started his job at the CIA nearly a decade ago, Cham went into "culture shock".
"No cell phones allowed," he says. He is deaf, and uses a mobile every day for communication. But despite this and other "little quirks", as one official puts it, he stuck it out.
Cham, who can only give his first name due to security concerns, is now a case study in the agency's effort to attract and promote a diverse workforce, including those who live with disabilities.
There's room for improvement. A recent report showed agency employees with disabilities rarely make it to the top.
"CIA simply must do more," said CIA Director John Brennan in June.
He's reached out to Cham and other employees to find out what the agency can do better. Officials have increased employees' access to sign interpreters and added more assistive technology.
And the CIA is also speaking openly about the efforts, a dramatic shift at an institution known for its near-complete silence regarding its activities.
Cham ("like champ without the 'p'", he says) is dressed in black loafers, a dark jacket and a Cisco lanyard. He has a buzz haircut and thick eyebrows. He uses sign language, and a sign interpreter, Jeff, sits next to him.
When he was a child, Cham went to a school for students who are deaf. He ran track and played water polo, he says, enmeshed in a private world where everyone signs.
Now he is part of another private world - the US intelligence community.
He prides himself on "outside-of-the-box" thinking and says his insights about networks and other IT issues are valued at the agency, which places a premium on original analysis.
Like other private worlds, the CIA is inhabited by unconventional types.
During one of my visits I saw a man in a pinstriped shirt walking along the sidewalk near the main building. He was waving his hand in the air as if he were having a heated argument, but no-one else was around.
"If you're a little different in some ways - well, that's not so important unless you're a threat to the overall mission," says David Charney, a psychiatrist in Alexandria, Virginia, who's been treating people from the agency for more than 20 years.
"If you're in the club," he says, "you're in the club."
It's not easy to gain admission, though.
CIA job applicants face a rigorous process. They undergo a security investigation as well as medical examinations, mental evaluations and polygraph tests. Hiring someone takes one to two years, say employees of the agency.
Once hired, they sign statements swearing they'll never reveal classified information or anything similar that they've learned while working at the CIA.
Journalists are sometimes invited to the agency for interviews, but not often. Quotes have to be approved before publication.
Cham glances down at questions I've submitted. He's sitting next to a public-affairs official, Lyssa Asbill, and across from Tara, a disability programme manager. The room, which has no windows, is a secure vault.
I ask Cham how I should identify him, whether by his job or by other traits.
Asbill leans forward. "Network engineer," she says.
"IT engineer," he says. "Or you can say I'm the IT janitor."
He says he's learned new skills at the agency. He now works on computer networks, and courtesy of the CIA he will soon be finishing a master's of business administration (MBA).
He spends his days working on a computer and talking to people - sometimes with the help of an interpreter. Other times he writes his thoughts on a white board or uses electronic devices to communicate.
"I don't feel like my disability is a barrier in any way," he says. "The only thing I can't do is hear."
Cham says he tries to educate other employees about being deaf, and he and Tara go to recruiting fairs, where they tell people what it's like to work at the agency.
"There's lots of misperceptions," Tara says. "It's all about the movies, and you have to be jumping out of a car."
In real life, she says, people at the CIA have a range of skills and abilities. "You name it, we have it here," she says, describing an analyst who's blind and "a briefer who has cerebral palsy".
Not long ago, Cham and Tara went to California to attend a technology conference for people with disabilities. Stevie Wonder was performing at the event, and he stopped by their booth.
"Does Stevie Wonder want to work for the CIA?" I ask.
"That's classified," Tara says. She's joking, but Cham tells me to write that Stevie Wonder is "welcome to apply".
The Americans with Disabilities Act changed public life in America. More buildings have ramps for wheelchairs, and cash machines have Braille.
Yet Cham and other people with disabilities still work to overcome bias and physical obstacles at the workplace.
Conditions at the agency have been especially challenging. Under national security waivers, the agency is allowed an exemption from certain requirements in areas such as technical systems and their accessibilty.
Devices such as videophones, for example, used to be off limits at the CIA, but were introduced under Brennan.
Steven Aftergood, the director of the Project on Government Secrecy for the Federation of American Scientists, says the use of national security waivers are "based on the premise that the mission is paramount".
"What I think the agency has discovered is that rationale may be too neat," he says, adding the candour of the officials about the issue is a positive sign.
"We are going to be honest," Asbill tells me. "We have to own our shortcomings.
"If we don't own that, then we're never going to be able to move forward."
It's part of a larger effort of officials at the CIA to be more open about at least some parts of their work.
"The old adage was 'an intelligence success revealed is an intelligence failure'," says Christopher Moran, the author of a forthcoming book about CIA memoirs and whistleblowers. "That has changed."
In December 2014 Brennan spoke at the CIA's first live television news conference at headquarters. The occasion was a Senate intelligence report on the agency's detention programme, an account of waterboarding, death threats and other methods the CIA used on detainees in the aftermath of the 2001 al-Qaeda attacks.
"In a limited number of cases, agency officers used interrogation techniques that had not been authorised, were abhorrent and rightly should be repudiated," Brennan said. "We fell short when it came to holding some officers accountable for their mistakes."
The issues are distinct. Yet the efforts to come to terms with the past, whether it involved brutal interrogations or the lack of workplace diversity, matter.
"If the agency is a learning organisation that can perceive its own mistakes and compensate for them, then anything is possible," Aftergood says, but adds there is "unfinished business concerning the post-9/11 record".
"Not even all the facts are public yet, let alone questions of accountability," he says.
Cham remembers a moment when Brennan joined him and a colleague who had worked at the agency for years and is also deaf, in a room with a new videophone. On the other end of the line was the colleague's 93-year-old mother. It was the first time he'd ever called her from the office.
"It was very joyful to be able to see him connect," says Cham. He pumps his chest with his hand as he signs, trying to convey the emotion.
Cham loves his job, but it's not a calling. He says he decided to stay at the agency because of Brennan's efforts to improve the workplace - and also because of the benefits. "The best part is the MBA," Cham says. "That's worth $50,000 (£32,230), right there."
After we leave the conference room, a guide takes me to a corner of the building rarely seen by outsiders - a private museum with memorabilia from the CIA's precursor, the Office of Strategic Services.
One exhibit is devoted to Virginia Hall, a case officer who was first turned down for a job at the state department. Her lower leg had been removed after a hunting accident.
"They said - 'No amputees, except fingers,'" says Hall's niece Lorna Catling. "She went on and did a hell of a lot more."
Hall was recruited by the UK's Special Operations Executive and worked with the French resistance, helping to destroy bridges and kill enemy soldiers.
She was made a member of the Order of the British Empire. She was also awarded a US Distinguished Service Cross. An oil painting of Hall hanging in an agency's hallway shows her deep in concentration while sending coded messages.
Near the exhibit is an illustration that shows how to slit a man's throat. Outside, black aeroplanes are suspended from a ceiling.
In the afternoon I see Cham again. He's talking to a colleague, signing in a hallway.
Inside the agency things are not always tranquil, particularly as chapters of its recent history come to light. But there's change underway, and he's part of it.