The delays that make train travel fun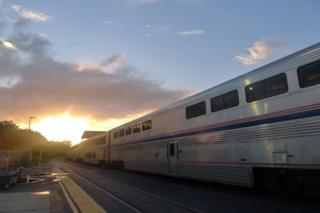 Travelling by train may not be the quickest way to cross the US, but delays and a relaxed pace bring their own rewards, as Christine Finn recently found in Texas.
The platform at Austin was buzzing. There were rumours of a long-delayed train now imminent and an elderly man - let's call him Chuck - was awaiting a special passenger. His girlfriend was returning from a shopping weekend in Dallas. I didn't ask her age. "I can hear the whistle!" he cried, as the high note from the driver's cab hung in the evening breeze.
I was pretty familiar with Austin station by now. A 12-hour delay had divided the Amtrak sheep from the goats, those inside the waiting room watching TV screens, heads down on laptops, updating on phones, but not chatting, or particularly enjoying this considerable inconvenience.
But Amtrak staff had brought in pizza and outside on the platform we were having a party.
After two weeks of Amtrakking I was now familiar with the word "delay" and had realised that the timetable was little more than fiction. It was more, "We'll be there, we'll get there." After all, the distances here are colossal. And if we are behind a slow or broken-down freight train, well, we are not going anywhere fast.
This is not to dismiss Amtrak in any way. I see it as our moment of Zen. The slow, and very slow, amble across country is what we Amtrak aficionados get on board for. A hark back to the old days of chance conversations, the serendipity of being in the next seat to a story.
There's the sightseer lounge, with its pivoting chairs and all-round vision. Enter one at dawn, or any time on, and encounter a carriage of stories: Amish people and their families - one entertained us with his accordion - lone travellers like me, couples of all ages, single parents with children, a troop of scouts, students on a hiking trip. Headphones on, my gaze was resolutely out, out of the huge windows, as my music provided a background to the prairies, the swollen Texas rivers, the desert, and the "behind the scenes" view of America which the train ride exposes.
Elsewhere in the train, people are hunkered down watching films on their laptops, sleeping, playing catch-up with their kids. Unlike the commuter trains, there is precious little wi-fi, and that, I think, is to the good.
I've been fascinated by these long-distance trains for more than 30 years. I remember taking one from east to west and having a breather in Las Vegas - not the gambling capital in Nevada, this was the one with the railroad, in New Mexico. I said to the server at the station coffee shop: "How amazing. You can choose to go to Chicago, or to LA."
"I've never been on a train," he said, "I just drive".
And, three decades later, I am still meeting first-time train travellers. I shared breakfast in the dining lounge with one, a Midwest rancher in his 80s, who could barely focus on his over easy eggs for the view passing by. He was visiting family in the town called Truth or Consequences, New Mexico. "I usually drive," he said, contemplating the cows. "But this, this is fascinating."
But back to that platform in Austin. Over the day of the "come back in an hour or two" mantra, people had headed off to buy beer, leaving mobile phone numbers to be called should the train miraculously appear.
And as evening fell, with a great big sky, suddenly, out of nowhere, the sound of music wafted over from a derelict factory across the tracks. A few of us wandered down and peered in the window to find a band practising in a welter of sax, guitar, and vocals. We applauded, and they were astonished that they suddenly had an audience.
On the platform, it seemed a train was finally coming. Our train. Relieved from hold-ups, breakdowns, cars on tracks, and driver shift changes it was now just a toot-toot away down the line. It came into view, just as the band started another drift of jazz. In a film you'd never believe it.
We took pictures of the loco, haring into view, a few of us Amtrak fans wet-eyed as ever at this grand dame of transportation, stopping for us in little old Austin, in big old Texas, on the way to LA.
I looked out for Chuck, wondering if there'd be a romantic moment on the track. But as the disembarking passengers fell away to no-one, I saw him checking the manifest with the conductor.
"No, no-one of that name boarded today." Ah, Chuck.
"Never mind," he said, hiding his disappointment. "There's another train tomorrow. There's always another Amtrak."
I hope so, I thought to myself. I really hope so.
How to listen to From Our Own Correspondent:
BBC Radio 4: Saturdays at 11:30 BST
Listen online or download the podcast.
BBC World Service: At weekends - see World Service programme schedule or listen online.
Subscribe to the BBC News Magazine's email newsletter to get articles sent to your inbox.