Death of three Canadian girls prompts farm safety debate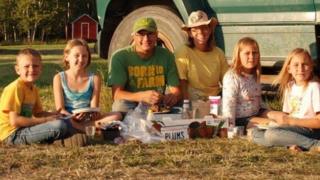 After the death of three girls on a Canadian farm, a debate has begun about the role of children in farming - and the laws that make it possible for them to work without regulation.
On 13 October, Catie Bott, 13, and her twin sisters Dara and Jana Bott, 11, died on their family farm near Withrow, Alberta. They were playing in a truck loaded with canola, became buried under the seed and suffocated.
Hundreds packed into a prairie church on Friday for the funeral service where, one by one, cousins shared their memories of the girls.
Pastor Brian Allan, a family friend who wed their mother and father, also spoke to the mourners. "We ask the question why?" he said. "Why? Why? Why? How is it possible that they could be suddenly swept away from us?"
The answer, he said, could only be found in heaven. But in the aftermath of the tragedy some are also looking at the law to ask how it might have been prevented.
Alberta's ranches and farms are exempt from the employment safety standards and child labour protections that regulate all other industries in Canada.
From 1990 to 2012, 272 children under the age of 15 died in farm machinery rollovers, drownings and animal-related incidents. Some were the children of farmers and some were young employees.
But the government does not collect data on who these children were or what role they played in Alberta's agriculture industry. There is no record of how many children are working on farms.
After the girls' deaths, Alberta Agricultural Minister Oneil Carlier told reporters the provincial government is planning to introduce farm safety legislation aimed at protecting children.
But many of those in the community, including the girls' parents, say there's no need for change.
In a personal blog, neighbour Dave Brand wrote that the girls grew up on his farm, along with the farms of other neighbours and relatives that "make up the close-knit fabric of our community".
"It could have been any of us. We all did stuff like that as kids … Have you ever tried telling a child they can't go for a ride with dad on the (tractor/combine/swather/grain cart/grain truck/etc) or that they can't run through the corn field until they get lost or that they can't enter that pen full of cows?
"It's our role to allow them to grow and make decisions for their own based upon what we teach them. But ultimately, accidents happen."
The next morning, Royal Canadian Mounted Police Sgt Mike Numan read a statement from the family during a news conference. "Our kids died living life on the farm. … It is a family farm. We do not regret raising and involving our kids … it was our life."
Children working on farms has been a way of life in Alberta since the province was settled. But as the farms have changed, the culture hasn't.
"The history of prairie agriculture is that farms were small family enterprises - Ma and Pa and a horse on a quarter section of land," says Bob Barnetson, associate professor of labour relations at Athabasca University.
Most Alberta farms are still family enterprises, he says, but the average size of these farms has dramatically increased, as has the use of machinery.
"Those changes create a different kind of farming environment than what we would have seen at the turn of the last century," he says.
In addition, large national and multinational corporations have also moved in. Critics say Alberta's farming industry regulations don't reflect this new reality.
"Generally, you can say that Alberta has the most regressive labour laws in Canada," Barnetson says.
But because there is no data collected on the number of children working in the farming industry, he says, it's difficult to assess the scope of the problem. Advocates say the anecdotal evidence is discouraging.
Eric Musekamp, a former farm worker who now advocates of the behalf of agricultural workers, says he remembers getting a recent email from a school principal asking for donations after one of their students, a five year old boy, lost his arm in an auger in a farming accident.
"I hear stories quite routinely, because I'm out in the field, working on the farm worker issue," Musekamp sayss.
Twelve years ago, Musekamp founded the Alberta Farm Workers Union (a union in name only, because Alberta farm workers are prohibited from unionising) after he says he found himself working with eight, nine and 10 year olds in potato cellars.
"You can, in effect, hire a child of any age to undertake any job on a farm, ranch or feedlot," he says.
"Realising that that was improper, I've been trying to stop it ever since," he said.
The Wildrose party, the right-leaning opposition party in Alberta, supports the mandate to maintain the status quo. In an open letter he penned last month, shadow jobs minister Grant Hunter wrote that the vast majority of those actively working on family farms opposed extending health and safety legislation to the agriculture industry.
"The fact is nobody is impacted by farm safety regulations more than farmers and their families, and nobody has more practical experience… It is already difficult enough to keep family farms within the family. Adding more paperwork and costs won't make things better, it will drive out small farmers."
Mr Hunter did not respond to the BBC's request for an interview.
Lynn Jacobson, president of the Alberta Federation of Agriculture, says the priority should be education. "Regulations have their place, such as with job hours ... but specific health and safety rules probably would not have affected accidents like [the three girls' deaths]," he says.
His organisation promotes awareness of the dangers of the farmyard.
"Parents also have to realise there are some things we don't think about, including kids playing around in trucks and vehicles and getting buried."
Some groups are trying to take the initiative on their own. Bryan Walton, chief executive of the Alberta Cattle Feeders Association says he hopes to bring farm procedures to the feedlots to create a culture of safety.
When asked whether Alberta cattle farmers employ children under the age of 15, Walton asks "How do farmers learn how to farm?"
"We haven't done surveys on that," he says. "That hasn't really been a point of contention. We're not putting young people at risk."
Alberta Farm Workers Union leader Musekamp is hoping for significant changes in the near future with Alberta's new provincial government. "This is Canada's last lawless frontier, quite frankly."
One grain farmer from Carstairs, Alberta, says he hopes people don't use the conversation about regulations as an opportunity to vilify farmers or the kids who grow up on farms.
"This particular accident that happened had nothing to do with workers' rights or laws for farms," says farmer Devin Hartzler. "It had to do with kids being in a bad place at a bad time.
"The last thing I want is for people to start saying farm kids can't work on the farms - because I did it and I don't know what I would have done as a kid if I wouldn't have been able to do that."