Weekend Edition: The week's best reads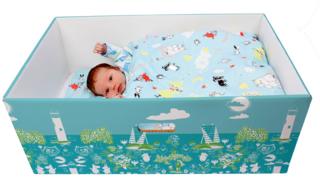 A collection of some of the best features from the BBC News website this week, with an injection of your comments.
"This is very cool and oddly funny," tweets Angus Winchester. "Awesome global social innovation," adds Ann Armstrong. People across the world have been inspired by a Magazine story about baby boxes in Finland, which are given to all new mothers. The starter kits contain useful supplies and the container acts as a first bed for newborns - the idea has been been credited with helping the country achieve one of the world's lowest infant mortality rates. Now similar boxes are being trialled in the US, UK, Australia, South Africa and India. "Our goal is to provide a box for every live birth in the city and give babies a safe sleeping environment because that is critical to preventing suffocation deaths," says Dyann Daley in Fort Worth, Texas.
Why babies all over the world are now sleeping in boxes
'Terrible alchemy'
"Harrowing but moving account of a murder with three victims," tweets Julia Patterson. Angela Wrightson was a vulnerable alcoholic who lived in Hartlepool. Her house was known locally as a place where underage drinkers could hang out. The killers - two girls then aged 13 and 14 - had been there before and Ms Wrightson would buy the alcohol for them. However, that night, some terrible alchemy led to a brutal, bloody and sustained attack, culminating in murder. Ms Wrightson was left dead - having been tortured with a variety of weapons over a prolonged period.
Angela Wrightson killers: A friendship that ended in murder
Shadow at the door
"That poor family!" comments Carolla Ault. "I couldn't even go to the end of my own garden to empty the bin because I was so scared," writes a woman harassed by a stalker for years before he invaded her home. "Everyone thinks it's about being frightened and being frightened is a fleeting thing. But it's the pressure of constant terror. It's like managing under a great weight, but on the day of the attack I didn't feel frightened at all."
The stalker and the woman who refused to give in
Crisis, what crisis?
While no-one thinks the present economic climate is remotely comparable to that of the 1970s - there are no three-day weeks or power cuts - there are echoes of the 1970s in the events of last week. David Bowie and Iggy Pop were in the UK album chart top 10. A Conservative prime minister was urged to nationalise a troubled enterprise. Oh, and there's a looming referendum on the UK's relationship with Europe.
The Salon
"Fabulous piece - its amazing," tweets Rachael Griffin. From Beirut to Tokyo, London to Johannesburg, a simple haircut can spark conversations about race, sexuality, age, class and dreams. Step inside these salons to eavesdrop on some surprising, moving, funny and frank stories.
The Salon: Every haircut tells a story
Recommended reads from elsewhere
The voyeur's motel - New Yorker
The sugar conspiracy - The Guardian
After the plane crash and the cannibalism - a life of hope - National Geographic
Subscribe to the BBC News Magazine's email newsletter to get articles sent to your inbox.