Corsodyl: How an unnerving ad campaign works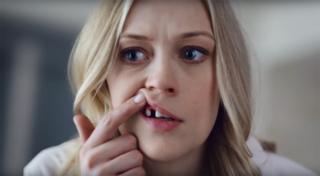 A marketing campaign for Corsodyl mouthwash features a woman losing her teeth. It's the latest part of an advertising campaign that has successfully used shock tactics.
A woman sitting in bed is horrified when her teeth fall out into her hand. She wakes and is relieved to find it was a nightmare, but then spits out blood when brushing her teeth. Looking in the bathroom mirror she reveals a gap where her front tooth should be.
This is the latest advert for Corsodyl and it has been on television, in cinemas and on transport posters. The tagline says: "Because losing a tooth in real-life is worse than a bad dream."
Many viewers have complained on social media that they have found the latest advert unpleasant to watch.
"I have a huge phobia of losing my teeth and the #Corsodyl advert makes me cry and have nightmares about losing my teeth. Thanks," Lishaa wrote on Twitter, finishing with a sad face emoticon. Laura L said "ARGH every time I see the Corsodyl advert where her teeth fall out I feel sick for ages." Meanwhile Mark Hawkins said it was a case of "blatant scaremongering."
Corsodyl, owned by pharmaceuticals giant GlaxoSmith Kline, contains chlorhexidine digluconate, an antibacterial agent also used in other generic mouthwashes. It's used to manage mouth ulcers and to prevent new bacterial growth in someone with mild gum disease, known as gingivitis.
GSK has spent millions on recent campaigns for Corsodyl, which have mostly featured women. A spokesman from GSK says the advert is intended to highlight the consequences of ignoring the early signs of gum disease. However, some dentists do take issue with the adverts.
Dr Nilesh Parmar, a dentist in Southend, has had concerns about Corsodyl advertising for a number of years and wrote a blog post outlining them.
He says while he and his colleagues are glad the latest advert has brought greater awareness around gum disease, they have found the outcome of the campaign to be more problematic.
"I've had patients start using the mouthwash instead of going to the dentist as they think Corsodyl is a cure for gum disease. Actually it just masks the problem, as mild gum disease, known as gingivitis, is caused by poor oral hygiene. Patients need to improve on brushing and flossing their teeth regularly."
Parmar adds that Corsodyl can stain your teeth brown after regular use, which might lead some people to brush harder and damage their gums. Corsodyl does warn of a possible staining side-effect on its label and on its website.
But a spokesperson from GSK says: "The intention of the Corsodyl TV advertisement is to highlight how important it is not to ignore the early signs of gum disease. We aim to encourage consumers to re-appraise their oral care habits and treat their gum disease before tooth loss can become a reality."
Scare ads are nothing new, according to marketing professor Isabelle Szmigin from the University of Birmingham. TV ads from the 1960s onwards sold products like deodorants and mouthwash to young adults by pointing out the social repercussions if they didn't use them. Later public health campaign ads increased the fear factor when addressing topics like Aids or drink driving.
However, Szmigin says public health campaigns arguably had a good reason for creating a strong message. That doesn't apply to all brands.
"This is quite a radical approach from Corsodyl," she says. "This advert is tapping in to our subconscious anxieties and sensitivity about our teeth and then linking it to their product. They are using a fear response to get straight to changing a consumer's behaviour. It's quite a basic, functional message saying 'use this if you don't want that.'"
GSK has now put £7.2m into its latest multimedia push for Corsodyl. It is the biggest marketing investment for the brand to date, according to The Grocer magazine. The ads are due to run until July this year.
---
What to do if you spit blood
The NHS advises patients to visit their dentist if their gums are painful, swollen or if they bleed when they brush their teeth
Mild cases are usually treated by brushing properly twice a day, flossing regularly and going for regular dental check-ups
Dentists or dental hygienists can give teeth a thorough clean to remove hardened plaque and can advise on a good brushing technique
Severe gum disease usually needs further dental treatment
---
Shock tactics have worked well for GSK in the past. According to Marketing Magazine, mimicking public service announcements helped to double Corsodyl in size from £10m to £21m from 2008-2009. "The campaign grew the otherwise static medicated mouthwash market by 33%."
The campaign, which has targeted women aged 35 to 55, has been created by agency Grey London. They did not wish to speak about the campaign.
Previous Corsodyl adverts have used alarming imagery. An advert from 2013 showed a woman using mascara and ignoring blood running from her eye. The message was supposed to draw attention to the idea that people would not ignore blood from any other part of the body, so they shouldn't ignore spitting blood after brushing their teeth. The advert boosted sales.
But it also prompted five complaints to the Advertising Standards Authority. That's a small number but the complainants included a dental nurse and a dental hygienist, who challenged whether the ad misleadingly implied Corsodyl could treat all types of gum disease and whether the ads were irresponsible by encouraging self-diagnosis and self-medication. None of the complaints were upheld by the ASA.
The current campaign has already prompted 20 complaints to the ASA, which are currently being reviewed.
GSK vigorously defends its campaigns. The firm says a frank approach is needed to raise awareness of gum disease, which can eventually lead to tooth loss. "A hard-hitting creative [advert] was required to highlight that ignoring bleeding gums could lead to serious consequences."
The latest advert does not mention NHS advice that you should see your dentist if your gums bleed when you brush your teeth. However, a page on the Corsodyl website does suggest consumers should go to their dentist if they think they are suffering from gum disease.
The British Dental Association doesn't take a position on the Corsodyl adverts, but they do emphasise that any mouthwash isn't a miracle cure. Damien Walmsley, the British Dental Association's scientific adviser, says: "Mouthwash by itself, won't make the problem go away. Using one can work but in a plan worked out with the dentist. If you find you have bleeding gums you should revisit how you brush your teeth and make sure you keep cleaning them. If it doesn't go away or you have concerns you should go to your dentist."
Szmigin says: "The advert doesn't mention that you should brush your teeth, but then that wouldn't sell the product.
"Advertisers can get away with a lot as long as they are not telling an untruth. In this advert they aren't saying anything incorrect but at the same time they're not giving the full information. This tactic isn't unique to this brand."
Follow Claire Bates on Twitter @batesybates
Subscribe to the BBC News Magazine's email newsletter to get articles sent to your inbox.